October proved to be a strong month for Canada's residential construction sector, new data from the Canada Mortgage Housing Corporation (CMHC) shows.
The government agency reported on Thursday that the monthly seasonally adjusted annual rate (SAAR) of total housing starts in Canada edged up 1% between September and October to 274,681 units.
---
The six-month moving average of the monthly SAAR was also up 1% to 256,280 units.
Speaking specifically to urban centres — those with populations of at least 10,000 — total starts rose 2% to 257,357 units last month, said CMHC. That figure included 209,887 multi-unit urban starts (up 1% month over month) and 47,470 single-detached urban starts (up 9% month over month).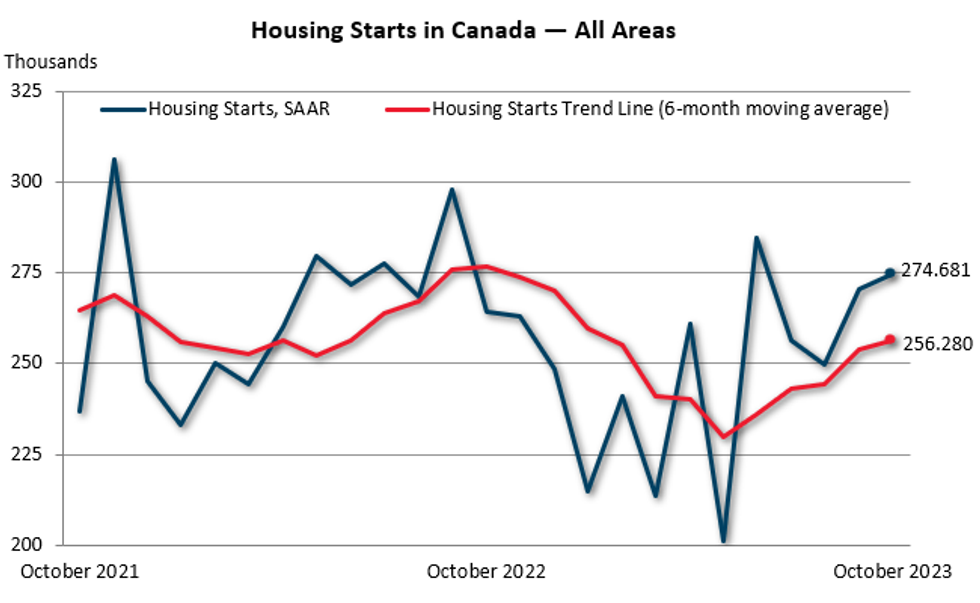 CMHC
CMHC's Chief Economist, Bob Dugan, noted that, despite those upward trends (attributed to "persistent multi-unit starts activity off-setting declines in single detached starts"), actual year-to-date starts are down, indicating that homebuilding is not ramping up in a meaningful way.
What's more, residential construction in some major Canadian cities seems to be pulling back, according to Thursday's data.
While housing starts in Vancouver jumped 35% in October (driven by a 40% increase in multi-unit starts), Toronto and Montreal deviated from the upward trend, with starts sliding 24% and 43% in those respective markets.
Rural starts also dropped down to 17,324 units last month.
Desjardin Economist Marc Desormeaux commented on CMHC's data this morning, saying that while Canada's construction sector has been "unbelievably resilient" over the past few months — he notes that October's reading was the best since June and the second strongest over the past year — future readings are likely to be more downcast.
"Interest rates and building material costs are at decades-high levels. Sentiment in the homebuilding sector is very weak. Labour shortages remain in the construction industry. The historical relationship between sales and starts appears to have broken down of late," wrote Desormeaux.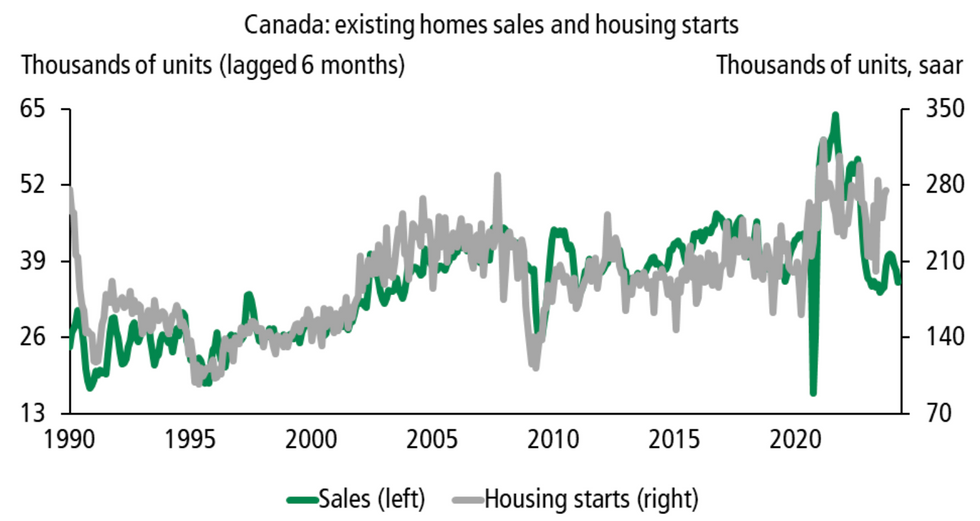 CMHC, Canadian Real Estate Association, Desjardins
"A particularly sharp drop in home purchases witnessed in the same month as this starts' surge also doesn't bode well for homebuilding going forward. With all these trends likely to persist to at least some degree over the next few years, and economic activity set to retreat as we approach next year, we see housing starts falling back next year."
On a brighter note, Desormeaux also said that today's data alone doesn't change Desjardins' view that the Bank of Canada will opt to hold its policy rate steady at its next meeting, and cut rates towards the middle of 2024.
"Although homebuilding activity continues to prove resilient to the effects of high interest rates and a slowing economy, we think the Bank will put more weight on the recent deceleration in employment and inflation."
Real Estate News