The housing market downturn carried on in October as worsening affordability and high interest rates continued to weigh on Canadians.
Not only did home sales experience yet another decline, falling 5.6% from September levels, but prices slid for the second month in a row, according to new data from the Canadian Real Estate Association (CREA).
---
"We're only in November, but it appears many would-be home buyers have already gone into hibernation," said Larry Cerqua, Chair of CREA."The October numbers also revealed some sellers may be shelving their plans until next spring."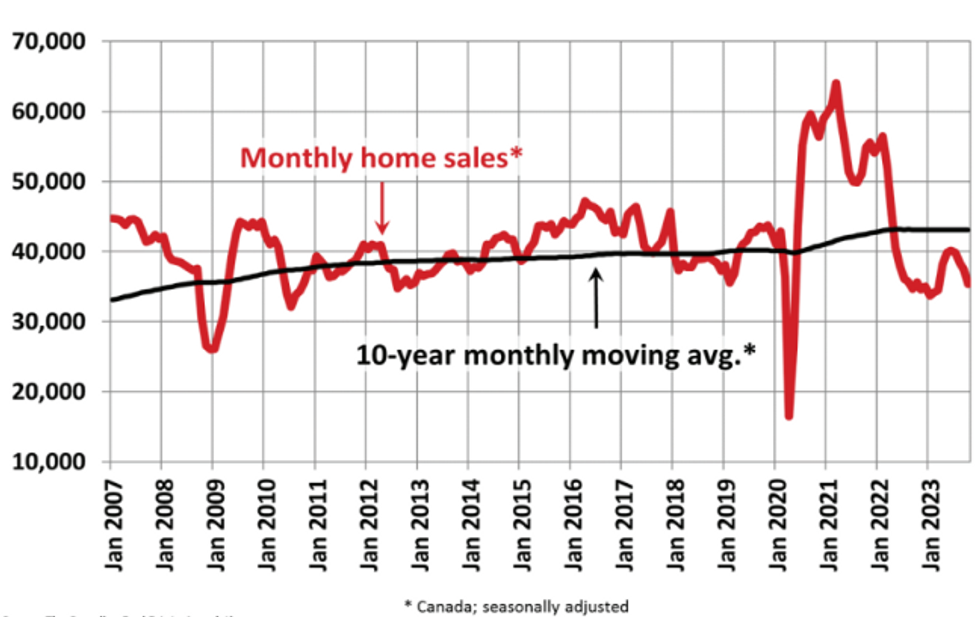 Canadian Real Estate Association
The Aggregate Composite MLS Home Price Index fell 0.8% from September, however, it was still up 1.1% from the same time last year, so a price decline on an annual scale was not observed.
CREA notes that although price declines "are still mainly an Ontario phenomenon," there is now some softening happening in British Columbia. In the western province, the Lower Mainland, Greater Vancouver, Fraser Valley, and Chilliwack all saw prices slip.
A number of cities still saw price growth, however, with Calgary up 1.1%, Edmonton up 0.3%, Quebec City up 1.7%, and Brancroft, Ontario up with the largest increase of all at 7.2%. Atlantic Canada also saw prices go up virtually across the board, with just St. John's seeing a decline (-0.4%).
Listings on the Decline Once Again
After several months of growth, the number of new listings fell in October, down 2.3% on a month-over-month basis, marking the first drop since March. This, combined with fewer sales, brought the sales-to-new-listings ratio to a 10-year low of 49.5% — closer to the buyers' market threshold of 40% and well under the long-term average of 55.1%.
At the end of October, there were 4.1 months worth of inventory left across the country, which is a full month higher than the 3.1 seen in May. But, as CREA notes, it is still below the long-term average of nearly five months of inventory.
"We know housing demand is extremely high all across the country, but October's resale data was further confirmation that it probably won't be manifesting itself in the existing home market for the remainder of this year and likely not until spring 2024 at the earliest," said Shaun Cathcart, CREA's Senior Economist.
"The rebound in activity this past spring was an example of what we might see next year. It will really come down to whether the Bank of Canada has to increase interest rates again, or whether by next March it's simply a matter of how soon we'll see the Bank make its first cut."
Real Estate News