Real Estate News
"Housing Correction Now Runs Far and Wide Across Canada": RBC
After forecasting a historic housing correction last month, RBC is doubling down on the doom and gloom with a new report, released yesterday.
While RBC's July report addressed Canada on the whole, yesterday's update was much more granular. In particular, it showed market activity in Toronto, Montreal, Vancouver, and Calgary, with three out of four of those markets showing some sort of slow down.
"The housing correction now runs far and wide across Canada. Early reports from local real estate boards provide further evidence that higher interest rates have taken a huge toll in July," the report reads. "In the Toronto and Vancouver areas, the decline in activity is quickly becoming one of the deepest of the past half a century. Prices are sliding fast, and the exuberance that permeated these markets earlier this year is being replaced by fear. The downturn may be more contained in other markets but unmistaken nonetheless."
READ: Home Prices in Toronto Have Dropped More Than $500,000 in 6 Months
In the Toronto area, market activity is down to its slowest pace in more than 13 years, excluding the April 2020 lockdown. The sales-to-new listings ratio is down, indicating a buyers' market, and the composite MLS HPI is also down by 13% or $178,000 since March. Meanwhile, housing inventory is up 58% since last year. At this stage in the game, buyers have more options to choose from, but less purchasing power.
"We expect buyers to remain on the defensive in the months ahead as they deal with rising interest rates and poor affordability," says the report. "We see them in a position to extract further price concessions, especially in the 905 belt where property values soared during the pandemic. Condos in the City of Toronto are likely to remain relatively more resilient."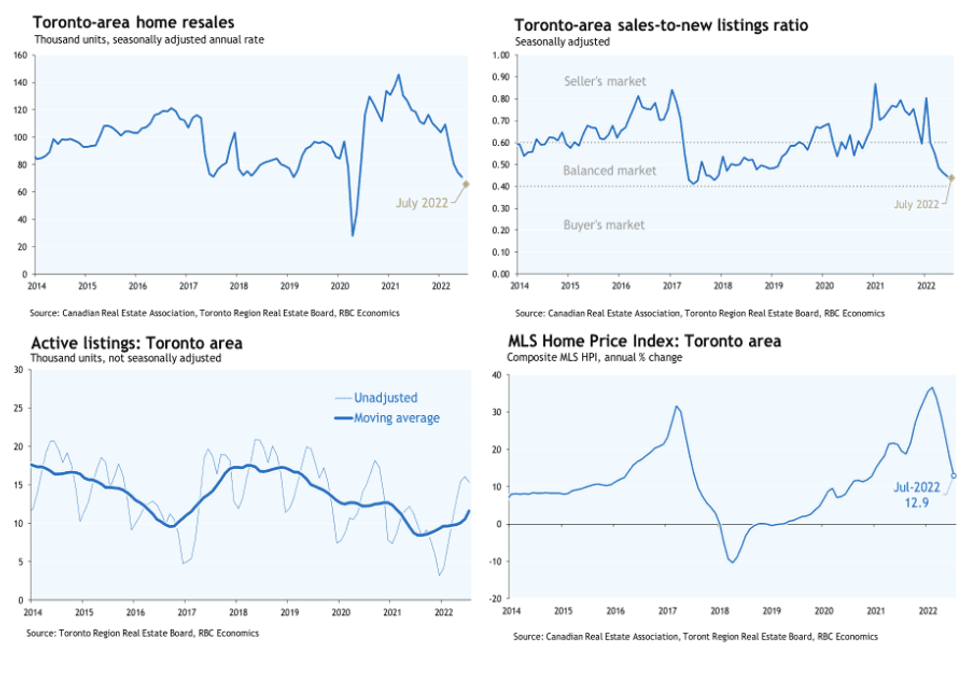 In the Vancouver area, housing market activity has decreased 40% in the last four months. Home prices are also down, with the composite MLS HPI declining by 4.5% or over $57,000 since April. RBC predicts that Vancouver's market will continue to cool off drastically in the months to come, calling Vancouver's market the "most sensitive to interest rates in the country."
"Demand-supply conditions have eased considerably, taking away much of the pricing power sellers held throughout the pandemic," says the report. "We expect property values to fall more rapidly in the coming months with the weakness concentrated in the single-detached home segment. Condo apartment values are likely to erode less given their relative affordability advantage."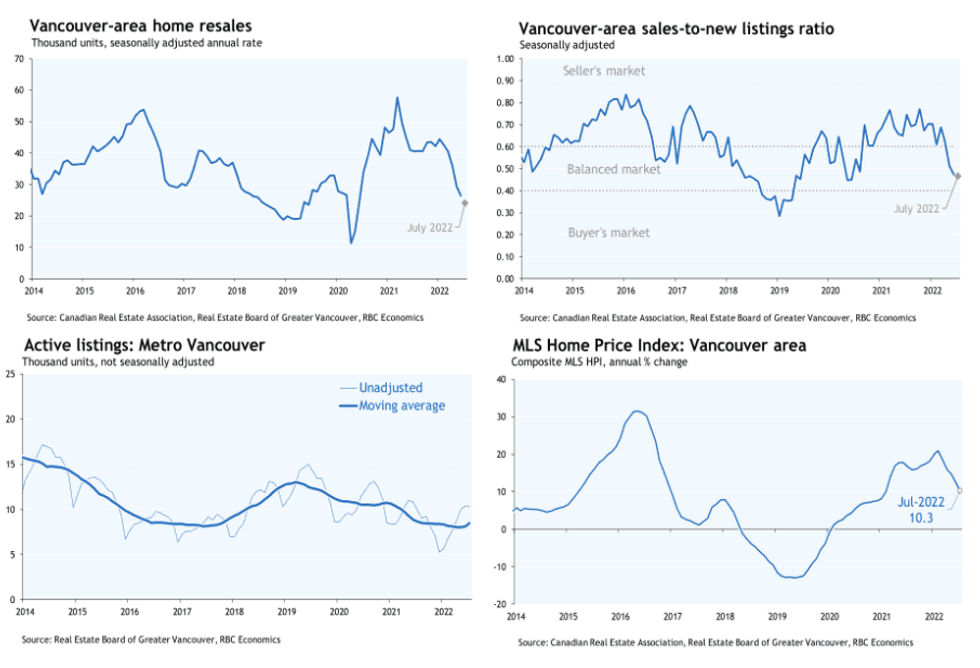 The downturn is less dramatic in Montreal, and less dramatic still in Calgary.
In the Montreal area, home resales are declining gradually, but are relatively in-line with pre-pandemic levels. That said, RBC predicts that resales will soften even more by 3% between June and July, and property values will eventually fall as well.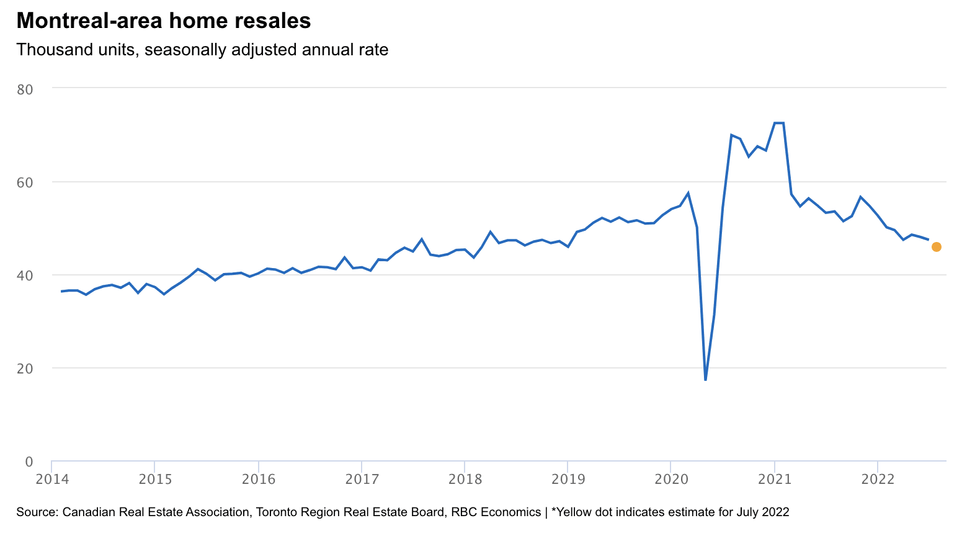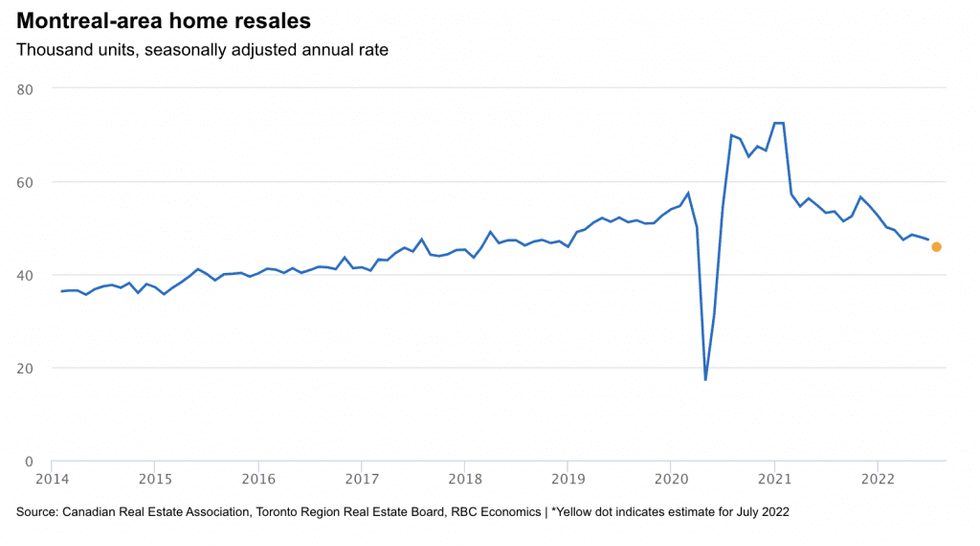 Calgary's market is currently something of an outlier. While the market has calmed since the beginning of the year, activity is historically strong. Home sales have remained more or less unchanged between June and July, although buyers are gravitating towards condo apartments and other affordable options, causing demand for single-detached homes to soften. Calgary's market is also facing dwindling supply, which will likely keep prices steady in the months to come.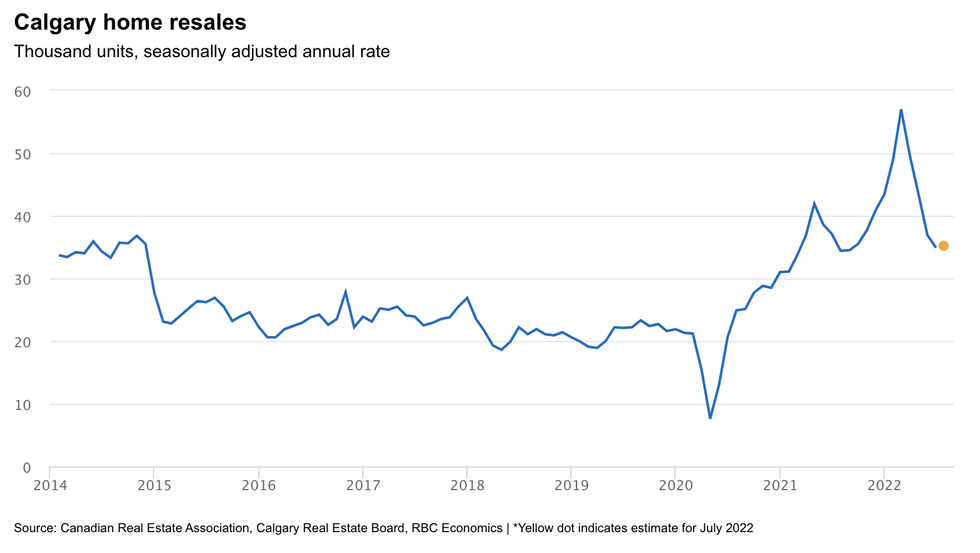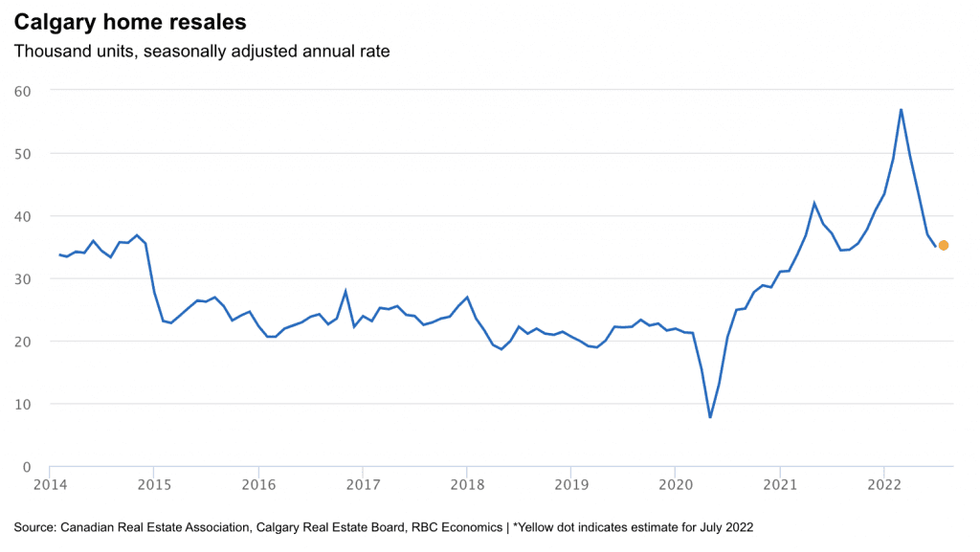 On the whole, RBC's report attributes the market downturns to soaring interest rates and higher borrowing costs, which are deterring potential buyers from making big-ticket purchases. Moreover, RBC forecasts tense conditions in the months to come.
"Our expectations for further hikes by the Bank of Canada — another 75 basis points to go in the overnight rate by the fall — will keep chilling the market in the months ahead. We expect the downturn to intensify and spread further as buyers take a wait-and-see approach while ascertaining the impact of higher lending rates."