---
With inflation, interest rates, and price tags across the board facing unrelenting upward pressure, three-quarters of Canadians are holding off on making major, unnecessary purchases. This is according to new data from national not-for-profit organization, the Angus Reid Institute (ARI), released today.
In past years, the same data has been considerably less disparaging. In March 2019, 55% of Canadians felt it was a bad time to make major purchases, while 29% felt it was a good time and 16% were unsure. In July of 2020, at the height of the pandemic, those numbers remained virtually unchanged, with 56% saying it was a bad time to make major purchases, 29% saying it was a good time and 16% unsure.
This month, the numbers saw a considerable shift. Not only did 75% of Canadians indicate that it is a bad time to make big purchases, but the number of confident consumers was sliced approximately in half. Only 15% of Canadians said that it is a good time to make big purchases and 10% said they are unsure.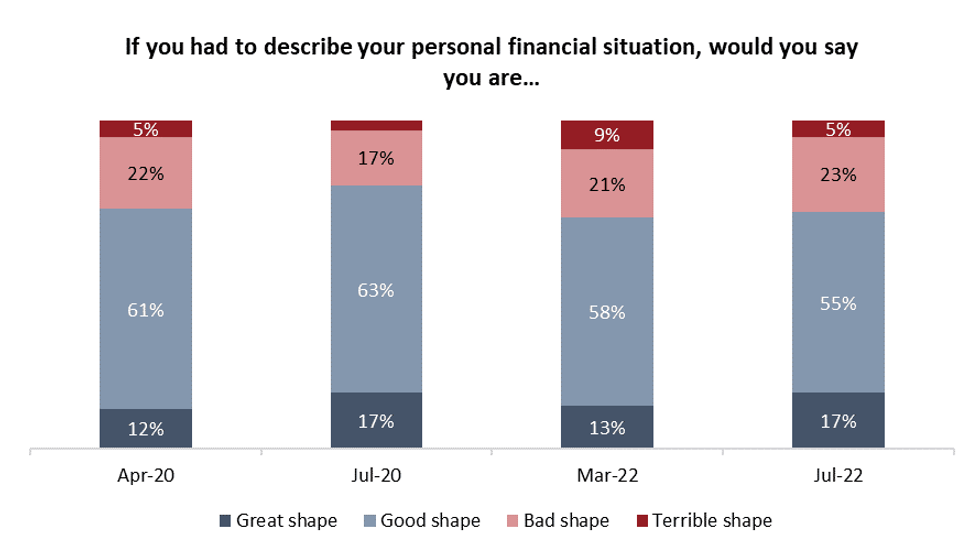 Angus Reid Institute (ARI)
So, in spite of the housing market cooling off a bit and air travel restrictions lifted, things like buying real estate, renovating a home, or taking that long-awaited vacation are largely being put on the back-burner as Canadians struggle to adjust their budgets in favour of essential goods and services, including grocery, gas, and rent. 
Along those same lines, the ARI's data also revealed that 28% of Canadians are facing financial strain and are "barely keeping their head above water or worse." That number has increased by 10 points since last year. Conversely, 55% say that their financial situation is stable but they have worries about the long-term, and 17% say they are in great financial shape with no concerns about the long-term. Younger Canadians and residents of Manitoba, Saskatchewan, and Atlantic Canada expressed the most financial anxiety.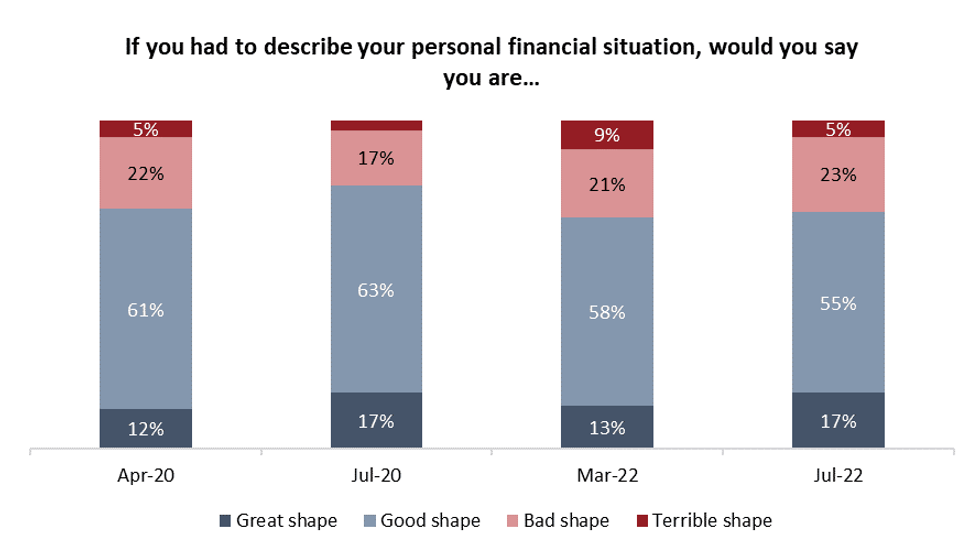 Angus Reid Institute (ARI)
Moreover, the general confidence in the Bank of Canada's recent moves to fight against inflation is low, with 53% of Canadians expressing low confidence and only 33% expressing some degree of faith in the central bank.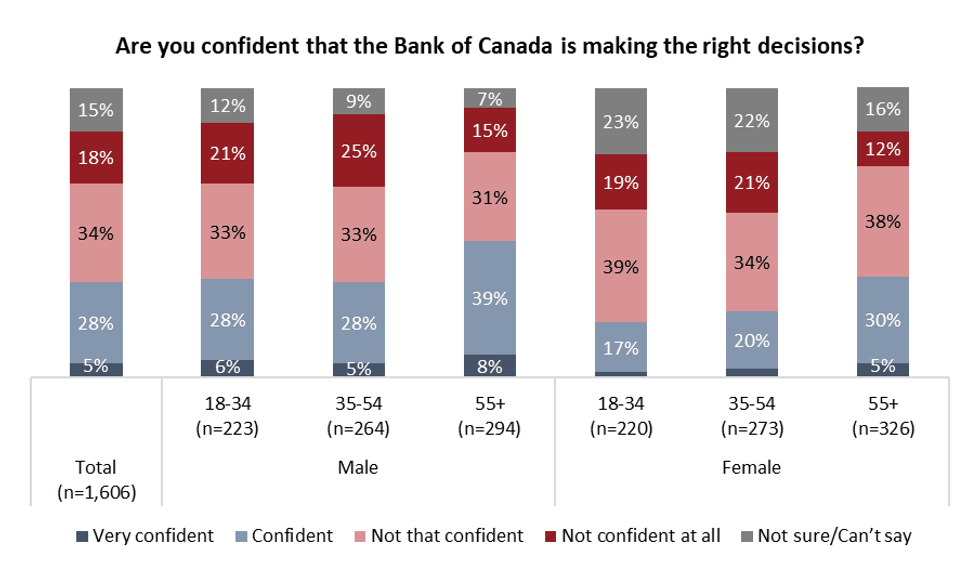 Angus Reid Institute (ARI)
Faltering faith amongst Canadians in the BoC is nothing new. In early July, the BoC released two reports that plainly stated that many consumers and businesses are doubting the Bank's ability to cap inflation.
With that said, it seems that confidence in the BoC's measures to temper inflation remains high amongst high-income households and Liberal and Bloc voters.
Personal Finance