---
Home buying demand in the Greater Vancouver area is weaker than in previous months and years, according to new data from the Real Estate Board of Greater Vancouver (REBGV).
The REBGV reported that residential home sales totalled 1,887 in July. That figure is down 43.3% from July 2021 (3,326 homes sold) and 22.8% from June 2022 (2,444 homes sold). July's total is also 35.2% below the 10-year July sales average.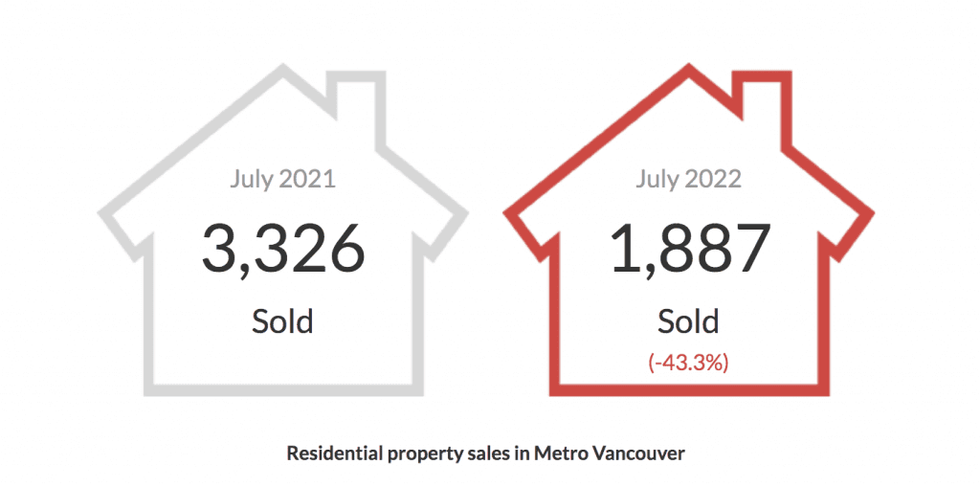 Metro Vancouver Market Highlights, JULY 2022, REBGV
Moreover, sales are down across all property types; detached homes transactions declined 50.2% year over year, sales of attached homes were down 50.2%, and sales of apartment homes were down 36.4%.
Daniel John, REBGV Chair, attributes this slip in sales to the current economic uncertainty.
"Homebuyers are exercising more caution in today's market in response to rising interest rates and inflationary concerns," he says. "This allowed the selection of homes for sale to increase and prices to edge down in the region over the last three months."
New listings were also down in July. According to the MLS, there were 3,960 detached, attached, and apartment properties newly listed for sale last month, which is 9.5% less than in July 2021 (4,377 homes newly listed) and 24.7% less than in June 2022 (5,256 homes newly listed).
With that said, the total number of listings is up from last year. In July, there were 10,288 homes listed for sale -- 4.4% more than July 2021 (9,850 total homes listed) but 1.3% less than in June 2022 (10,425 total homes listed).
"After two years of market conditions that favoured home sellers, home buyers now have more selection to choose from and more time to make their decision," John goes on to say. "In today's changing housing market, both home buyers and sellers should invest the time to understand what these changes mean for their personal circumstances."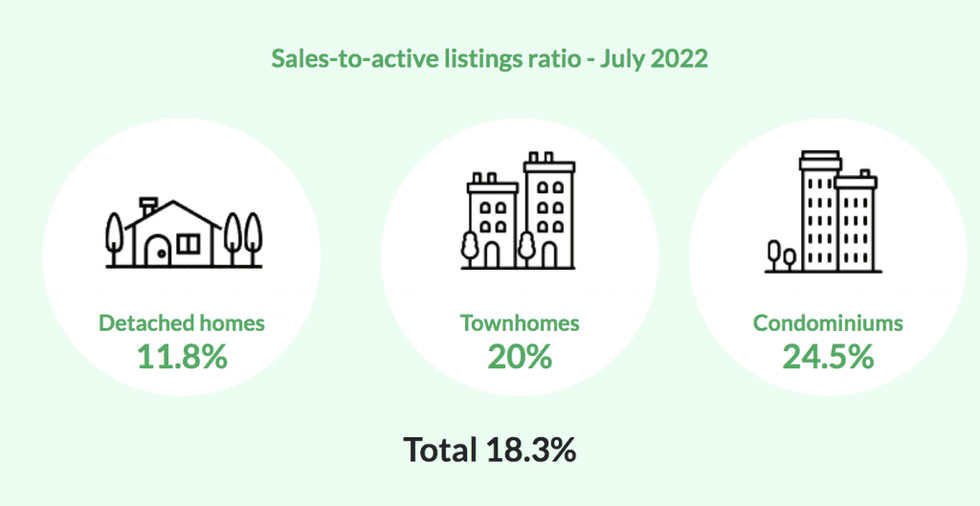 Metro Vancouver Market Highlights, JULY 2022, REBGV
Additionally, the sales-to-active listings ratio (SAR) for all property types was 18.3% in July. The ratio is the greatest for apartments at 24.5%, followed by townhomes (20%) and detached homes (11.8%). 
Meanwhile, the composite benchmark price for all residential properties in Metro Vancouver was $1,207,400 in July -- 10.3% more than it was in July 2021 and 2.3% less than it was in June 2022. Attached homes increased by 15.8% year over year, apartment homes increased by 11.4%, and detached homes increased by 11%.

Metro Vancouver Market Highlights, JULY 2022, REBGV
Vancouver