---
Shelley McNally, her husband and their daughter moved into a new home in Kingston in July and only managed to find a painter this month.
"For painting, we'd cold call people and they either wouldn't call back or they would call back and say they are all booked up and don't have time," McNally said, adding that their painter is squeezing her house in between other jobs. "He'll be coming back at the end of January and early February."
McNally also wants three walk-in closets built into her 2,700 square foot, four-bedroom Victorian house near Lake Ontario, but, not only will she be waiting months, the quotes were exorbitant.
READ: The Fastest Growing Home Prices in All of Canada Last Year? Kingston, ON
"For the trim and millwork, we were quoted at least $13,000, but my husband is relatively handy, so he might take a stab at it," she said. "As for the painter we found, he's very expensive. His prices are high, but having said that, the quality of his work is excellent. There's such huge demand right now because people are doing renovation work or building and redoing things. People aren't going anywhere, so they're spending that money on their houses instead."
GTA resident Cory Cook is finishing his basement "and somewhere along the way it was stated that a cost increase of $10,000 was attributable to material increases," he said. "At the time, we estimated that the materials were somewhere between $40,000-50,000, so this increase was significant."
That isn't all. Cook's porch is also being replaced and a new railing his contractor initially quoted for $900 was actually $1,600 when he went to purchase it. The contractor's only explanation was that cost increases have become commonplace as a consequence of the COVID-19 pandemic.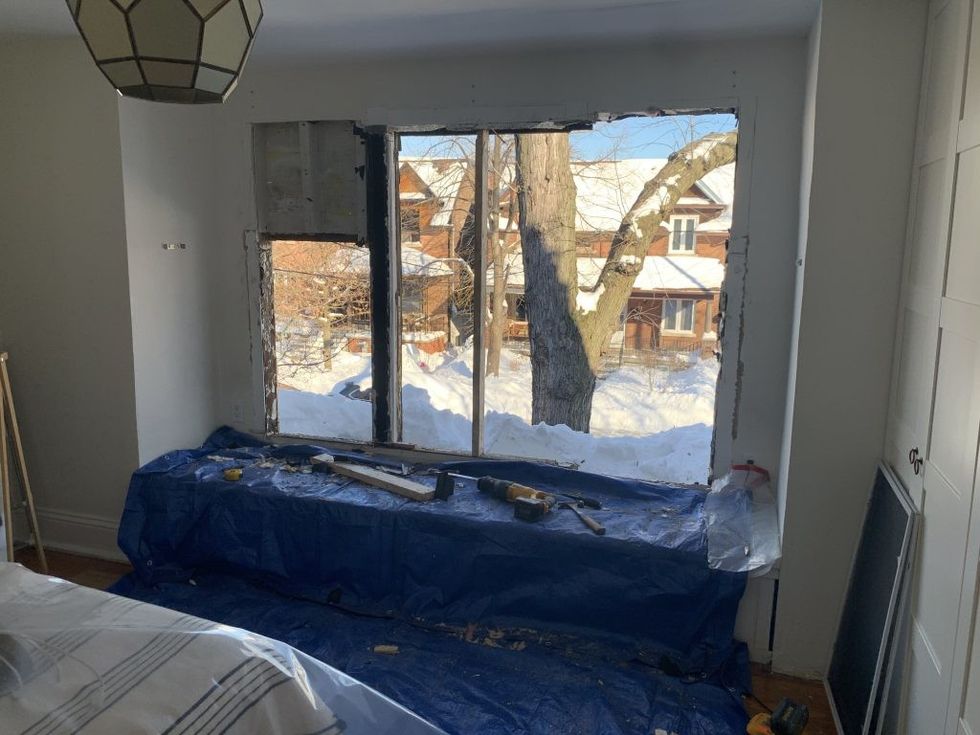 One of Cook's windows being replaced during renovation
"When he gave us the final quote, he also let us know he had to increase materials by $650 [excluding the railing] because everything was more expensive than when we agreed," Cook said. "This added what we guessed was 15% to the cost of the materials without knowing the exact split between labour and materials and scope creep."
Material costs have risen because the pandemic has created supply chain bottlenecks, and because supply cannot keep up with demand, prices have ballooned. Moreover, there's a pronounced shortage of labour, with contractors often too busy to take on more work, as McNally found out.
"We're having an issue with material shortages and delays from suppliers across the board for everything," said contractor Zach Goldstein of GreenGold Construction. "Manufacturing has slowed down product supply and shipping costs have increased considerably, and it makes things more expensive right across the board from every plastic that makes every wire. There's a huge labour shortage, too."
Goldstein has noticed a lot of people in his industry have used the pandemic to take stock of what's important to them, many realizing they don't need to work excessive hours anymore.
"A lot of people have realized they don't need as much in terms of what they're working towards to survive, and they have reassessed what is meaningful to them," he said. "So now they have more time to spend with their families and they're not running that much."
Depending on the market, homebuyers would prefer moving into a house that doesn't need any renovations than pay less on the purchase price but pay soaring material and labour costs, not to mention wait out delays. Martin Rouleau, a broker with Engel & Völkers, says single-family detached homes are fuelling the frenetic pace of activity in Montreal's real estate market, and because homes are still relatively affordable in the city, buyers prefer "turnkey" homes.
"It's really expensive to do renovations during COVID, so people are looking for houses that are turnkey," Rouleau said. "Houses that are gut jobs may be less expensive during this period of COVID, where the cost of material is high and finding workers is extremely difficult, but some buyers underestimate the cost of renovations until they do the actual work these days. In a perfect, perfect world, they're buying houses where all the major components are in good working order and they only have a little bit of cosmetic work to do. For example, I have to do the roof on my house and it's impossible to get someone to get me a quote."
Renovations