The temperature might be cooling down, but October still managed to be a hot month for real estate in Canada, as home prices from coast to coast increased to the highest level for the month in 22 years, according to a home price index that monitors the country's housing market.
The Teranet-National Bank House Price Index -- which is based on the repeat-sales method (on the change in price between the two most recent sales of properties that have been sold at least twice) -- was up 1.3% from the previous month, the strongest gain for a month of October in the 22 years of the composite index.
---
On a local level, the rise was led by Ottawa-Gatineau (2.7%), Hamilton (2.1%), Montreal (1.8%), Victoria (1.7%), Vancouver (1.5%), and Halifax (1.5%). There were highly respectable monthly increases for Toronto (1%), Quebec City (1%), Edmonton (0.6%), and Winnipeg (0.5%). Calgary, on the other hand, only edged up 0.1%.
READ: October a Record-Breaking Month for Home Sales and New Listings in Ontario
National Bank Senior Economist Marc Pinsonneault said that a surge in the number of sales entered into the index was a sign the Canadian housing market is continuing to firm up and is recovering after COVID-19 caused the market to slow during the spring.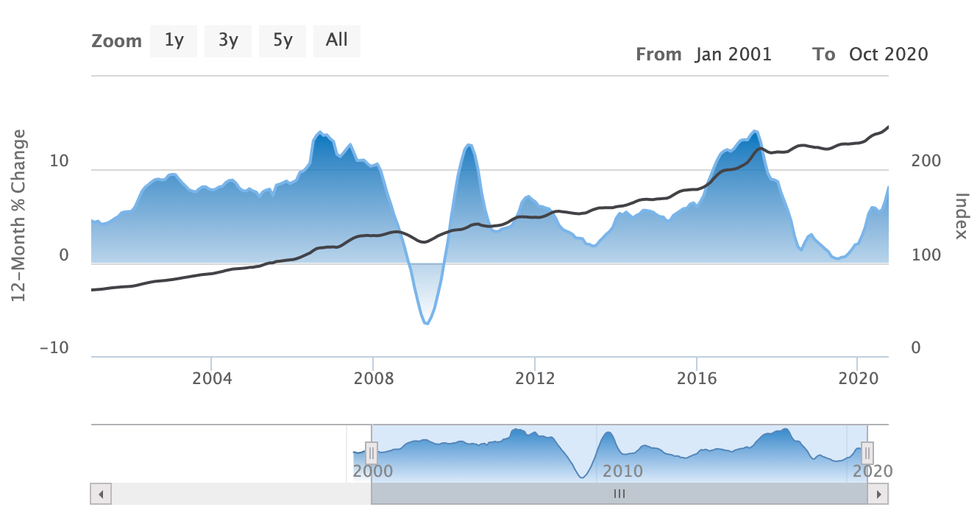 On an annual level, the October composite index was up 8.1% from a year earlier, a third consecutive acceleration and the biggest 12-month gain since February 2018.
The annual gains were led by five markets -- Ottawa-Gatineau (17.1%), Montreal (13.2%), Hamilton (13.0%), Halifax (12.4%), and Toronto (9.5%). Lagging the countrywide average were Quebec City (6.3%), Vancouver (5.7%), Victoria (5.0%), Winnipeg (4.0%) and Edmonton (0.7%). Calgary was down 2.3% from a year earlier.
Pinsonneault noted that sales entered into the index in October were up 48 percent over the same time last year.
"This development echoes the revival of home sales reported by the Canadian Real Estate Association beginning in July, recovering ground lost in the severe slowdowns induced by COVID-19 in previous months," he said.
The record gains come as economists continue to conflict over the outlook of Canadian home prices. This includes the Canadian Mortgage and Housing Corporation's (CMHC) which previously forecasted for as much as an 18% price drop — a forecast that RE/MAX has previously referred to as "fear-mongering."
Real Estate News