Home sales are up, as are new listings, which is inching prices up, too. For Ontario's sizzling real estate market, this is all part of the new normal.
---
The Canadian Real Estate Association (CREA) issued its October statistics on Monday, which not only showed "historically strong" national home sales for the fourth straight month after sales activity rose 32.1% year-over-year, but also that Ontario home sales and listings set new records for the month.
In October, residential sales activity was up 26.5% year-over-year, after 24,807 transactions were reported through the MLS System, setting a new sales record for the month of October.
On a year-to-date basis, home sales totalled 193,243 units over the first 10 months of the year, up 5.3% from the same period in 2019.
READ: 2020 'In the Running' to Be Best Year on Record for Canadian Home Sales: CREA
CREA's report also said Ontario's average home price set a record in October, reaching $742,101 -- up 17.2% year-over-year, while also setting a record for the fourth straight month in a row. The more comprehensive year-to-date average price was $697,916, rising 15.3% from the first 10 months of 2019.
The national average price, by comparison, was up 15.2% on a year-over-year basis to $607,250 in October of this year.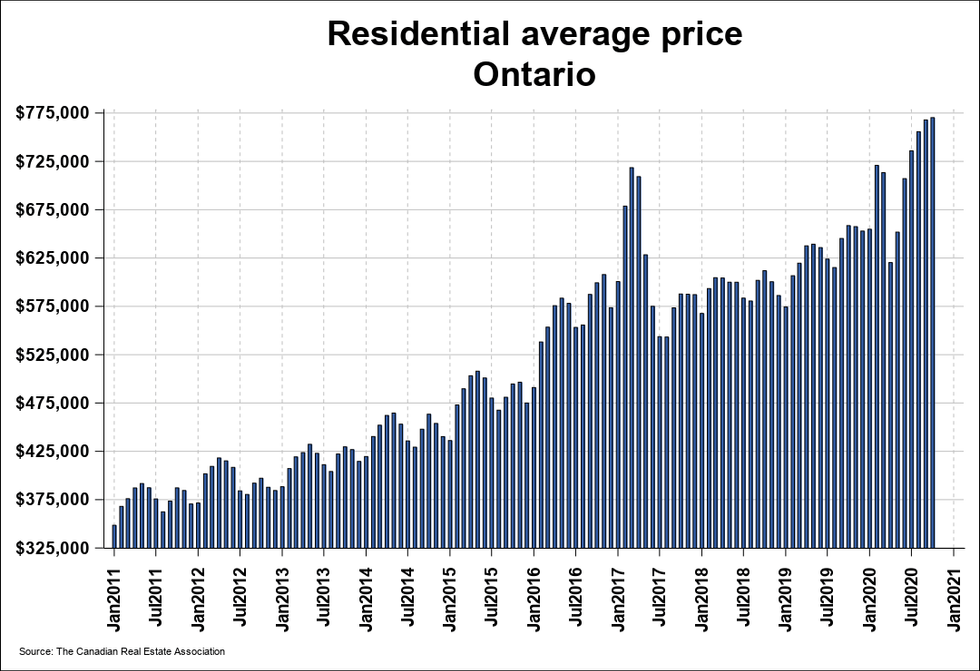 New listings were up 21.8% year-over-year in October, with 33,563 listings posted on the MLS System. This was also the largest number of new listings added in the month of October in history.
Overall, CREA says supply is currently hovering at the lowest levels on record. Active residential listings numbered 31,627 units at the end of October, down 24.7% from the end of October 2019.
Months of inventory -- which is the amount of time (or months) it would take for all current MLS listings to sell given that no new listings come onto the market -- numbered 1.3 at the end of October, down from the 2.1 months recorded at the end of October of last year. This is also below the long-run average of 3 months for this time of year.
The dollar value of all home sales in the province in October 2020 was $18.4 billion, a large increase of 48.3% from the same month in 2019. This was also a new record for the month of October.
Sales of all property types in the province were 26,172 units last month -- an increase of 27.5% from October 2019. The total value of all properties sold was $19 billion, a considerable gain of 48.8% from October of last year.
In central Ontario -- which includes Oakville-Milton and the Greater Toronto Area -- CREA says there were 11,041 residential home sales recorded in October -- a 24.3% jump from the same time last year. The average price was also up 14% year-over-year after reaching $978,719 last month.
Real Estate News