Real Estate News
2020 'In the Running' to Be Best Year on Record for Canadian Home Sales: CREA
Despite living amid one of the toughest economic crises, the Canadian Real Estate Association (CREA) says 2020 is "in the running" to be the best year ever for Canadian home sales.
On Monday, CREA released its monthly national housing market statistics report, which revealed that despite sales falling from their all-time monthly high set in September, national home sales still continued running at a historically strong level in October.
Last month, CREA said home sales across the country declined 0.7% from September, a month that set an all-time record for monthly sales. However, sales last month still set a record for October as they gained 32.1% compared with October last year.
READ: CIBC Deputy Chief Economist Warns that Housing Market Slowdown is Coming
While the change from September to October was small, CREA says it still reflected gains in about half of all local markets, which was offset by declines in the other half.
However, in Canada's larger markets, activity was up in Montreal, the Fraser Valley, Calgary, and Edmonton, while sales declined in the Greater Toronto Area (GTA), Hamilton-Burlington, Ottawa, and Greater Vancouver.
"Many Canadian housing markets continue to see historically strong levels of activity, and at this point over and above what would have been required to make up for the very quiet spring market this year," said Costa Poulopoulos, Chair of CREA.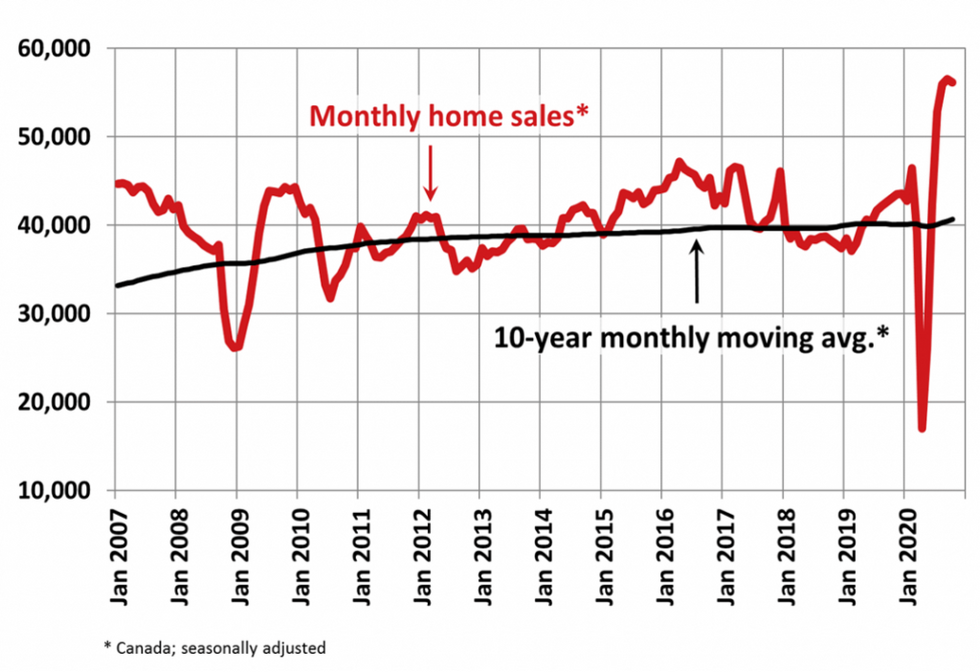 The actual national average home price also set another record in October at $607,250, up 15.2% from the same month last year. CREA says excluding sales in Greater Vancouver and the Greater Toronto Area, two of the most active and expensive housing markets, lowers the national average price by more than $127,000.
In the past 10 months, the association said some 461,818 homes traded hands over Canadian MLS Systems, this is up 8.6% from the first 10 months of 2019. In fact, it was the second-highest January-October sales figure on record, trailing only 2016, according to CREA.
READ: $1M Over Asking? The Most Sought-After Toronto Listings in 2020
"For anyone waiting for the Canadian existing home market to begin to settle down following this summer's surprisingly strong recovery, they're going to have to wait a little longer," said Shaun Cathcart, CREA's Senior Economist. "It was evident that the same trends we've been seeing since July – record sales and record prices amid tight overall supply – was once again the story in October."
"As we've moved through the last few months of headline-grabbing data, we've seen sales activity for the year-to-date not just catch up with last year, which was surprising enough, but at this point activity in 2020 has a real shot at setting an annual record," said Cathcart.
And with less than two months left in the year — in addition to several monthly records already set — CREA says 2020 is setting the pace to be the best year ever for Canadian home sales.
"Many reasons have been suggested for why this is when many traditional drivers of the market, economic growth, employment, and confidence, in particular, are currently so weak. Something worth considering is how many households are choosing to pull up stakes and move as a result of COVID-19 and all the associated changes to our lives. We could be seeing a lot of moves, or churn in the market, that would not have happened in a non-COVID world."
With 10 months now in the books, including several monthly records, 2020 is in the running to be the best year ever for Canadian sales.
Learn more https://t.co/zXwHGhtHto #CREAstats pic.twitter.com/yPsJs44oag

— CREA | ACI (@CREA_ACI) November 16, 2020
What's more, the number of newly listed homes also inched up in October, climbing 2.9%. The overall gain in new supply last month was driven by more new listings in the GTA, BC's Lower Mainland, and in Ottawa.
As with sales activity, actual (not seasonally adjusted) new listings set a new record for the month of October. However, CREA noted this was by far less of a margin than sales, meaning market conditions are still very tight in many parts of the country.
With new supply up in October and sales relatively little changed, the national sales-to-new listings ratio eased to 74.3% — which was still among the highest levels on record for the measure. The long-term average for the national sales-to-new listings ratio is 54.1%.