Real Estate News
Toronto Home Prices in January Posted Strongest Price Gains in 2 Years
The year has gotten off to a good start with new home sales and prices both up on a year-over-year basis. This is encouraging, especially when considering the inclement weather we experienced in the Greater Toronto Area in January.
However, a lack of supply in Toronto continued to drive prices up last month, bringing the annual increase to the strongest level in more than two years, according to a new report from the Toronto Regional Real Estate Board.
READ: New Condo Sales in GTA Hit 3rd-Highest Level on Record in 2019: Report
The benchmark price rose 8.7% compared to January 2019, which TRREB says is the highest annual rate of growth for the benchmark since October 2017, which was when stress tests for mortgage eligibility were introduced.
Despite the challenging weather last month, there were 4,581 home sales in January – up by 15.4% compared to January 2019. On a preliminary seasonally adjusted basis, sales were up by 4.8% compared to December 2019.
In the GTA, the average home price hit $839,363, while the average home price in Toronto crept closer to the $ 1 million mark hitting $884,385 last month.
"We started 2020 where 2019 left off, with very strong growth in the number of sales up against a continued dip in the number of new and available listings," said TRREB president Michael Collins.
"Tighter market conditions compared to a year ago resulted in much stronger growth in average selling prices. Steady population growth, low unemployment, and low borrowing costs continued to underpin substantial competition between buyers in all major market segments," Collins added.
READ: The Average Home Price in the GTA Crept Closer to $1M in 2019
While the condominium apartment market led the way in terms of price growth last month, the report revealed all home types experienced price growth above 7%. Moreover, the average selling price in January was up by 12.3%, driven by the detached and condominium apartment segments in Toronto.
Jason Mercer, TRREB's director of market analysis and service channels, says a key difference in price growth in January 2020 compared to January 2019 was in the low-rise market segments, particularly with regard to detached houses.
"A year seems to have made a big difference. It is clear that many buyers who were on the sidelines due to the OSFI stress test are moving back into the market, driving very strong year-over-year sales growth in the detached segment," said Mercer.
"Strong sales up against a constrained supply continues to result in an accelerating rate of price growth."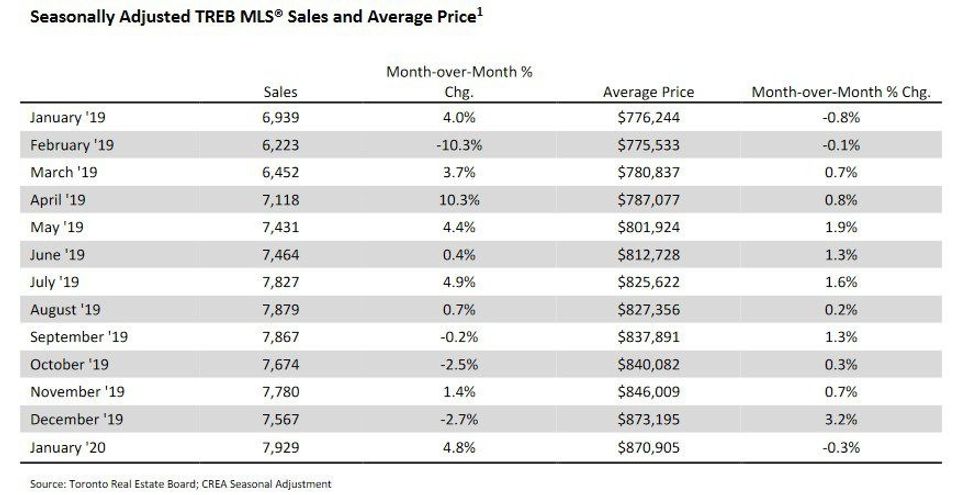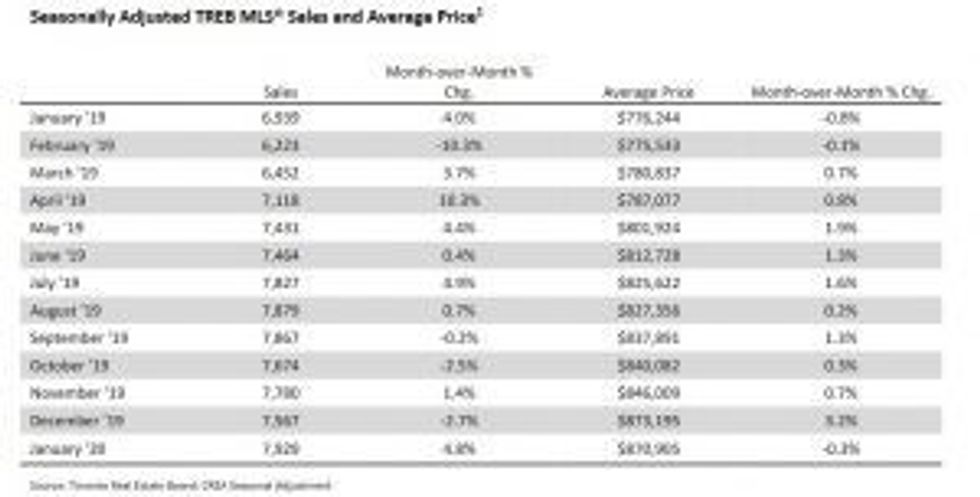 Last month, the average sale price for detached homes in the GTA was $1,038,247, up 10.5% from a year earlier, while condo prices jumped 15.1% from a year ago, to $630,047.