---
Habitat for Humanity has teamed up with CityHousing Hamilton for a pilot project that offers two notable benefits for the local community. 
Lead by Habitat Hamilton, the project sees high school students restore affordable rentals as part of their academic curriculum. It offers both an opportunity for the students to gain hands-on construction experience, and to bring vacant housing stock back onto the market in the form of affordable rentals. It's a win-win.
The pilot project is now underway and aims to address these two primary needs in the increasingly pricey city. First, there is an ever-relevant need for safe and affordable housing in Hamilton's local communities -- something that was only compounded by the pandemic. Second, by engaging local youth to perform the majority of the construction and rehabilitation activities (under trained supervision, naturally), Hamilton's young people are able to gain meaningful career experience and knowledge in the skilled trades. 
The units are owned and operated by CityHousing Hamilton and provide affordable, rent-geared-to-income housing for local families in need. By partnering with Habitat Hamilton, CityHousing can complete the necessary renovations at a significant cost reduction.
Three housing units will be repaired and rehabilitated under the new partnership, says Habitat for Humanity. According to a press release issued by the organization, work on the first unit has been completed -- ahead of schedule and under-budget, nonetheless.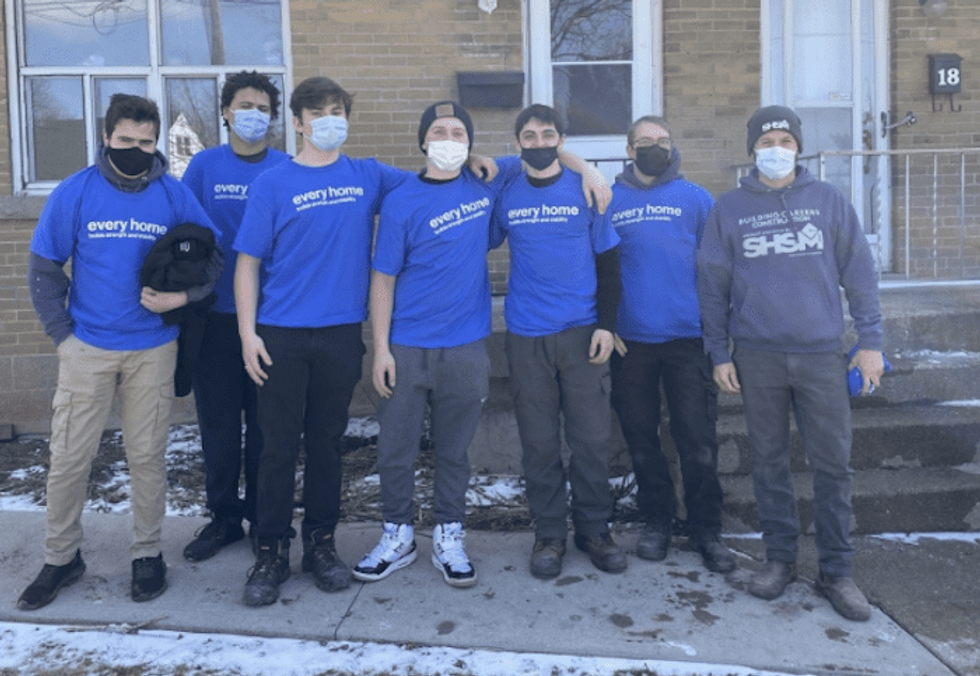 Image: Habitat Hamilton
Students learn the skilled trades with on-site training and mentorship by an experienced construction team. An emphasis is placed on teaching valuable trade skills, as well as soft skills that will aid students in future employment, like time management and leadership.
"Our partnership with Habitat Hamilton highlights the value of community partnerships not only for our organizations but to the communities we serve," says Brian Kinaschuk, Manager of Maintenance at CityHousing Hamilton. "From the housing side, our collaboration will help put family units back online as quickly and efficiently as possible, while providing our local youth the chance to gain hands-on training and experience in real-life settings."
Habitat Hamilton has been engaging local youth on its build sites for many years through its Youth Build Program. The partnership with CityHousing Hamilton is an extension of those activities for the Ontario Youth Apprenticeship Program (OYAP) secondary students, though which students gain school credits.
For the secondary students, the initiative sounds like a more enriching one than hammering away making bird houses or toolboxes in a high school woodworking shop. Furthermore, the project comes at a time of heightened demand for skilled trade workers. 
"We see this as a fantastic opportunity to provide safe, decent, and affordable housing in Hamilton, but also as a way to engage local students and deliver invaluable experiential training," says Sean Ferris, Chief Executive Officer at Habitat Hamilton. "The pilot project with CityHousing Hamilton allows us to support a greater number of lives within our community, beyond our current programs. We are excited to be able to increase our impact, and help Hamilton families build strength, stability and self-reliance through shelter."
Members of the local community can get involved in the pilot project by volunteering their time on-site. More information is available here. 
Real Estate News