When it comes to living in Ontario, there's no denying that there are some areas that are more expensive than others, with prices changing drastically from region to region.
---
And yet, despite the unprecedented economic crisis brought on by the pandemic, Ontario's housing market is showing little signs of slowing down. In fact, HelloSafe -- an insurance comparison platform -- reported that "Ontario's real estate prices increased faster between March 2020 and March 2021 than in British Colombia (29.9% vs 20.2%) – "which proves Ontario's housing market dynamism despite the gloomy circumstances of COVID-19."
As you can imagine, regions are now seeing vastly different real estate prices in the wake of the pandemic. And, if you're curious which of Ontario's cities are the most expensive to buy a home,HelloSafe has rounded up the top cities where real estate prices are currently the highest in Ontario.
Unsurprisingly, the great majority of them (except Ottawa) are located near, or in, the Greater Toronto Area (GTA).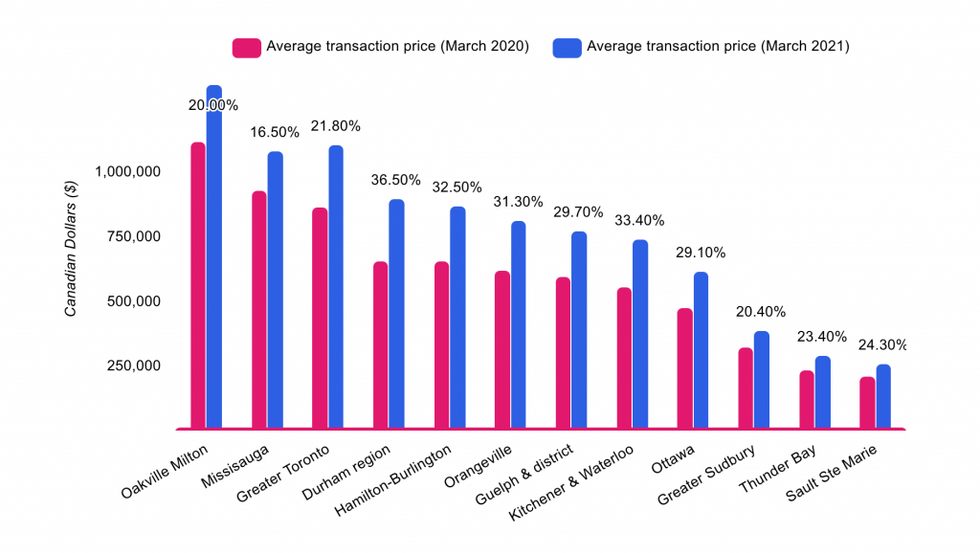 Most Expensive Cities Ontario/HelloSafe
According to HelloSafe, Oakville-Milton is currently the most expensive area to buy a home in the province, with the average transaction price hitting $1,335,200 in March 2021, a 20% year-over-year increase from March 2020, when the prices were an average of $1,113,200.
This is followed by the Toronto-area, where the transaction price in March was $1,102,804 -- a 21.8% year-over-year increase. On the other hand of the ranking, Sault Ste. Marie came out in the final spot, with an average transaction price of $257,955 -- up 24.3% year-over-year.
The most expensive cities in Ontario for real estate:
Oakville-Milton
Mississauga
Toronto
Durham Region
Hamilton-Burlington
Orangeville
Guelph & District
Kitchener-Waterloo
Ottawa
Greater Sudbury
Thunder Bay
Sault Ste. Marie
While Ontario is known for being expensive for real estate with average prices sitting at $890,035 in March, the province still isn't as pricey as British Columbia, where the average price reached $945,936 in March -- a $55,901 difference from Ontario.
However, HelloSafe noted that prices in Ontario are still above the Canadian average of $716,828. In comparison, it's almost twice as expensive to buy a house in Ontario than in Nova Scotia, where the average price was $362,988 in March.
Methodology: HelloSafe used data from CREA and the data is accurate at the time of publication.
Homes