Windsor
Real Estate News
These Are the Most Affordable Cities in Ontario to Buy a Home Right Now
Over the past year, Ontario saw a massive surge in housing prices and real estate activity amid the pandemic, as residents moved to rural and suburban areas in search of more space as they continued to work from home.
Residential sales activity in Ontario accounted for 32,748 units this March, a sharp year-over-year increase of 84.3%, setting a new sales record for March and the highest level for any month in history. At the same time, the average price of resale residential homes sold across the province in March 2021 was a record $890,035 — a sizeable gain of 29.9% year-over-year, according to the latest data from the Canadian Real Estate Association (CREA).
Because of this, it's no wonder, first-time buyers, move-on-uppers, and downsizers are trying to figure out where in Ontario they can find affordable properties to purchase.
Thankfully, there are some affordable areas in the province's generally red-hot real estate market, with cities of all sizes offering great options for buyers.
To help potential homebuyers learn what the most affordable areas are in the province, Zolo — a leading online real estate marketplace — analyzed economic data for 200 large, medium, and small-sized cities and ranked this data to find the most affordable cities in Ontario to buy a home.
To determine the most affordable areas, Zolo ranked cities based on three elements: affordability, unemployment rate, and population growth.
Of course, the most critical element is housing affordability, which was examined by looking at the average income of each city and then comparing that to the average price for a single-family home — known as the Home-to-Price ratio. This calculation helps determine how long it would take for the average income earner to pay off the entire cost of the average priced house.
Based on these elements, Zolo gave each city a score of out 100. The closer a city's score is to 100, the better the city is ranked.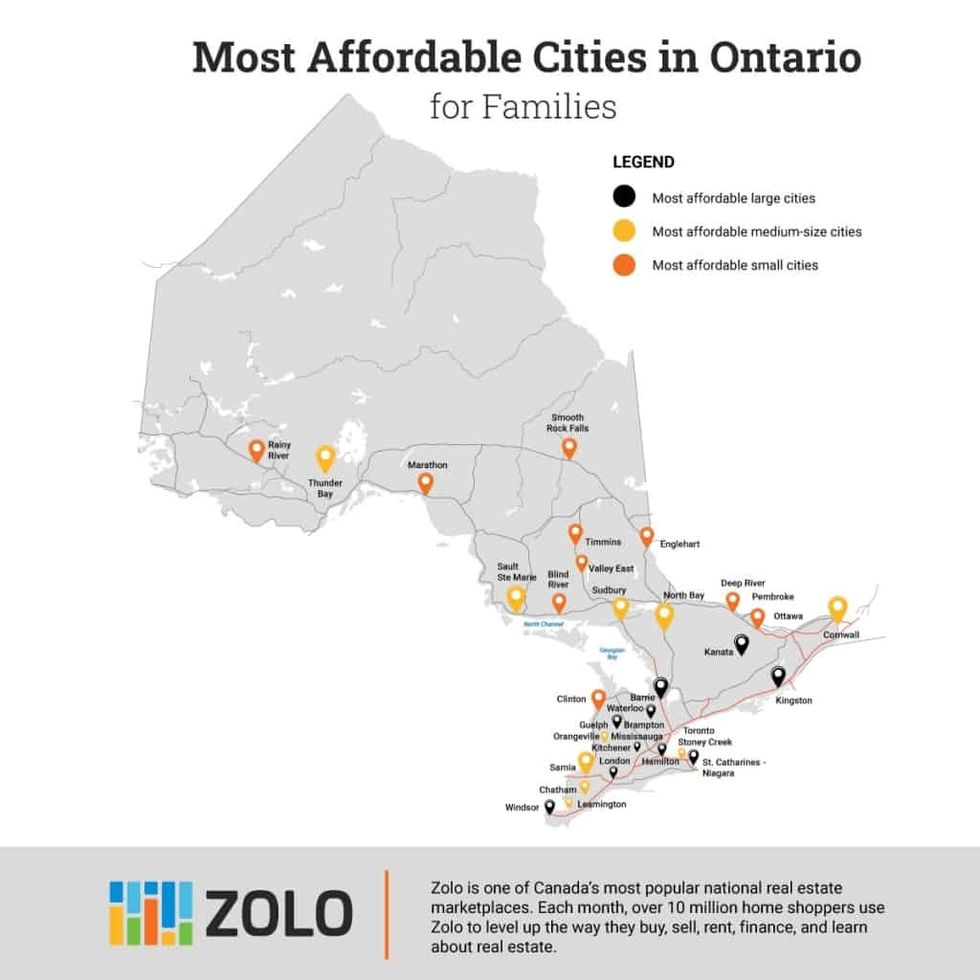 According to Zolo, Windsor topped the list as the most affordable large city to buy a home with an affordability score of 98.56. In Windsor, the average price of a home is $534,000, while the median income is $82,840.
Given its proximity to Detroit, countless Windsor residents commute there to work every day. Windsor is also home to The University of Windsor — ranked as one of the best universities in the nation. Zolo adds, "Windsor is a family-friendly and affordable place that offers plenty of festivals, museums, gardens, and gorgeous waterfront views."
Top five most affordable large cities in Ontario:
Windsor: 98.56
London: 97.49
Barrie: 97.06
Kanata: 96.92
Guelph: 96.22
The southwestern city of Sarnia topped the list as the most affordable medium-sized city to buy a home with an affordability score of 99.18, with homes costing an average of $358,000, while the median income is $91,592. According to Zolo, Sarnia offers an excellent quality of life with "affordable living, top-rated schools and health care, and a thriving arts scene."
Top five most affordable medium-sized cities in Ontario:
Sarnia: 99.18
Thunder Bay: 98.58
Sudbury: 96.54
Stoney Creek: 96.84
Sault Ste. Marie: 96.52
On the other hand, Deep River — a town in Renfrew County located along the Ottawa River — is the most affordable small-sized city, with an affordability score of 93.46 and the average home selling for $217,000, while the average household income is $100,343. Zolo says, "Deep River is perfect for active people because of its beautiful beaches, extensive cross-country ski trails, and snowmobile trails."
Top five most affordable small-sized cities in Ontario:
Deep River: 93.46
Rainy River: 91.62
Smooth Rock Falls: 90.60
Englehart: 88.93
Marathon: 88.91
The report also revealed what the most affordable cities in Ontario are for single-income earners. Thankfully, the best cities to buy a single-family home in Ontario on a single-income are identical to the top cities found in the overall ranking with Windsor, Sarnia, and Deep River as the most affordable cities for single-income earners as well.
While many homeowners have been able to take advantage of the record-low interest rates and declining prices in suburban cities outside of the downtown core, the average cost for a home is still unattainable for many buyers. But thankfully, this ranking proves just how far your dollar can go when you look outside of major cities.
You can read the full report and see how every city scored here.