GTA
Real Estate News
In Some Toronto Neighbourhoods Rent is Climbing By $350 a Month
It looks like the Toronto-area rental market has made its triumphant return, as average rents throughout the region have increased for the fifth month in a row following more than a year of pandemic-induced decreases.
Amid the pandemic, when students and workers left urban centres, the cost of renting tumbled. Subsequently, landlords began offering incentives to attract tenants. According to Toronto Rentals, by February this year, rents were down 16.3% compared to February 2020, just before the pandemic hit.
But, as pandemic restrictions eased up this spring, there were signs the slump was reversing course, with rents gradually starting to pick up steam. In August, average rents for all property types increased 0.9% month-over-month to $2,097 in the Greater Toronto Area (GTA), according to the latest Bullpen Research & Consulting and TorontoRentals.com latest GTA Rent Report.
However, despite the recent uptrend, the average rent in the GTA is still down 4% annually from $2,184 per month in August of last year and 14% from August 2019's average rent of $2,450 per month. Despite this, the continued uptick in prices indicates that the rental slump experienced throughout the majority of the pandemic is behind us, and the GTA rental market continues to roar back to life.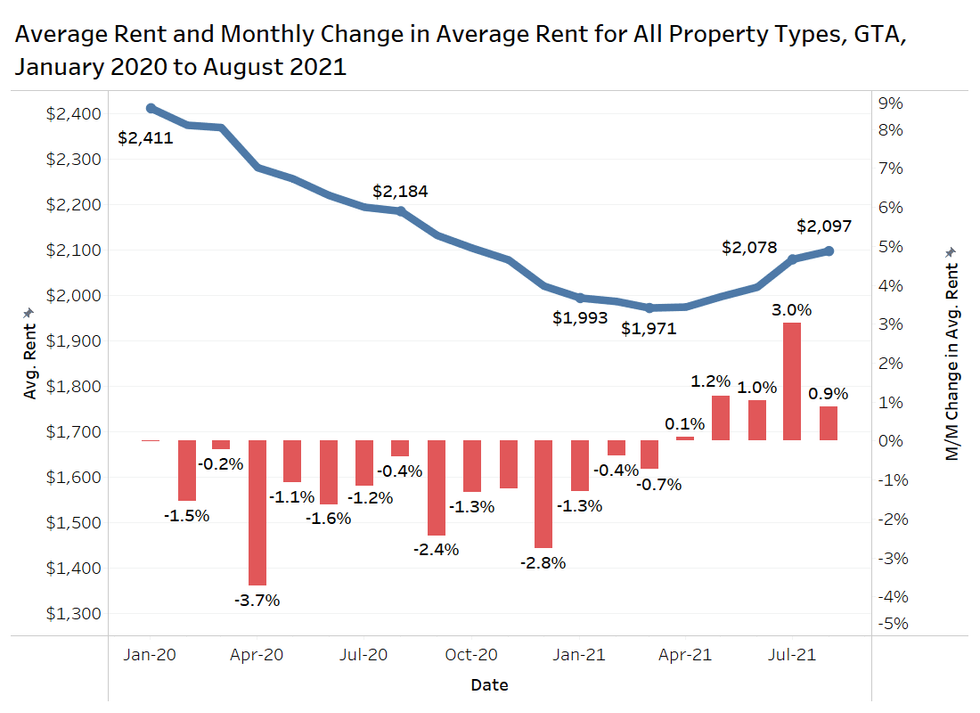 According to the report, the majority of the areas in the GTA experienced monthly increases in average rents last month, including Whitby (up 6.6%), Scarborough (up 3.9%), Richmond Hill (up 2.6%), Milton (up 2.3%), and Mississauga (up 2.1%).
READ: Surprised By How Quickly Toronto Rent Has Gone Up? So Are the Experts
Other areas in the region saw slight month-over-month increases in August, including North York (up 1.3%), York, East York, and Brampton, all up 1%, while Vaughan and Toronto were up just 0.8% and 0.7%, respectively.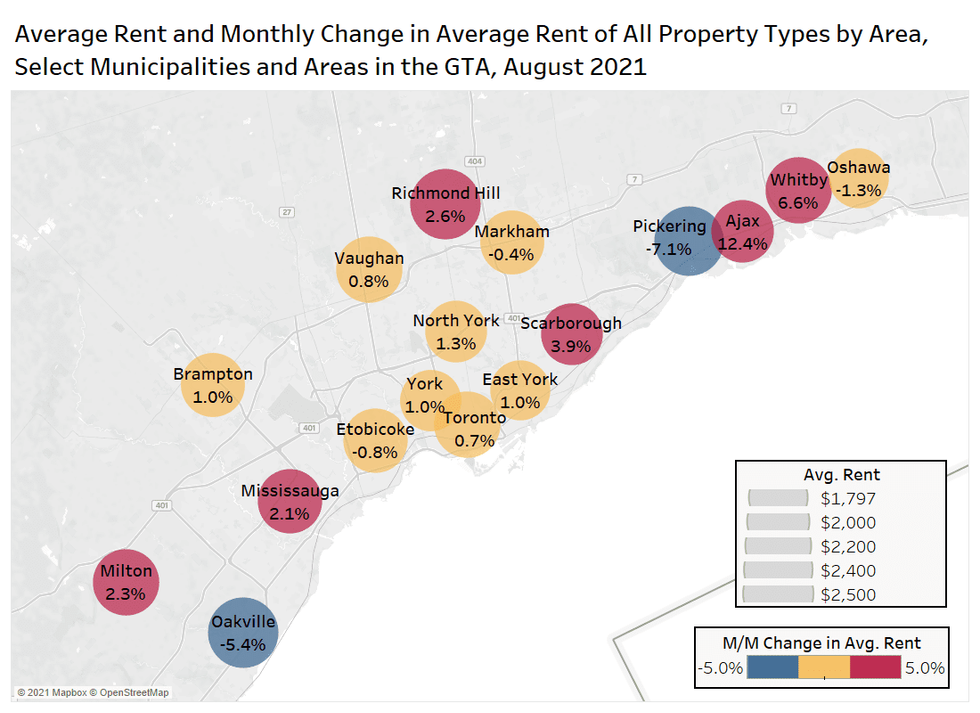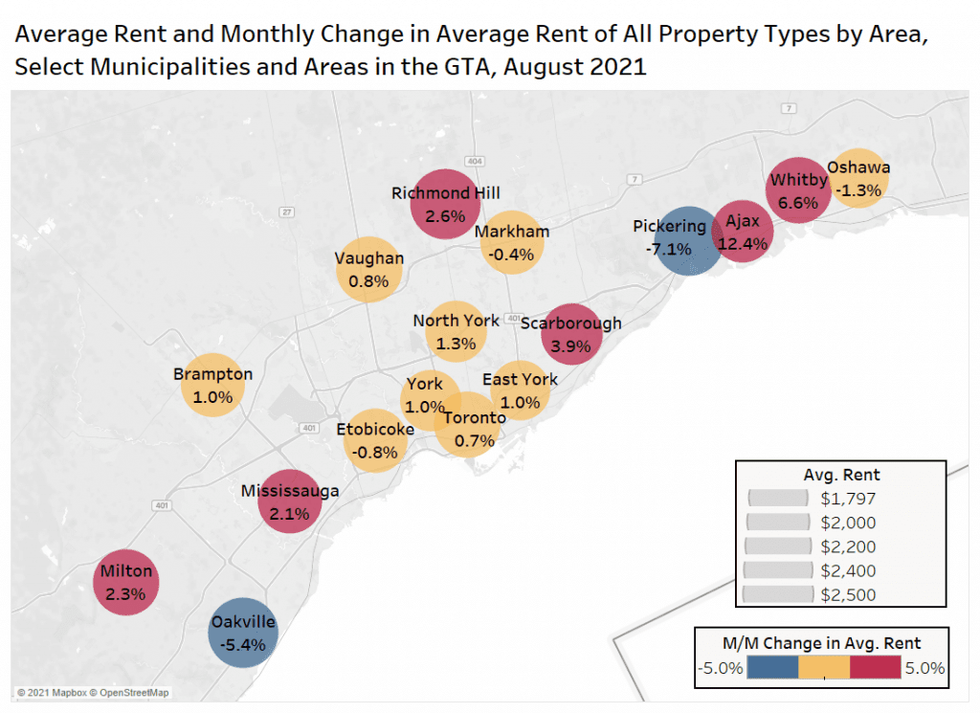 On a neighbourhood level, the area with the highest rents is the University area in Toronto at $2,459 a month. Additionally, this neighbourhood had the highest rents for a studio at $1,945 and a one-bedroom at $2,245 per month.
The neighbourhoods of Bay Street Corridor, Waterfront Communities-The Island, Niagara, Moss Park, and Church-Yonge Corridor saw rent increases of about $200 to $350 per month for condo rentals and apartments since the first quarter of the year. Bay Street Corridor had the highest two-bedroom rents at $2,922 per month, while Rosedale-Moore Park had the highest three-bedroom rents at $3,972 a month.
As for Toronto, average rents reached $2,094 in August, up 8% from the March 2021 low of $1,938 per month.
"The market bottom is now clearly in the past, with many of Toronto's most desirable neighbourhoods seeing average rents increase by $200 to $350 per month over the last six months," said Ben Myers, president of Bullpen Research & Consulting.
Notably, it became apparent that smaller rental units were in high demand last month, as the average rent for studio, one-bedroom, and two-bedroom units throughout the GTA all experienced month-over-month increases. Studio units increased 1.4% monthly to $1,525, while one-bedroom units rose 5.1% to $1,864 and two-bedroom units increased 1.3% to $2,308.
"After several months of large rental units leading the recovery out of the pandemic-induced rental slump, smaller units were popular in August, with average rents for one-bedroom units increasing by a whopping 5% monthly in the GTA," said Myers.
Despite some concerns regarding the fourth wave, a return to normalcy continues in the GTA with colleges and universities opening up and primary schools, malls, retail establishments, gyms, and downtown office buildings.
"With all of these things happening, the GTA rental market is returning to normal, which typically includes monthly rent increases as demand outstrips supply," said Myers.