---
Like the yellowing leaves, Greater Toronto Area home sales fell steadily throughout October, with the latest data revealing an almost 50% drop in transactions from last year.
According to the Toronto Regional Real Estate Board, a total of 4,961 homes traded hands last month, relatively flat (-1.5%) from the 5,038 that sold in September, but down 49.1% year over year. That effectively lowered the average sale price by 5.7% annually to $1,089,428, marking the second annual drop in a row. However, a tight shortage of homes for sale helped buoy prices over the short term, with the average ticking up $2,666 (+0.2%) from the previous month.
From a big picture perspective, though, there's no doubt that prices have lost steam. The MLS Home Price Index Composite Benchmark fell into the red after months of consecutive declines, down -1.3% from October 2022, and marking a sharp turnaround from the nearly 36% increase recorded in February 2022. That's the lowest level since the measure flattened in April 2020, at the onset of the pandemic.
The number of new listings continues to decline, as wary sellers remain resolute in waiting out shaky market conditions. Just 10,390 homes were brought to market, an -11.6% drop, and the lowest October level seen since 2010. This "persistent lack of inventory" has been instrumental in flattening the price trend to the $1.1M-range since the summer, with the largest declines in the mid- and high-density home type segments.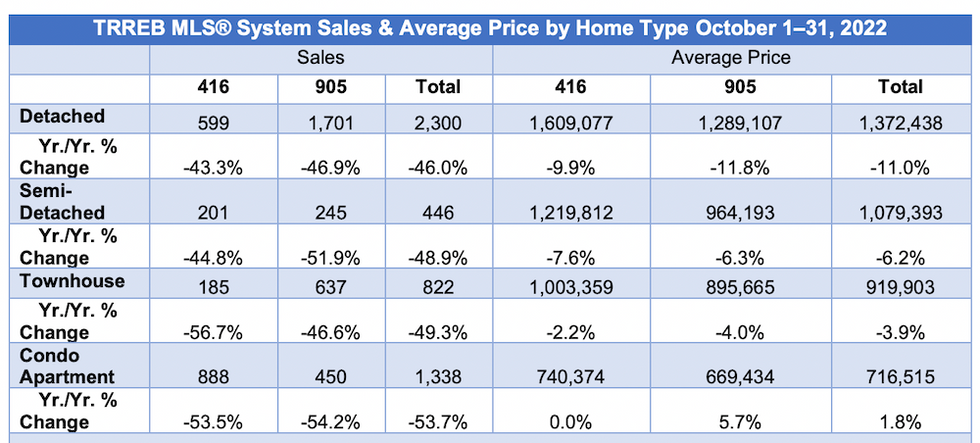 Toronto Regional Real Estate Board
"Home prices in the GTA have found support in recent months because price declines in the spring and summer mitigated the impact of higher borrowing costs on average monthly mortgage payments," said TRREB Chief Market Analyst Jason Mercer. "The Bank of Canada's most recent messaging suggests that they are reaching the end of their tightening cycle. Bond yields dipped as a result, suggesting that fixed mortgage rates may trend lower moving forward, which would help affordability," 
READ: Don't Call it a Pivot: Real Estate Industry Reacts to Latest Rate Hike
However, that supply remains so scarce will help the market regain its footing in the months to come, once interest rates stabilize and buyers' budgets recover, says TRREB President Kevin Crigger.
"With new listings at or near historic lows, a moderate uptick in demand from current levels would result in a noticeable tightening in the resale housing market in short order," he states in the board's release. "Obviously, there is still a lot of short term economic uncertainty. In the medium-to-long-term, however, the demand for housing will rebound. Public policy initiatives like the recently introduced provincial More Homes Built Faster Act and strong mayor provisions will help ensure we see more homes being built to affordably meet the needs of new households."
Sales softened to similar degrees both in and outside of the City of Toronto, with a total of 1,894 transactions within city limits (-49%), while 5,961 homes sold in the 'burbs (-48.5%). However, price declines were considerably steeper in the 905 markets with an average price of $1,087,162, a -7.6% drop from last year, representing a dollar amount of $89,518. In comparison, prices within the 416 dipped by -2.4% to $1,093,097, a difference of $29,339 from last year.

Toronto Regional Real Estate Board
New listings fell more sharply within the city, though, with 4,101 brought to market (-20%), compared to 6,289 listed in the 905 (-4.7%).
The sustained market slowdown will be felt in other areas of the economy beyond just real estate, says TRREB CEO John DiMichele.
"The housing sector has certainly been impacted by rising borrowing costs, and so too have other sectors of the economy with linkages back to housing," he says. "Housing-related spin-off benefits to the GTA economy, which average $70,000 per transaction, will be down by close to $3B this year. Associated jobs and government revenue streams will suffer as well. This illustrates the balancing act the Bank of Canada will be dealing with in the months ahead. It will also be incumbent on policymakers to ensure that inflation is not being furthered by price gouging at the retail level."
Real Estate News