---
Once dotted with seedy motels, the stretch of Lake Shore Boulevard West by the Humber Bay is establishing itself as a gleaming waterfront condo corridor, and one newly proposed condo development could add even more sky-scraping density to a rapidly growing part of western Toronto. 
The owners of a roughly 1.5-acre industrial site — currently home to a storage facility at 2256 Lake Shore Boulevard West — want to redevelop it into a high-rise condo complex, according to a development application recently submitted to the city. 
"The Proposed Development includes demolition of the existing self-storage building and construction of a mixed-use building composed of two towers rising to 35 and 18 storeys in total height," reads a cover letter included with the application. 
READ: New Proposal From Streetcar to Restore Riverside's Smith Block to Former Glory
The application, filed by Walker, Nott, Dragicevic Associates Limited on behalf of a numbered Ontario corporation, proposes a combined total of 594 condo units across the pair of towers in Toronto's Mimico neighbourhood. The suite breakdown includes 29 studios, 327 one-bedroom units, 178 two-bedroom units, and 60 three-bedroom units.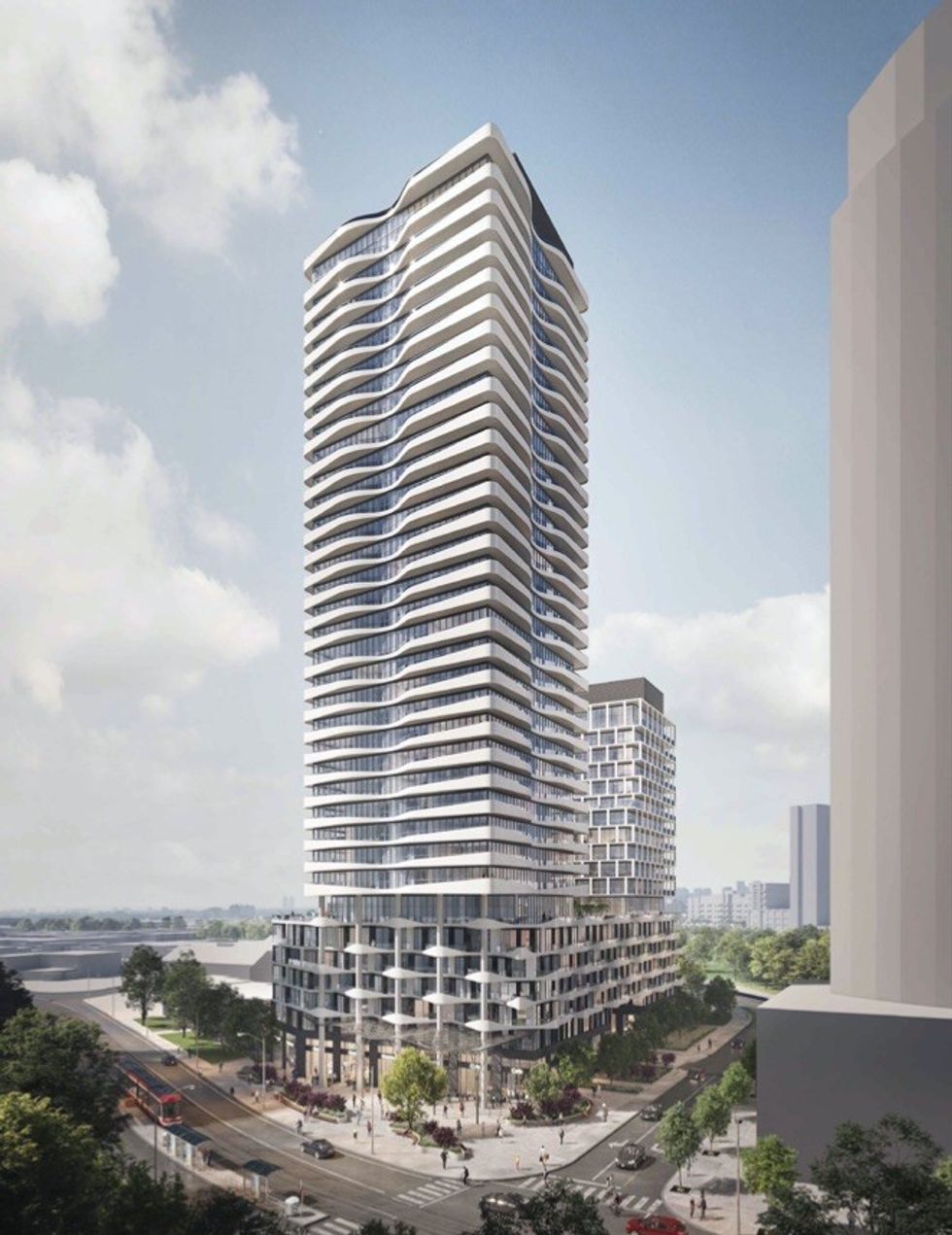 Rendering: CORE Architects
As per the proposal, 665 sq. m of street-level retail space in the development's podium fronts a landscaped pedestrian plaza off Lake Shore Boulevard West. The plans also boast 1,192 sq. m of indoor amenities throughout the first, second, and seventh floors of the condo complex. Outdoor space, including lounge and barbecue areas, totals 1,220 sq. m. It's split between the ground floor and the podium's roof, nestled between the towers. A children's play area on the seventh floor overlooks Lake Shore Boulevard. 
If approved, the development, not far from the mouth of Mimico Creek, is set to contribute more greenspace to an area already fringed with wetlands, meadows, and forests. A proposed parkland dedication amounting to 10% of the development site is meant to expand the neighbouring Flora Voisey Park to the back. 
The architectural design set out by CORE Architects plays off the site's surroundings -- in particular, Lake Ontario. Swooping balcony treatments, formed out of painted metal panels, give the taller tower's facade a distinct "wave-like" appearance, while the shorter tower behind it has a more angular look, contributing to a "rectilinear expression." The podium's lowest portion is adorned in grey brick, reflecting similar materials from townhouses close by.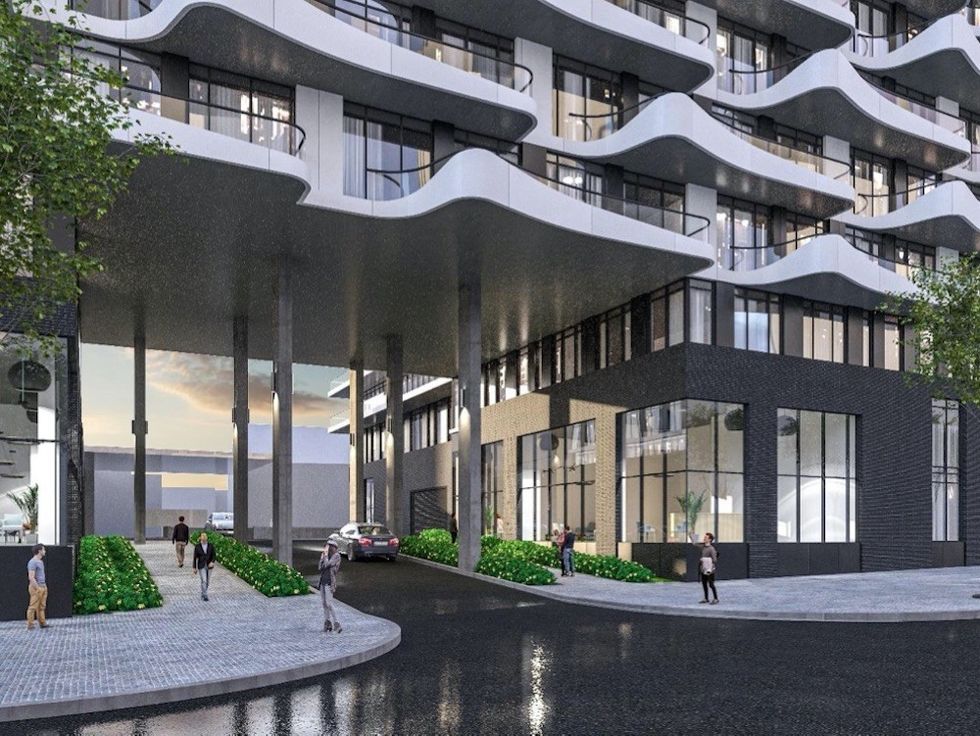 Rendering: CORE Architects
Located on the northwest corner of Lake Shore Boulevard West and Legion Road, the development site is within 500 m of the future Park Lawn GO Station. If completed, the station is meant to serve as a transit hub for a massive, mixed-use community that's planned for 2150 Lake Shore.

First Capital and the Pemberton Group's intentions for the nearly 28-acre site -- where the former Mr. Christie cookie factory once stood -- feature 15 towers, between 16 and 70 storeys, as well as a park, public squares, and more. Once complete, the development could be home to about 13,000 people.
Rendering: CORE Architects
The scale of the nearby Mr. Christie redevelopment, together with 2256 Lake Shore's proximity to a proposed transit hub, are just a couple of the factors that justify the scope of this two-tower vision, a planning rationale related to the development application suggests: "The Proposed Development… contributes to the long-term economic prosperity of the area with new retail uses, expands the range of housing options within [the] community, and optimizes the planned investments in the local transit, cycling and road network."
Future Developments