---
When Sergio El-Azzi announced he had joined elite real estate brokerage Cohen Homes & Estates a year ago, he did so with an editorial-worthy photo that looked like it was straight from a luxury magazine cover.
The over-the-top photoshoot was snapped by famed celebrity photographer George Pimentel and features a sprawling Bridle Path mansion as the backdrop. Front and centre is an (always) impeccably dressed El-Azzi, alongside his heavy-hitting real estate colleagues Barry and Justin Cohen.
The shoot seemed only fitting for El-Azzi, who had become a well-known fixture in the global fashion and society worlds for nearly a decade as an award-winning editor, content creator, and marketer. No stranger to the spotlight, El-Azzi also appeared on The Real Housewives of Toronto. 
Fashion started as a hobby when the Toronto native was just 18 years old. "Most people get fake IDs so they can party; I got mine so I could get into fashion shows," he says of his long-time passion for the fashion world. Still, it was something he saw as "just for fun" at the time. 
But, as the years went on, El-Azzi started to carve out an inevitable business for himself in the fashion industry -- one that would prove to be exceptionally lucrative. "I started to get bigger and bigger clients that wanted to work with me for promotions and brand expansions," says El-Azzi. "I got to work directly with some of the top CEOs, vice presidents, and heads of companies -- from LVMH to Versace and Cavalli. I was kind of on top of the world."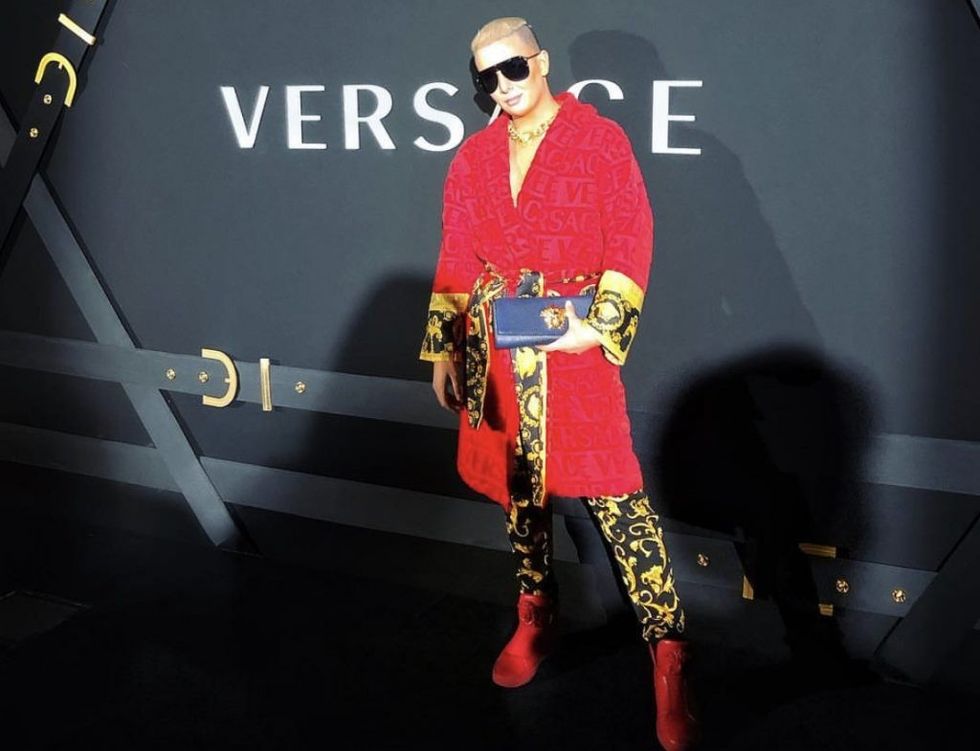 After eight years in the industry, El-Azzi's world was rocked when the pandemic hit. He "lost everything" and went into survival mode. As he points out, fashion was already struggling before the pandemic.  "Add a pandemic to that and it shifted everything," says El-Azzi. Now, the already fragile industry was virtually at a standstill.
So, El-Azzi turned to a longtime passion and quietly put his head down to focus on getting his real estate license. It was the first step to reinventing himself in a new career. At the time, El-Azzi told only a handful of close friends. "I wanted to do it without other people's opinions getting in the way," he says. "I felt like many people saw me as this fashion character out and about at events…but I did want to change my life and be taken more seriously in business." 

Once licensed, he got the coveted gig with big shot luxury Toronto realtor Barry Cohen -- whose brokerage has facilitated some $6B in real estate transactions -- through "some great connections" he had made along the way in the fashion world. And then came the big splashy announcement, which (not surprisingly) was a hit on social media. 
"With me, if I'm doing something, I'm going to do it big;  I didn't want to do a typical announcement," said El-Azzi. "I wanted to incorporate some of my fashion connections and make it as glam as possible. Real estate is a very serious industry -- you're working with people's biggest assets and impacting major life choices -- but it's also a very glamorous industry when you're selling these multi-million dollar houses. So, I wanted to incorporate both of my worlds with the shoot."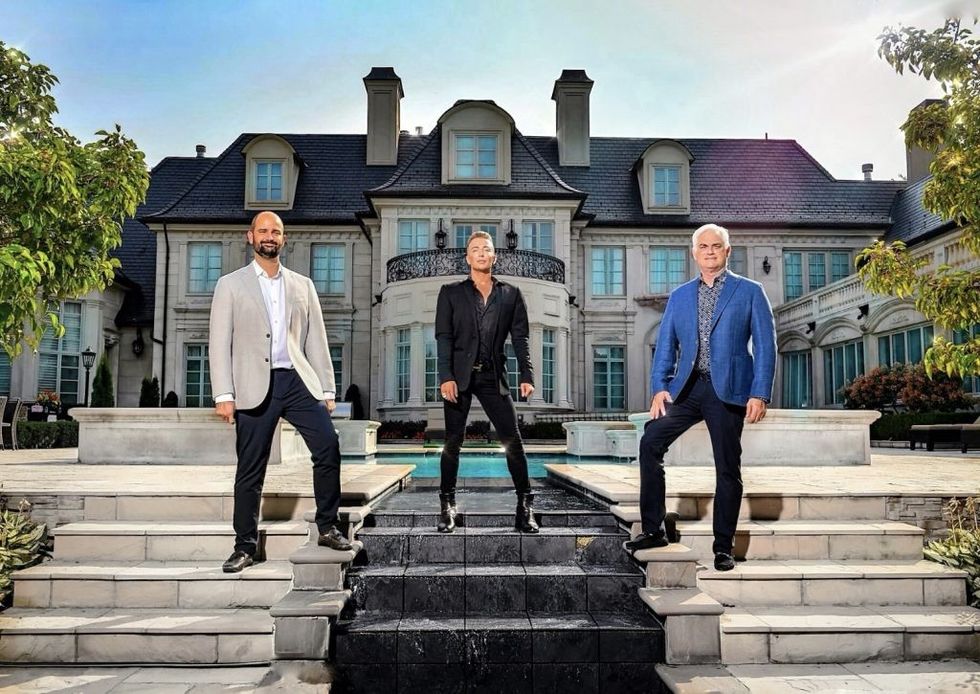 Photo: George Pimentel
Of course, El-Azzi isn't the only one to get his real estate license during the pandemic. The red-hot market made the profession more appealing than ever. But it's also a lot more competitive than it's ever been; new realtors need to stand out in a sea of others. 
"There are thousands of realtors in Toronto; you need to differentiate yourself and think outside the box with branding," says El-Azzi. "For example, maybe you're really strong with numbers and are able to show all of your transaction history, or maybe you're really good with social media." When it comes to branding, he advises to start by focusing on your strengths and working on your weaknesses along the way.
"Through fashion I was able to find ways to stick out from the crowd and kind of make myself into my own brand," says El-Azzi. "That was useful getting into real estate, because I think outside of the box and don't do what the average person would necessarily do."
After the big announcement, El-Azzi hit the ground running, soaking up all the could about the industry. Although he says it was a bit of a change to go from "this big, loud, fashion persona" to being "a little more professional" (not to mention, starting his career in a climate of lockdowns), El-Azzi quickly realized that there were many skills that transferred over from fashion to real estate -- including (but certainly not limited to) being a natural in front of the camera in videos promoting his brokerage.
"Both fashion and real estate are careers that require a lot of work and time and energy," says El-Azzi. "People see the final product and what you've accomplished but they don't realize all of the leg work and time -- from countless emails to brainstorming -- that goes on behind the scenes. So, I sort of had those habits from fashion because I was doing it all on my own. Leading up to New York Fashion Week, I would send about 400 emails pitching myself and following up. With real estate, you're also constantly pitching yourself; why should someone work with you compared to another person?"
As El-Azzi highlights, the fashion industry also has a lot of interconnecting clients with real estate -- especially in the luxury space. "A lot of CEOS and financiers or their spouses are involved in the charity circuit, are at these fashion shows, or shopping at these boutiques and your network crosses over," he says. "The people who have the money to buy a $50,000 handbag are going to be living in multi-million-dollar homes."
High-profile connections or not, after one year in the business, El-Azzi says it's clear that you get what you give. "If you're not putting your entire self into it, you're not going to see results," he says, underscoring the importance of being passionate about the job. "A lot of people don't make it past the first few years because they realize it's not for them; you need to be passionate about it," he adds.
El-Azzi cites a partnership with Forbes Global Properties as a milestone when it comes to global recognition for the Barry Cohen brand. He also highlights how the brokerage currently has the Mean Girls house listed for a cool $27M. "It's one of the most iconic homes in pop culture," he says of the sprawling home of central character Regina George. 
While El-Azzi is most interested in luxury real estate, he's not limited to it. He's done transactions that aren't luxury and even started to dip his toes into the commercial space. "I find mansions, estates, and penthouses super interesting," says El-Azzi. "But at the end of the day, real estate is so much bigger than that; there are so many little pockets and windows and cool things you can learn about." 
As for fashion, it's still a big part of who El-Azzi is as a person -- rebrand or not. "Fashion will obviously be part of my identity," says El-Azzi. "I like to think of fashion as my hobby and real estate as my career."
Industry Profiles