We're now more than seven months into the global pandemic and its effects continue to be felt in Toronto's real estate market. In fact, initial behaviour patterns are beginning to settle into some (potentially) longer-term trends.
---
Case in point: as the province rides through the second wave of the coronavirus pandemic, staying safe while also having space to live, work, and play has become a key factor in many peoples' home-buying decisions.
This is why it's of little surprise that the third quarter of 2020 saw a notable increase in transactions (by 58%) and prices (13%) for freehold houses in Toronto, according to real estate agent Doug Vukasovic.
And, of course, these properties are always in demand, but it appears that they are even more sought after now amid the current work-from-home world as homeowners search for more square footage and outdoor space.
READ: Toronto Sets New Record for Home Transactions in September as Sales Soared 42%
In turn, buyers are shelling out more to buy their dream homes and the average price for a freehold home in Toronto is now $1,589,293, according to Vukasovic.
Vukasovik says that while many properties have hit the market in the $1-to-$2 million price range, they aren't staying there for long and more than half of all freehold properties in Toronto are now selling in bidding wars.
What's more, luxury homes (priced above $3 million) are just as hot, likely due in part to extra amenities such as home gyms, plus the additional overall space they tend to bring.
Condominiums, on the other hand, are seeing a much slower recovery, given their relatively smaller size, hard-to-avoid common areas (in mid- and high-rise buildings), and pandemic-restricted amenities.
Condo transactions may have increased by 13%, but with lots of available inventory, price appreciation remains soft -- up 'just' 5% over the same period last year.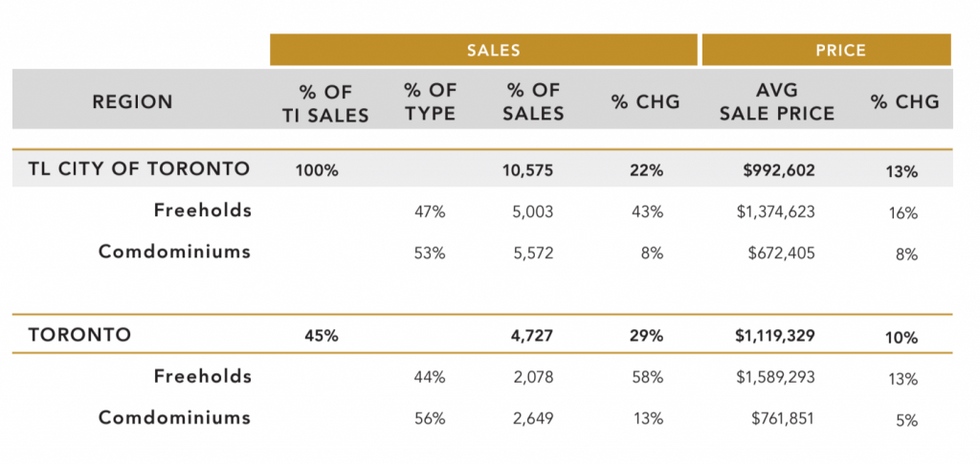 *TL City of Toronto refers to the total of the City of Toronto, compared to just Toronto proper.
Recent data from online mortgage brokerage nesto also coincides with Vukasovic's report, revealing that in September, homeowners targeted houses over condos for their next property.
"Enabled by a future of remote working being the new normal, our users are fleeing the condo-life for more house and land, with less crowding," reads the nesto report.
"In Toronto, this price-growth disparity between freehold homes and condos is worrisome: If the gap continues to widen, it will become harder, and take longer, for current condo owners to trade up into the freehold market," said Vukasovic.
"But the pandemic should, eventually, come to an end, which means homebuyers' aversion to smaller spaces may also be temporary. If you're bullish about the current, slightly depressed condo market, the conditions may be right for purchasing an investment property."
Toronto