Real Estate News
One Third of First-Time Homebuyers in Canada Still Believe Now is a Good Time to Buy
With mortgage rates at historic lows and household savings increasing, the pandemic has presented unique opportunities for first-time homebuyers, including those who might typically be priced-out of the country's red-hot market.
Of course, as you might imagine, how first-time buyers feel about the current state of the market varies greatly by region, with buyers in western Canada feeling now is a good time to purchase a home, while those on the east coast are feeling a bit more pessimistic, according to a new housing survey from BMO.
According to the survey, while home buying views have shifted for first-time homebuyers, most say they plan on using their pandemic savings to make a down payment for their dream home.
What's more, compared to last September, sentiment around affordability has cooled for over a third of first-time buyers, while 32% of buyers said now is a good time to buy, though 30% of millennial respondents said they felt optimistic to buy in the current market.
From province to province, the confidence in today's housing market varies, with first-time buyers in Alberta (70%) and the Prairies (55%) being the most optimistic. On the other hand, the most pessimistic first-time buyers are in Ontario (20%), closely followed by those in BC (22%), and Quebec (22%).
According to BMO, the view of the housing market is, in part, being driven by first-time buyers' perception of housing prices, with 62% of respondents saying they believe prices will continue to go up, with first-time homebuyers in the Prairies and Alberta serving as the most likely to hold this view, at 73% and 72%, respectively.
They aren't alone with this view though, as 60% of Canadians recently said they believe prices will continue to increase over the next six months.
With prices expected to rise, some first-time homebuyers plan on sitting on the sidelines, with close to 40% saying they plan to hold off on buying a home until prices come down — millennials are the group most likely to wait.
For those interested in buying a home, the pandemic has helped Canadians save, with 80% of first-time homebuyers now saying they intend on using some or most of their increased savings to boost their down payment.
On the down payment itself, first-time homebuyers are spread out on the amount to spend.
Over a third (36%) said they would be looking to put down between five and 10% of the purchase price, while nearly 20% of buyers plan on making a down payment between 16 and 20%. On the higher end, close to 15% of buyers are looking at laying down between 21 and 50% of the purchase price of their first home.
How much buyers expect to spend on their first home also varies greatly by region, with those in Atlantic Canada expecting to spend an average of $206,000 compared to those in BC who expect to pay an average of $586,000. On a national level, first-time homebuyers expect to pay an average of $433,000.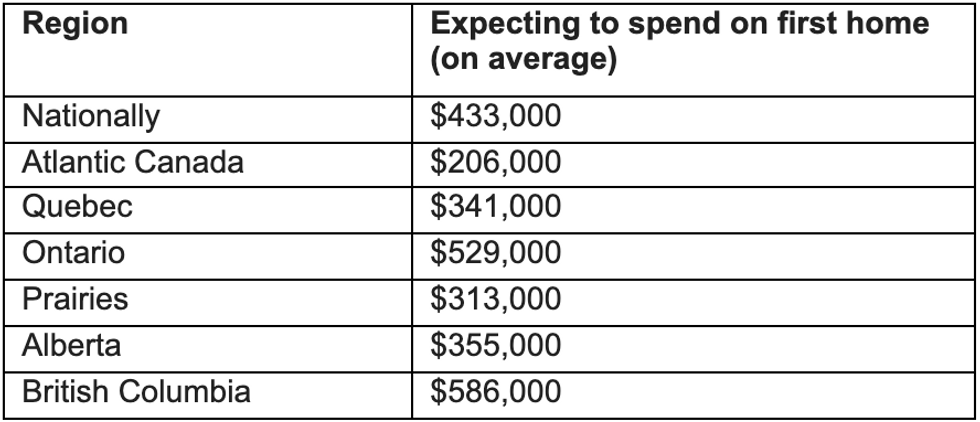 As for getting pre-approved, nearly 20% of first-time buyers are already pre-approved and 48% plan on getting pre-approved. For obtaining that pre-approval, close to a third would consider an online option.
"The Canadian housing market, overall, is incredibly strong right now with record demand and tighter supply pushing prices up," said Hassan Pirnia, Head, Personal Lending and Home Financing Products, BMO Bank of Montreal.
"While some buyers are looking to accelerate their move into the market anticipating price appreciation, we are seeing others pause on their homeownership plans," added Pirnia.
"We know how significant the purchase of that first home is – it's a milestone for most Canadians."