Last month, it was revealed that a developer had purchased the city's infamous Filmores Hotel in a massive $31.5 million dollar deal. And as a result, most assumed the building's downstairs strip club would be closing up shop, too.
---
[Want to see more stories like this? Sign up for our weekly newsletter!]
However, the downtown joint recently announced that despite the building it's housed in being sold, it's still open for business. And it's not going anywhere soon.
"Reports that Filmores is about to close are wrong," reads a Facebook post from the strip club earlier this month. "Yes, the building we call home has been sold, but we've been here on the corner at 212 Dundas East for 40 years, and we'll be here for at least a couple more," the post continued.
READ: Infamous Filmores Hotel Purchased by Toronto Developer in $31.5M Deal
The company says it's planning a "titillating future" and that customers should "stay tuned" for what's next.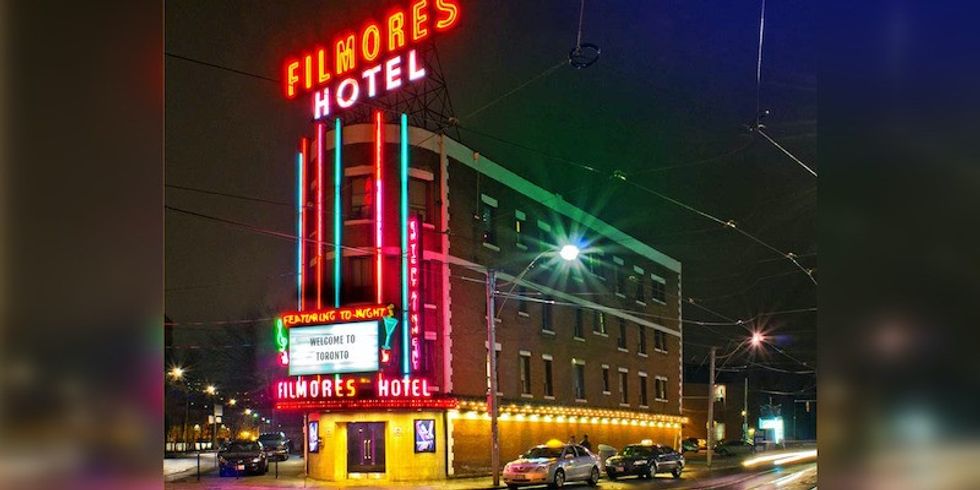 Filmores Hotel
In January, Toronto-based Menkes Development purchased the property that currently houses the hotel, which has been a family-run business since the late 1970s. Over the years, the infamous hotel has become known for its cheap rooms and flashy, downstairs strip club, making it a popular choice for bachelor nights and private parties.
And while the fate of Filmores Hotel still remains unclear, perhaps we'll see the developers follow in the footsteps of Jilly's, the iconic strip club originally housed in a Romanesque red brick building in Riverdale, that, when purchased, made way for the hip and trendy Broadview Hotel.
Toronto