The federal government is committing over $12 billion to support major transit projects in Toronto and Hamilton.
---
On Tuesday, the federal government said it will help Ontario pay $10.7 billion for four subway projects in the Greater Toronto Area (GTA) and one rapid-transit project in Hamilton.
The projects in Toronto encompass Premier Doug Ford's GTA transit expansion plan, including the province's bold Ontario Line, which is said to be the largest subway expansion in Canadian history, as well as the Eglinton Crosstown West LRT, and the Scarborough and Yonge North subway extensions. The Ontario PCs have estimated the cost of those projects at $28.5 billion.
The Ontario government said the funding commitment of $10.7 billion covers 40% of the capital costs for the four priority "nationally-significant, multi-billion dollar subway projects."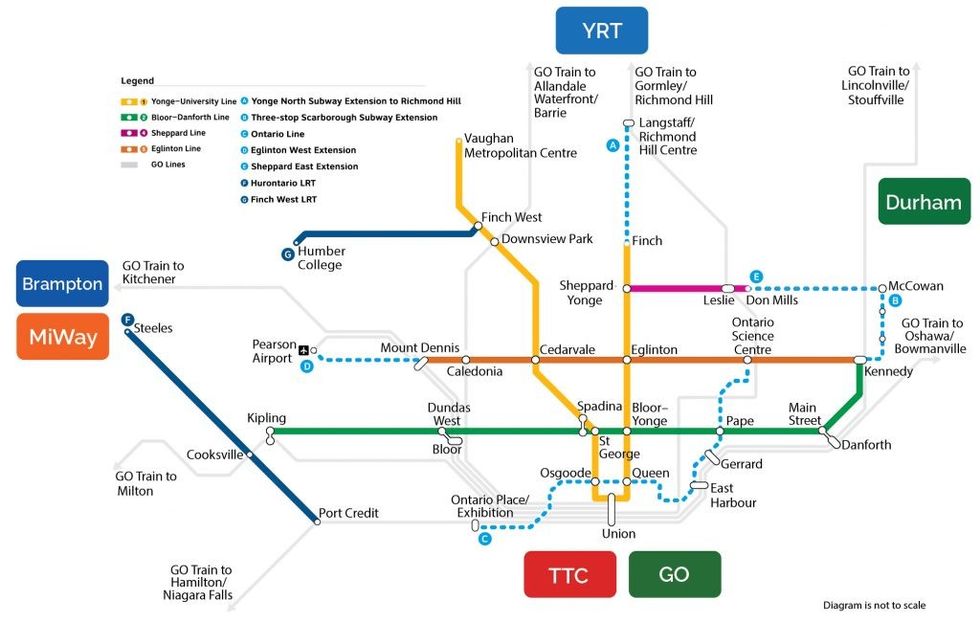 Ontario Government
"Our government, under Premier Ford's leadership, is delivering on our bold plan to provide people with access to better, more reliable and more seamless rapid transit," said Caroline Mulroney, Ontario's Minister of Transportation.
"We are getting people where they need to go, when they need to get there. By having the federal government come to the table in this historic partnership, we are moving full steam ahead on building these projects that our residents need today and for future generations," said Mulroney.
The Ontario Line project in Toronto -- slated to be completed in 2030 -- is a 15.6 km line that will bring rapid transit from Exhibition Place, through downtown, to the Ontario Science Centre. The provincial government says it will help address dangerous overcrowding on TTC's Line 1 and Bloor-Yonge station.
The second project for the GTA is the 9.2 km Eglinton Crosstown West extension, which will create a continuous rapid transit line along Eglinton Avenue between Scarborough and Mississauga.
The Eglinton Crosstown West Extension, which is still under construction, was expected to be completed in 2021 but was delayed to 2022 after Metrolinx said several "challenges" arose since the start of the project.
The third and fourth transit projects in the GTA are the Yonge Street North Subway extension and the Scarborough Subway extension. The approximately 8 km Yonge North Subway Extension will continue the TTC's Yonge-University Line (Line 1) to major employment centres in York Region, such as Markham and Richmond Hill.
The province says the 7.8 km Scarborough subway extension will finally deliver the three-stop subway connectivity that Scarborough residents deserve. 
The combined subway projects will support over 16,000 jobs during the construction period and, by 2041, will have a total daily ridership of over 620,000 with almost 400,000 people within walking distance of a new transit station, according to the Ontario government.
"Transit expansion is critical to the future of our city. It ensures that we are supporting economic recovery post-pandemic, will help create a greener future and represents a substantial contribution to equitable access to our city, jobs, education and much more," said Toronto Mayor John Tory.
"This transit funding will be vital in ensuring that Toronto – Canada's economic engine – will come out of this pandemic stronger and ready to thrive and prosper," added Tory.
In Hamilton, the federal government will support a rapid-transit line from McMaster University, through downtown, to Eastgate Centennial Park in Stoney Creek.
Part of the fed's funding will also go toward buying zero-emissions streetcars for the Toronto Transit Commission.
Toronto