The provincial government says it's moving forward with the Ontario Line – the signature project in the largest subway expansion in Ontario's history.
The Ford government announced Tuesday it will soon begin the procurement process for the Ontario Line subway, though it is now choosing to split the project into two segments.
---
Transportation Minister Caroline Mulroney said the province would begin the procurement process for the 15.5-kilometre stand-alone rapid transit line that will connect the Ontario Science Centre to Exhibition/Ontario Place by issuing two Requests for Qualifications (RFQs).
READ: Ontario Line Transit Plan Approved But Big Questions Remain
"Under the leadership of Premier Ford, our government is taking historic steps to expand subway service and reduce traffic congestion across the GTA," said Mulroney. "By issuing these first RFQs we are one step closer to realizing our transit vision and helping to generate economic activity and create tens of thousands of jobs as the province recovers from COVID-19."
The current plans in place include 15 potential stations, including 17 new multi-modal connections to GO Transit, existing TTC subway stations and streetcar lines, and the Eglinton Crosstown Light Rail Transit line.
The TTC will be responsible for the day-to-day operations of the line, though a release from the province says that the chosen companies could be responsible for some limited maintenance, including "re-establishing Ontario Line operations" in the event of an outage and "coordinating with utility companies."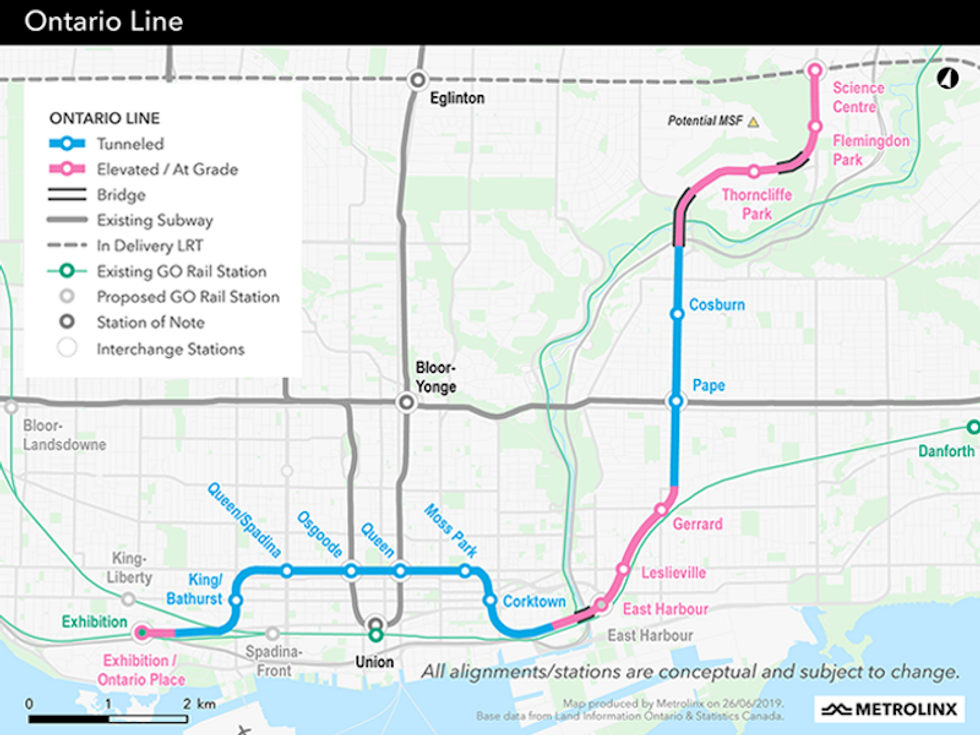 Infrastructure Ontario
According to the province, the first two RFQs being issued will include rolling stock systems, an operations and maintenance contract for the entire line, and a design-build-finance contract for the southern portion of the Ontario Line. The RFQ for the northern civil package will be released once the successful proponent for the southern civil package is identified.
"The Ontario Line is one of the most significant transit infrastructure projects for Ontario in a generation," said Laurie Scott, Minister of Infrastructure. "Moving forward with these procurement contracts signals the government remains committed to building much-needed transit infrastructure to reduce congestion and contribute to the economic recovery and renewal of our province."
The province says companies interested in bidding on these contracts register with www.merx.com to download the respective RFQs. Infrastructure Ontario and Metrolinx will evaluate RFQ submissions and shortlist teams to be invited to respond to a Request for Proposals in fall 2020.
While this is definitely a step in the right direction, the Ford government did not make any reference to a completion date during the announcement, but some reports say the completion is likely delayed past 2027.
Toronto