While Queen Street is home to many notable landmarks, eclectic shops, and locally-owned boutiques and eateries, no establishments stand out quite like the property at 905 Queen Street West, which is described as "a jewel from a bygone age."
---
Perhaps if you've ever been wandering down the buzzing street, you've found yourself stopping outside of the property's black iron gate to marvel at the landmark residence that's centrally located across the street from Toronto's coveted Trinity Bellwoods Park.
The 170+-year-old Georgian-style home, with its charming blue door, brick facade, and pale yellow trim, frequently entices those passing by toward the home's gate, where they stop to ponder about what goes on inside the mysterious house.
Built in 1847, the lovely Georgian gem was the former home of a prosperous brewer, John Farr, in the old town of York. Farr established the Farr Brewery in 1819, which was located on the site adjacent to the home. While the brewery was sold in 1858, the house was occupied by Farr's daughter, Mary E. Farr, until 1905.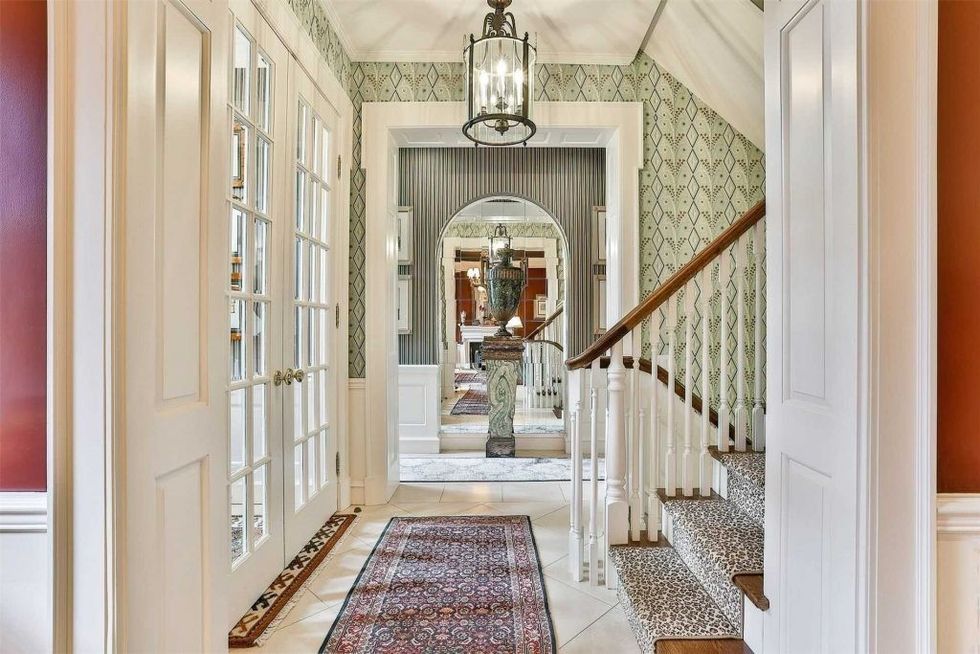 905 Queen Street West/Zolo
In 1992, the home was designated as a heritage property after Toronto City Council said the "handsome, well-proportioned house deserves preservation." Over the years, the impeccably restored home has been preserved as a gorgeous example of Georgian architecture and has served as a dramatic landmark along Queen Street.
Set back from the bustling street, the stately home is sheltered by mature trees, while the neighbouring Trinity Park Lofts tower from above.
The home exudes a sense of romantic elegance from the outside, as the front gates open to the tree-lined cobblestone pathway and beautifully manicured garden.
Today, the historic building accommodates modern business life, with sleek offices and workspaces located throughout the home.
However, the building still feels homey thanks to its sun-filled interiors and timeless details throughout, including fine millwork, herringbone hardwood floors, 10-foot coffered ceilings, charming wallpaper, and arched doorways.
Specs:
Address: 905 Queen Street West
Type: Commercial
Bedrooms: 1
Bathrooms: 3
Parking: 2 underground parking spaces
Size: 2,500-sq.ft
Price: $5,500,000
Taxes: $8,426 /yr
Listed By: Re/max Hallmark York Group Realty Ltd., Brokerage
The home is the perfect blend of history meeting modern times with a touch of wildlife -- a running theme throughout the house.
On the main floor, you'll find a gorgeous kitchen, dining room, living room, an office, and an elegant and timeless wood-panelled library that we're sure smells of rich mahogany and leather-bound books.
The upper floor is home to a principal bedroom suite with a walk-in closet, a striking marble bathroom, a family room with a beautifully mantled fireplace, a sitting room, and a butler's servery, while the finished lower level is perfect for a spacious boardroom or it could serve as a theatre room.
Whether you're looking for a beautiful new office space located in the heart of Queen West, or you'd like to call the famous John Farr house your new home, you can own a piece of Toronto history for $5.5 million.
Curious to see more? You can tour the property home below.
Listed Luxe