When the car was king and Etobicoke had more of a suburban mentality, it made (a kind of) sense to have a crazy tangle of roads in its centre. Or, at least, it didn't make enough sense not to.
But in the decades since the '50s, as it slowly dawned on cities that urbanization had definite benefits, Toronto developed a plan targeting the transformation of Etobicoke Centre as the nucleus of a western 'city' in Toronto.
---
And the Six Points cluster of Dundas, Bloor and Kipling streets needed to be reconfigured to begin making that vision a reality. However, it takes more than pulling down overpasses and planting trees to make a livable city centre. It requires mixed-use spaces, community services and good public transit.
Which is where the city's plan for a new Etobicoke civic centre and new Kipling transit hub come in.
Six Points: Untangled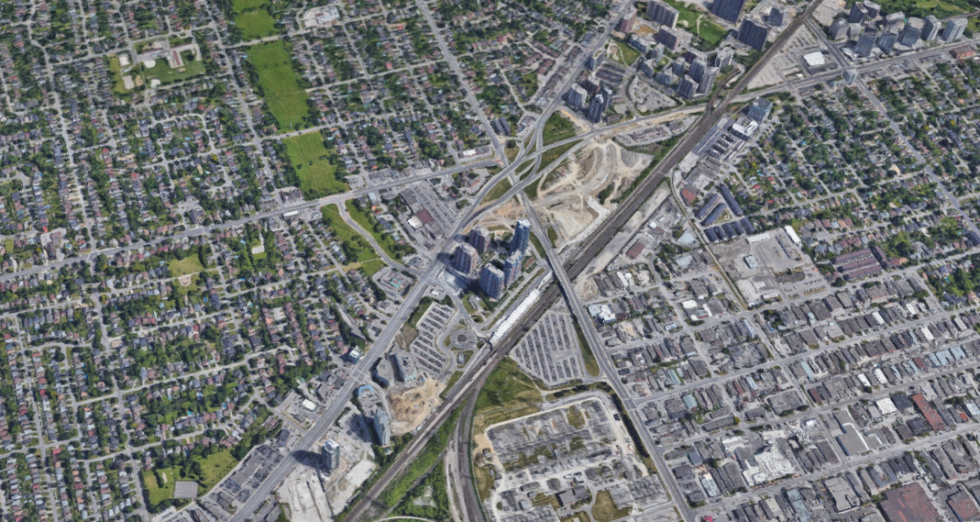 Google Maps
Etobicoke Centre runs along Dundas Street West from Shorncliffe Road to Kipling Avenue, and between Dundas Street West and Bloor Street West from Kipling Avenue to Montgomery Road. It is one of four centres identified in the City's Official Plan to be redeveloped to encourage a high concentration of residents, employment, and economic activity.
READ: City Building At Its Best: The PJ Condos Give More Than They Take
One of the first steps to turn the area from a car-commuter zone dangerous for pedestrians into a walkable, livable, workable centre was to reconfigure the Six Points intersection of Dundas, Bloor and Kipling.
With work beginning in 2017, the overpasses and loops were removed and everything was taken down to grade, sidewalks were added, trees were planted, and people can now walk in the area without taking their lives into their hands.
"Up until it got levelled about a year ago … it was like a highway," says Lola Macanowicz, chair of the Village of Islington Business Improvement Area. "When to-grade came about … people were able to move about, whether walking, cycling or in vehicles." Now, she says, the accessibility to public transit is safer and easier, and the area's arteries also allow people to get to the airport quickly or commute to jobs downtown or in surrounding areas.
But people need a reason to get out and walk in their neighbourhood.
A New Civic Centre to Live, Work and Play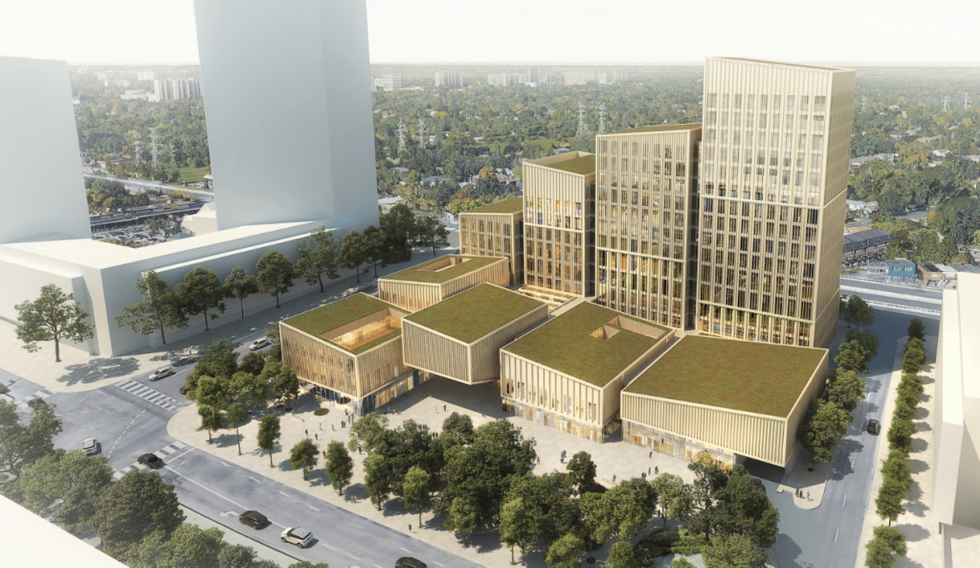 Etobicoke Civic Centre Rendering
A vibrant community includes parkland, retail and office space, accessible local government and community activity spaces.
The city's vision for the area includes the creation of seven blocks out of the reconfiguration of the Six Points interchange, with a new civic centre the focus of the redevelopment.
"Some of the major changes happening in the area have been on the books for quite some time, and it's exciting that the wheels are in motion," says Etobicoke-Lakeshore councillor Mark Grimes. "There are a lot of moving pieces here to make sure that we can get the most out of this space and turn it into a vibrant, mixed-use, transit–oriented community. A key component of this is ensuring that the proper facilities are in place to support the growth in the community, such as childcare, recreation space, and a library – all of which will be included in the new Civic Centre."
With construction expected to begin in 2022, and occupancy anticipated in 2025, the civic centre plan includes a council chamber, a recreation centre with a track and a pool, child-care space, a public library and a public square.
This would be a place where "you can pay taxes, pick up a library book and watch your children play in the pool," says Gabriella Sicheri, vice-president of development for CreateTO, which manages Toronto's real estate assets.
The civic centre plan is part of a larger precinct plan designed around a walkable environment and also projects about 2,300 to 2,500 residential units and a two-acre park, Sicheri says. It would also include 260,000 square feet of office space and retail space at grade level.
Added to the existing schools, there is a proposed new Catholic elementary school building on the newly freed-up lands, she adds.
The idea is to create a space where people can live, work and play, Sicheri says.
Of course, with the Greater Golden Horseshoe functioning as a larger entity, there is the need to move people more efficiently across the region and beyond their neighbourhoods.
A New Transit Hub for Easier Travel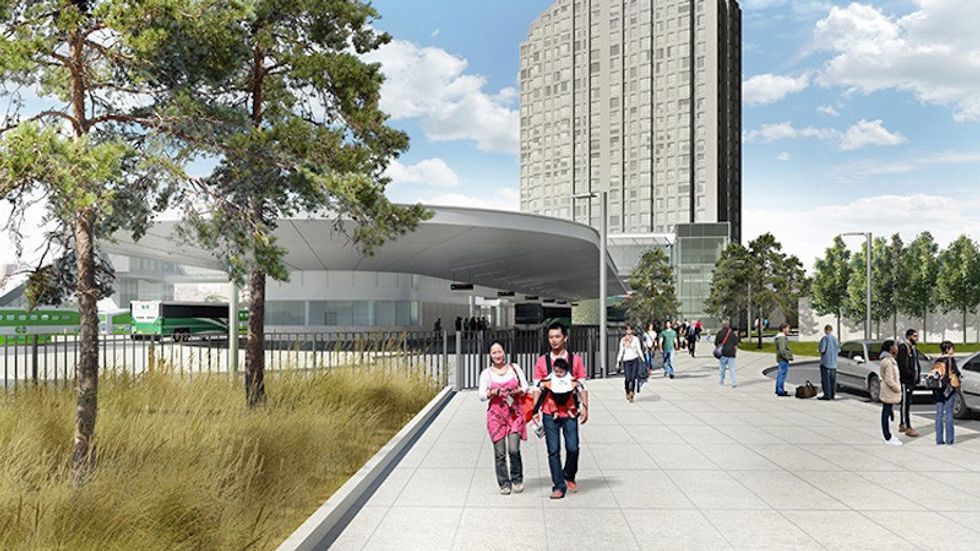 Metrolinx
Metrolinx, the public agency that manages and integrates road and public transport, is in the process of transforming the Kipling GO station into a transit hub that will allow riders to connect between the TTC, Mississauga's MiWay, GO Bus, or GO Train, all from the same place.
"The Kipling Transit Hub will offer a seamless experience with multiple transit options, connecting communities and getting people to the places they need to go," says James Schick, Metrolinx project manager.
With connections to downtown Toronto and Mississauga, as well as the Milton line, and express access to the airport, the Kipling hub is part of the province's plan to improve transit across the whole region, reduce traffic congestion and lower greenhouse gas emissions.
The COVID-19 pandemic has temporarily cut down on public transit use, but the congestion problem will not likely go away, as Toronto just recently was ranked as having the second worst traffic in Canada.
Calling Etobicoke Centre Home
For those who want to put down roots in this urbanizing area along the Dundas corridor before it is more widely discovered, the residential development in the area includes the city's Housing Now mixed affordable and market units, as well as several condo developments. But one new project stands out -- Pinnacle's master planned community Cypress at Pinnacle Etobicoke. Located at Dundas and Shorncliffe Road, the elegant new build is already at grade and is slated to be move-in ready by next year.
The plan calls for several condo buildings spread out around lush green spaces for residents to relax and enjoy their life as much outside of the units as in them. Though that may be hard, given that the interiors feature floor-to-ceiling windows, quartz countertops, soaker tubs, and a balcony or terrace for every unit. Not to mention, Cypress brings with it full upscale amenities such as exercise rooms, a 24-hour concierge, a party room, an outdoor terrace with BBQ areas, and underground parking. Every unit comes complete with a parking spot and a locker unit.
With spacious 1 bed + den units starting at 737 sq. ft., the opportunity to embrace the new work from home world has never been easier -- or roomier.
If you're looking to get ahead of the curve on the next big thing, it's high time to start thinking about Etobicoke centre. Because before long, the secret will be out, and it's sure to draw a crowd.
Future Developments