---
The Toronto Transit Commission (TTC) has seen better days. Not only have recent incidences of violence on the TTC given it a bad rap, ridership plummeted during the pandemic and never fully recovered. 
Despite this, it will soon cost more to take the TTC. 
Last week, Toronto Mayor John Tory announced that the TTC would be increasing its fares by 10 cents later this year. The fare hike represents a 3.1% increase, which Tory noted in a press conference was "well below inflation."
An exact date of implementation wasn't announced, but Tory said that the fare hike would only apply to general ridership, with the price of senior fares and monthly passes remaining unchanged. At the same time, Tory announced an additional $53M that has been allocated to the TTC this year -- a 5.8% increase from the TTC's 2022 budget. In total, the 2023 city budget provides $958.7M to the TTC. 
City Councillor Josh Matlow (St. Paul's) says now is not the time to raise TTC prices -- even if it is only 10 cents. "Is it ten cents alone that's the issue? No," says Matlow. "But every time [riders are] hit with an increase, it means it's less affordable to get to school, get to work, and live their life." 
In the years leading up to the pandemic, Torontonians faced numerous TTC hikes. However, this marks the first hike since 2020. Still, the fare is higher than it is in many big cities. "I'm strongly convinced that if we want to encourage people to choose transit; be a leader in fighting the climate crisis; see ridership return after such a drastic decrease during the pandemic; and create a healthier city, then we want a transit system that's expansive, well-maintained, and affordable so people choose it," says Matlow. 
In addition to increasing fares, the Mayor's budget also includes reduced service during certain times of the day -- something that results in about a 9% reduction in total yearly service hours compared to pre-pandemic.
"Under the Mayor's budget, not only are the fares going to go up, but people are going to be waiting longer between buses and streetcars," says Matlow. "If we're trying to incentivize people to take the TTC after the pandemic, why would we make the service worse and the price go up?"
Along with Toronto's transit, environmental, and public health objectives, Matlow highlights the impossible-to-ignore reality that the city is becoming increasingly unaffordable -- something that's reflected in everything from housing to the impacts of inflation. "So, if the Mayor's council is also interested in doing something meaningful to contribute to our residents' quality of life, we want to ensure that those who rely on transit are able to afford to," says Matlow. 
It should be noted that there are financial protections in place for the city's most vulnerable. Mayor Tory also announced that the City will expand the Fair Pass Transit Discount Program so that an additional 50K low-income residents are eligible for reduced fares.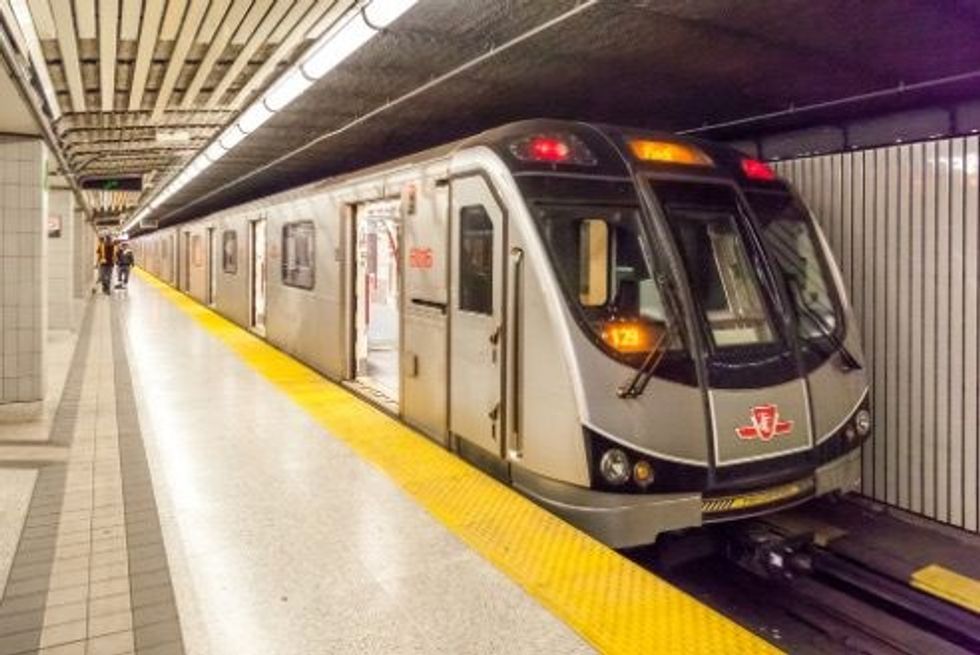 Toronto subway
When it comes to picking up the tab for the TTC, Matlow highlights the argument of equity. "We all pay for our public schools, we all pay for our roads, and we collectively contribute to the wellbeing of society -- whether it's a service that each one of us uses each day," says Matlow. "Is it really fair that transit riders should be picking up so much of the burden as opposed to everybody else through the fare box? Even those of us who drive -- if we're being honest -- benefit from people choosing to take traffic, because it reduces congestion, so we all should contribute equitably." 
In the coming decades, the Greater Toronto Area will see the car take a backseat to transit -- whether we like it or not. As Toronto traffic congestion has returned from its pandemic hibernation with a vengeance, a move away from an urban car culture is reflected in everything from the shrinking number of parking spaces allocated in new condo developments, to the mass construction of future transit lines and transit-oriented housing developments outside of the city. Modern, expansive transit is widely viewed as a solution to Toronto's congestion issues -- which will be compounded with each shiny new condo constructed, and an influx of new residents.
While a 10-cent increase may not be a deterrent for most Toronto riders, the recent violence on the TTC very well may be -- at least for those with the option not to take transit. It's no secret that the TTC has been riddled with random attacks as of late, with incidences that range from people pushing others onto the tracks, to riders getting stabbed, and even fatally set on fire. Tory said that the budget increase will help to keep riders and TTC employees safe, with the addition of 10 additional Streets to Homes outreach workers and 50 more special constables on transit lines.
While this offers some reassurance, the stark reality is that the random violence experienced on the TTC is reflective of a larger mental health crisis -- something that was already bubbling at the surface on city streets before the pandemic. The pandemic only compounded mental health issues, and the housing crisis and sky-high cost of living makes things worse. So, it's not a TTC problem; it's a mental health problem. 
"It would be such a bizarre thesis to conclude that these mental health crises are only happening on transit systems," says Matlow. "As a city and community, we would use our funds far more effectively to proactively invest in resilient communities and program initiatives -- everything from employment opportunities and youth spaces, to trauma support and mental health. These are proven effective initiatives to prevent crime, rather than reacting to it. When somebody pushes a stranger into the subway tracks, it says to me that we need to do more as a society to address the mental health crisis."
Matlow highlights that the crisis didn't happen overnight, but was the consequence of years of neglect of the mental healthcare system. "Having a uniformed and armed police officer to a call on the TTC isn't the solution," he says. "That person needs someone who can de-escalate the situation before the worst occurs; and, at very least, get them the care they need for themselves and society. It would be better to send someone who has the skills in mental health to manage that situation."
During his announcement, Tory said de-escalation training for constables has already been increased and that he will be in discussion with the Chair of the TTC about more training taking place. He also noted that he and the TTC are considering employing a third category of intervention workers that are trained in mental health.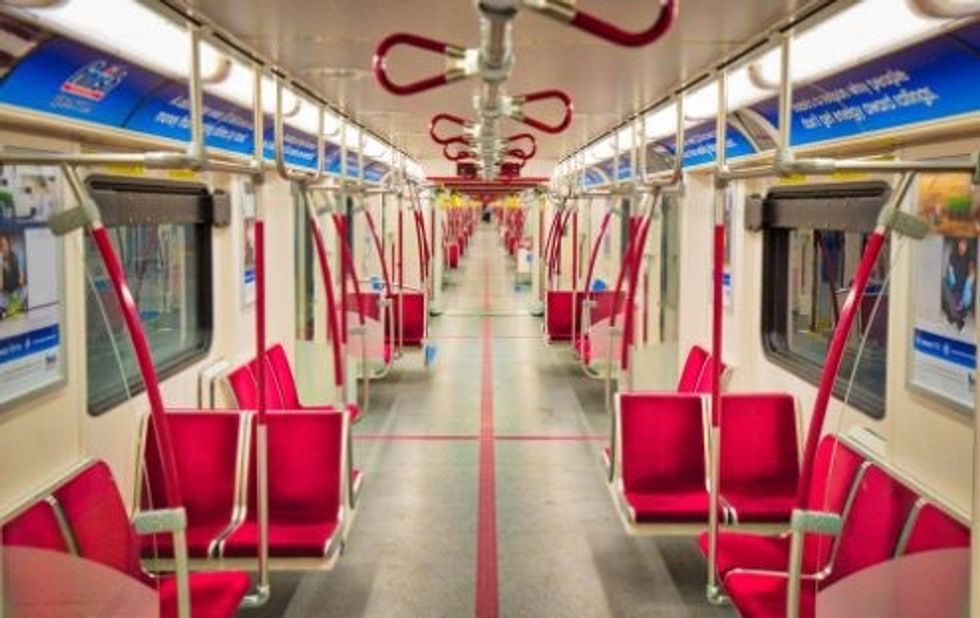 Toronto subway
When it comes to pay for transit, Matlow says that there are many ways to fund transit -- other than what Mayor Tory has prioritized -- that would have avoided raising fares. 
"He wasted hundreds of millions of dollars on politicized projects. This mayor has supported spending hundreds of millions of dollars on his signature transit plan, SmartTrack, which ended up being a load of crap," says Matlow. "It wasn't real; it was smoke and mirrors and proven to be a big lie."
SmartTrack, originally proposed as a rapid transit service that would encompass 22 stations along commuter rail corridors, was gradually reduced to just four stations by January 2021, but with a price tag of $1.46B. City Councillor Gord Perks spoke out about the SmartTrack plan at the time, calling it "a brand without a product," in an interview with The Toronto Star, adding that it "isn't what the city of Toronto needs."
Toronto urban planner Naama Blonder says that the TTC raise increase "isn't really the essence here," and that TTC ridership is instead about choosing a lifestyle of convenience.
"If you do all the math, using transit is still cheaper than driving. Not to mention, if you calculate how much time people commute, it's all about lifestyle choices and trade-offs," says Blonder, noting the 90 minute commutes that some GTA residents have. "If you put this into perspective, [it's] 10 years straight of driving by the age of 60. It's about making informed decisions to live near transit and having everything you want and need near you and not being reliant on the car. If you do the math for car versus the TTC, the TTC always wins."
Blonder believes a move away from the car is in store for Toronto's future and that we need to start planning for that now.
"That means we shouldn't build four storeys of underground parking because this won't be practical in 20 years," says Blonder. "People may say that a car-free society isn't realistic, but it is. When you talk in urban planning terms, it's all about the generation ahead. We have these discussions now about how to do units close to the subway or future transit without parking or planning for the car as something that we aren't able to separate from our lives." 
Like Blonder, Matlow thinks that a shift to a more pedestrian and transit-oriented city is inevitable. But shifting people's perspectives must be done strategically. 
"There's often been a rhetoric of 'the war against the car,' and the approach to try to force people out of their cars doesn't work; it builds resentment and a controversial dynamic," says Matlow. "That controversy delays action. I think the best way to inspire people to use another mode that doesn't mean the car is to offer a better way and incentivize them. People will make rational choices and take transit when it's better for them -- when it's easier and cheaper."
Real Estate News