---
Last month, a slight uptick in new listings in a market starved for inventory brought hesitant homebuyers off the sidelines, bringing national home resales up a solid 8.6% from September in the process.
As a result, it was the second strongest October on record, despite home resales being down 11.5% year-over-year, according to new data from the Canadian Real Estate Association (CREA).
With just a small bump in inventory, buyers had to "dig deeper" into their pockets to beat out the competition, spurring bidding wars across the country, and raising prices in the process, putting an end to the slight price moderation we saw in the summer, according to RBC economist, Robert Hogue.
As such, Canada's composite MLS Home Price Index (HPI) posted the fastest monthly increase (2.7%) in seven months, coming just short of the 2.9% gains recorded in February and March.
READ: BC Housing Market at Historically Low Level of Supply
Upward price pressure especially intensified in the Toronto area (up 4.8% month-over-month) where condo apartment values are now going up rapidly. Several other Ontario markets recorded significant price advances in October, including North Bay (up 4.9%), Cambridge (4.2%), Barrie (3.3%), Hamilton (3%), and Kitchener-Waterloo (3%). All of which continue to heavily favour sellers given the strong demand and historically low inventory levels.
Hogue says the increase in home resales in the province was widespread across local markets, indicating buyer interest in smaller markets has yet to fade.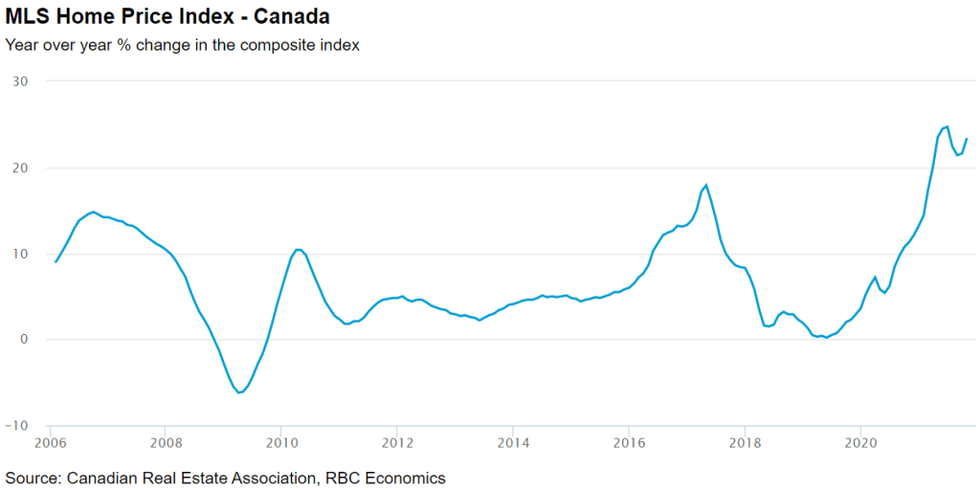 Interestingly, over in the western regions, despite a scarcity of inventory that continue to pose an obstacle for buyers, a number of provinces recorded high home resales in October, including in Winnipeg (up 15.1% month-over-month), Edmonton (up 14.8%), Saskatoon (up 10.6%), and Regina (up 9.4%).
Considering that BC is currently sitting at a historically low level of supply, it comes as no surprise that prices escalated even further in most markets. The Fraser Valley led the western region in terms of price growth (MLS HPI up 2.6% month-over-month), followed by Vancouver (up 1.4%), Saskatoon (up 0.8%), Edmonton (up 0.7%), and Calgary (up 0.7%).
However, Hogue says that exceptionally tight demand-supply conditions will support rising price trends in the near term.

While October's burst of activity was the "clearest evidence" yet that the cooling period we witnessed this summer has stalled, Hogue says he's unconvinced that the current vigorous activity and price gains mark a change in direction for the market.
"We suspect it reflects a temporary uptick in demand driven by buyers rushing to land deals before interest rates rise," said Hogue.
The economist said that the bank's view remains the same: that deteriorating affordability stemming from soaring prices or higher interest rates (or both) coupled with easing pandemic restrictions will gradually cool demand over the coming year.
"We expect extremely tight demand-supply conditions will keep prices under intense upward pressure in the near term though see such pressure easing significantly by the second half of 2022 as markets achieve a better balance," added Hogue.
Real Estate News