At the end of the day last Friday, when all eyes were on Ontario's impending education strike, Minister of Municipal Affairs and Housing, Steve Clark released a bomb-drop of a statement concerning the fate of the Greenbelt. 

Despite promising not to touch the Greenbelt -- a permanently protected area of green space, farmland, forests, wetlands, and watersheds near the Greater Golden Horseshoe -- just a year ago, the Ontario government has reneged on this. Pointing to a changed climate that includes a relentless housing crisis and mass immigration, Clark's lengthy statement outlined the launch of a 30-day consultation to facilitate the building of more homes on the so-called protected land. 

In short, Clark is proposing to remove part of the existing Greenbelt land to make room for housing. But, in doing so, the Ontario government will add protected land to the Greenbelt elsewhere. The government's selling feature of the bold move is the fact that it will actually add to the total Greenbelt real estate. 
---
"Like the rest of the country, Ontario is in a housing supply crisis, and our government is acting decisively to fix it. We are considering every possible option to get more homes built faster so more Ontarians can find a home that meets their needs and budget," Minister Clark's office told STOREYS. "The proposed changes to the Greenbelt would lead to the creation of at least 50,000 new homes, while leading to an overall expansion of the Greenbelt. This is particularly important given the population growth our province is expecting over the next decade especially when taking into account the new immigration targets set out by the federal government."
"An Extraordinary Bait and Switch"
Naturally, not everyone is thrilled with the land swap. "What an extraordinary bait and switch," Phil Pothen, Ontario Environment Program Manager, Environmental Defence, tells STOREYS. "The Premier and every single MPP in the government caucus was elected on a clear promise that they would never, under any circumstances, touch the Greenbelt. It seems they managed to keep their real plans hidden until all the provincial and municipal ballots were counted. Now, just a few days later, the mask is off, and their loudest, firmest election promise is out the window."
The Greenbelt move builds on Ontario's More Home Built Faster Act, 2022, which was introduced last month and takes bold action to address Ontario's housing supply crisis by building 1.5M homes over the next 10 years. "Today, we are taking further action to support this goal by launching a consultation on proposed changes to the Greenbelt," said Clark in Friday's statement. "These proposals will support our municipal partners' plans for responsible growth and help build at least 50,000 new homes, while leading to an overall expansion of the Greenbelt."
READ: How Much Housing Supply is Really Needed in Ontario?
Clark highlighted how Ontario is expected to grow by more than 2M people by 2031, with approximately 1.5M of these newcomers to locate to the Greater Golden Horseshoe Region. "To accommodate that growth and support the building of more homes, our government is proposing to remove 15 areas of land totalling approximately 7,400 acres from the edge of the Greenbelt area," said Clark. But, for what he proposes to remove, he's proposing to add --plus more. "At the same time, we are proposing to add an additional 9,400 acres to the Greenbelt, including a portion of the Paris Galt Moraine and 13 urban river valleys in the Greater Golden Horseshoe, for an overall Greenbelt expansion of approximately 2,000 acres," he wrote. 
A "False Choice"
In talks with reporters yesterday, Premier Doug Ford said that developing the Greenbelt was essential thanks to immigration expectations. But opponents say there are better ways to build more homes. For many, the move came as no surprise from Ford's government; they've become known for their promotion of growth and rampant use of ministers zoning orders (MZOs), after all. 
"I was angry but not particularly surprised, given this government's strong pro-sprawl stance and its appalling record on the environment -- gutting the role of Conservation Authorities, getting rid of endangered species protections, greenlighting Highway 413 and the Bradford Bypass and the massive sprawl these highways will generate," Green Party of Ontario leader Mike Schreiner tells STOREYS. 
Schreiner says that the Ford government continues to present Ontarians with the "false choice" between protecting the environment we love and building the housing we need. "Ontario Greens have produced a housing plan that shows how we can build the cities we want and homes people can afford while protecting important farmland and environmentally important areas by building more missing middle housing like fourplexes and walk-up apartments in neighbourhoods and mid-rise housing on transit corridors and main streets," says Schreiner. "This is the most environmentally, fiscally and socially responsible solution to the housing crisis."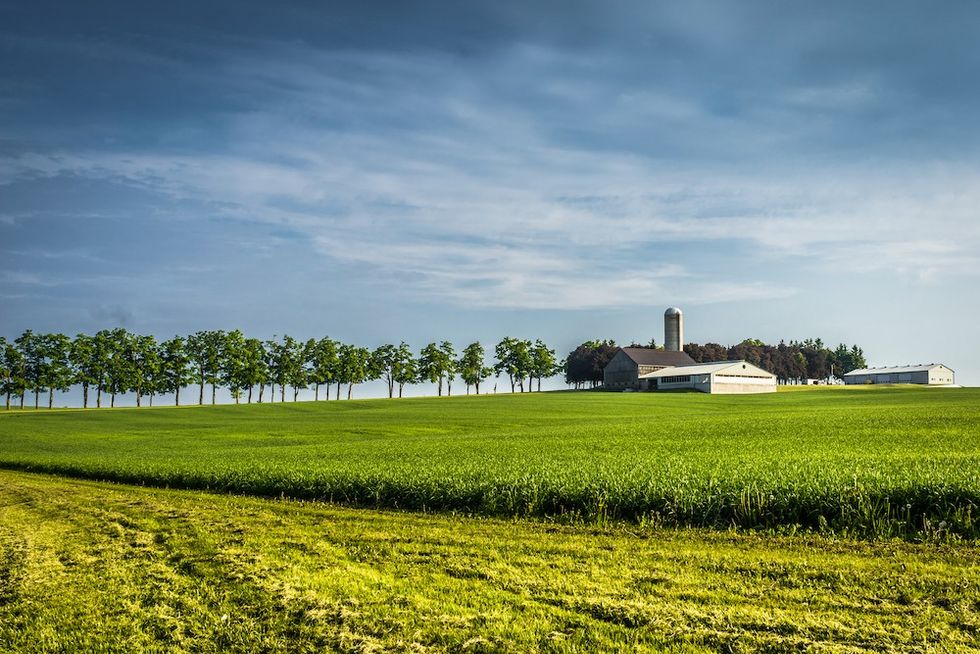 Rural Ontario
Pothen echoes the sentiment. "For a long time now, advocates for more housing supply and environmentalists have been speaking with one voice: The only way to meet all our housing needs -- including the need for low-rise family homes -- in a timely, low-cost way, is to build them within our existing settlement areas," says Pothen. "We need to add large numbers of new townhomes, semis, and walk-up apartments to existing low-rise neighbourhoods -- not just to meet housing demand, but to give these neighbourhoods the population density required to support quality public transit and their existing schools."
Pothen highlights how we have a vast area of unbuilt Greenfield land -- nearly 350 sq. km -- already within our existing settlement boundaries. "As long as we build new housing in compact, environmentally-friendly forms, at public transit-supporting densities, there's absolutely no reason why we would ever need to expand beyond our existing settlement area boundaries, let alone into Greenbelt," says Pothen. "This means that sprawling outwards -- and especially eating into the Greenbelt -- will produce fewer, more expensive homes, not more homes, by squandering the extremely scarce construction materials and skilled labour that are required right now to add compact, land efficient homes in the existing neighbourhoods where people want to live."
Pothen says stripping protection -- on request -- from significant chunks of Greenbelt land that speculators want zoned for development will be a "death sentence" for the entire Greenbelt. "The Greenbelt is not a complete reserve of enough land that we can draw down as long as we add more to replace it," says Pothen. "If that were the case, it would have to encompass almost all the land in Ontario south of Ottawa. The Greenbelt protects a particular portion of vital, must-preserve land that is under the greatest development pressure, and keeps it affordable and viable for sustainable farming by virtually guaranteeing that no matter how lucrative it would be to bulldoze, it will always be off limits for sprawl."
Pothen says agreeing to carve off portions of Greenbelt land at the request of sprawl developers paints a target on every part of the Greenbelt and makes the land too expensive and unpredictable for sustainable farming. "Every landowner can come up with one excuse or another for removing the land they own," he says. "Even if we were talking about net land gain, purporting to 'replace' removed Greenbelt land with land that was never going to be developed anyway, such as urban river valleys, does nothing to offset the net loss in farmland and natural heritage."
Examining Potential Harm to "Critical Systems"
Edward McDonnell, Greenbelt Foundation CEO, says the foundation has been examining the proposal since it's strategically-timed release, as well as high-level maps. 
"There's a lot in there -- there's 15 proposed either re-designations or take-outs, as well a proposal of the addition of the urban river valleys and an area adjacent to the existing adjacent Greenbelt geography, which is tied to the idea of addressing protection of the Paris Galt Moraine, which was the subject of a consultation starting in 2021, by the government," McDonnell tells STOREYS. "They were looking at both urban river valleys and connections between headwaters, which the Greenbelt protects, which the flow into Lake Ontario. That's big and small, all across the Greenbelt from Niagara to Durham -- for example, the Don Valley, the Rouge Valley."
McDonnell says the government's original focus was an expansion project with urban rivers and the Paris Galt Moraine area. "What we're seeing now is just a little bit different; a more complicated set of proposals," says McDonnell. "Our top level reaction is that we need to be clear through this process on how important the Greenbelt is to this region and we need to continue to look at it as permanent protection of natural system and the key agricultural lands inside the Greenbelt. For us, it really is about thinking about those critical systems. The question is about where and how we are building housing in this region, and how do we grow in a way that recognizes that the agricultural systems, land, water resource systems, and natural systems, aren't getting less important as we grow as a province -- they're getting more important. That's where we start in terms of assessing those proposals." 

Once we harm these critical systems, we can't undo them, cautions McDonnell. "The headwater areas where water starts and then ultimately ends up in Lake Ontario are critical systems in a growing province," he says. "So, we need to assess the proposal on the basis of whether it's continuing to understand the Greenbelt protection as permanent and whether it's sustaining and supporting those systems."

Like the others, McDonnell stressed the importance of existing infrastructure when it comes to building new homes. "There is a lot of concern about housing supply and homes and we need to be encouraging to building within existing urban areas," he says. "We'd like to see housing supply focused on housing supply in the existing hamlets, towns, and villages in the Greenbelt within those community boundaries; and the type of housing that supports people working and living in those communities. That's the basis of our agri-food economy, our tourism economy, and our larger rural community."
A "Common Practice"
In his statement, Clark outlined stipulations surrounding the move. "Should these lands be removed from the Greenbelt, the landowners will be expected to develop detailed plans to build housing quickly," said Clark. "It is the government's expectation that new home construction will begin on these lands by no later than 2025, and that significant progress on approvals and implementation must be achieved by the end of 2023. If these conditions are not met, the government will return these properties to the Greenbelt."

At the end of the day, there's no denying that we're in a housing crisis. For this reason alone, exceptions should be made, say supporters of the move. "At a time when the province is faced with a housing supply and attainability crisis, Ontario's building and development industry support the government's Greenbelt modernization," Ontario Homebuilders' Association CEO Luca Bucci tells STOREYS. "It's estimated that in the next 10 years, Ontario will grow by more than 2M people, with almost 1.5M of those residing in the GTHA. In order to accommodate this growth, we must build at least 1.5M homes. The proposed changes to the Greenbelt will equate to the building of at least 50,000 new homes, creating a substantial dent in our projected targets. As we approach a potential recession and continue to battle through a housing supply and affordability crisis, we need to find a balanced approach to ensure that current and future Ontarians have a healthy and happy place to call home."
Bucci highlights that greenbelt modernization has been a common practice for all governments since the introduction of the Greenbelt Plan in 2005. "Now, when we are faced with a housing supply and affordability crisis in Ontario, we cannot allow the misuse of these types of designations to be a barrier to building the housing our expanding population needs," says Bucci. "Ultimately, this change will translate into attainable housing for Ontarians, and as our population continues to evolve, we must also be willing to adapt to their ever-changing needs."
But will opening the once-protected Greenbelt to development set a precedent that it's ok to do so moving forward?
"The Greenbelt was created on the understanding that this land would be protected in perpetuity. It's always been fairly obvious that Doug Ford doesn't value the Greenbelt and has no real interest in protecting it," says Schreiner.

"Behind the scenes, the government has been chipping away at Greenbelt protections for years by greenlighting destructive Greenbelt projects like Highway 413. So, even though both the Premier and Minister Steve Clark promised they would never touch the Greenbelt, I was never totally confident that they wouldn't come back with a plan to carve off land for development. Ontarians need to be able to trust that their government is making land use planning decisions that take into account environmental, social and financial repercussions. So, it's a very bad precedent. We have a government that can't be trusted to keep its promises. Worse still, it is intent on systematically unravelling all of the key legislation that we have in place to preserve our environment and protect against catastrophic climate change."
Real Estate News