Real Estate News
Ontario Homebuyers Flocked to Suburban Cities Amid Pandemic
While COVID-19 did bring a sense of uncertainty to the housing market over the course of the past year, the pandemic also allowed buyers, sellers, and renters alike to adapt to the fluctuations in the housing market, with many taking advantage of low bowering costs and prices to find a new home.
In fact, according to a recent survey from Zoocasa, 32% of Ontario homebuyers bought a home further away from city centres amid the pandemic, as buyers increasingly sought out properties with higher square footage and green space.
On the other hand, the survey also found that for some homebuyers and renters, the pandemic had disrupted their housing plans, with some aspiring buyers saying they felt as if the pandemic set them back 1-5 years while over a third of renters felt they now have fewer rental options within their budget.
READ: Average Price of GTA Homes Officially Eclipses $1M Mark
As Ontario residents continued the growing trend of moving outside of dense cities, over two-thirds (78%) of survey respondents said they felt the pandemic caused suburban real estate prices to rise at an unstable rate.
Though, rising prices in smaller, suburban cities didn't have a serious impact on a buyers' decision, as 32% of respondents bought in areas they wouldn't have considered before.
More specifically, 70% of those homebuyers noted that their property is further than they would have previously considered, and over half (53%) highlighted that it was located in a town/city with a smaller population than they would have previously considered.
Regardless, 73% of respondents who purchased a home during COVID-19 stated they plan to keep the property once the impact of the pandemic subsides.
A majority (55%) of buyers who purchased a home during COVID-19 stated price was a factor influencing their location choice, followed by the size of a home (41%), and the availability of green space (37%).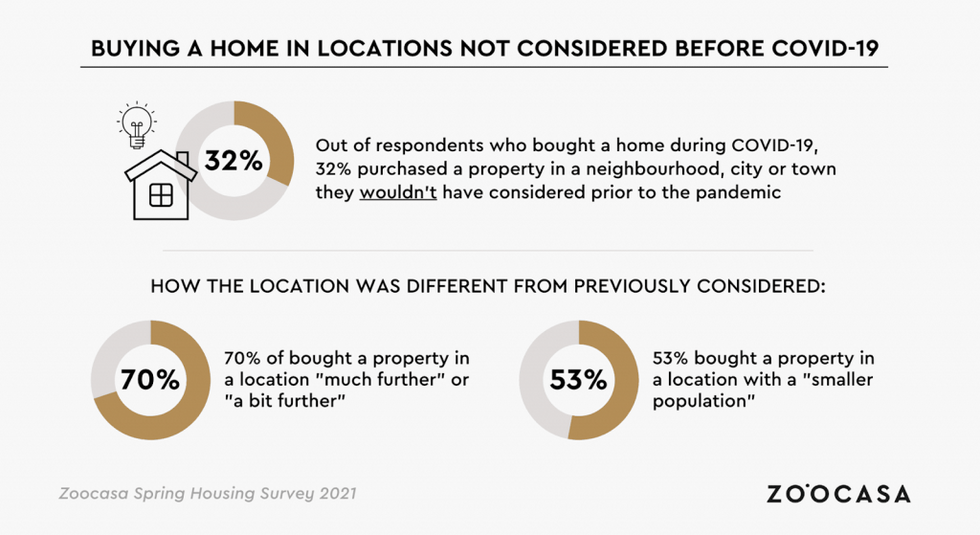 In terms of affordability — a growing concern in Ontario's housing market –a large majority (77%) of respondents cited that homes in the city or town they lived in last March are less affordable today than they were then.
In fact, 43% of homeowners said that they would not be able to afford their home if they had to repurchase it today, while only 28% of condo owners felt the same way. Furthermore, almost a quarter of homeowners felt that real estate market conditions made them consider selling their homes.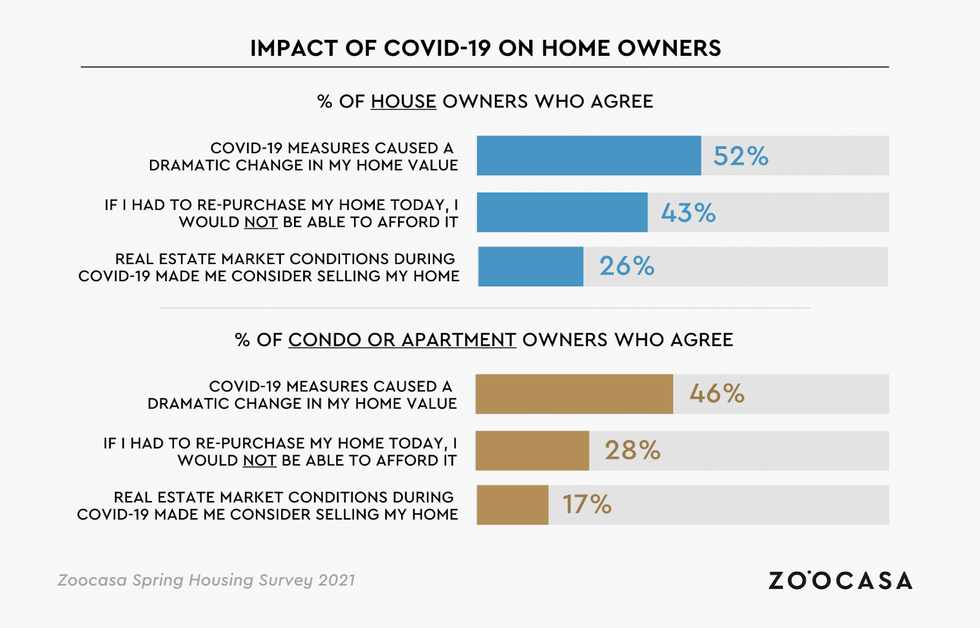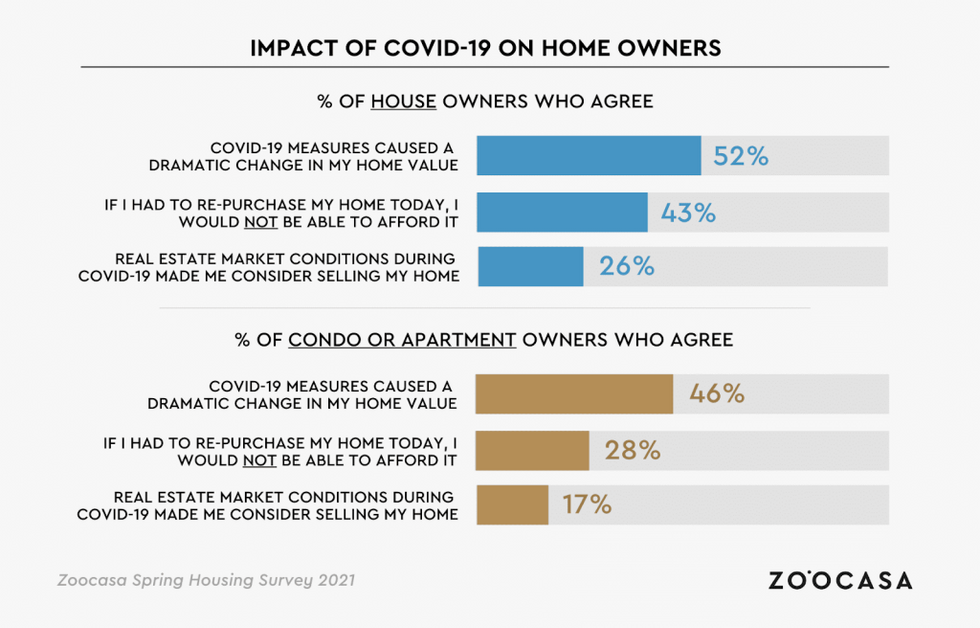 In general, half of aspiring buyers (50%) said they felt that current interest rates had improved housing affordability, but a strong majority (82%) also said they felt that the current rates played a role in increasing home prices.
When looking at Ontario's rental market, the survey results revealed 35% of renters felt they now have fewer options for rentals within their budget, while 28% felt they have more options now.
Nearly 1 in 5 (18%) renters had asked or planned to ask, their landlord for a rent reduction, freeze, or deferral. Further, a majority (55%) of renters anticipated that they will remain in their current rentals longer than they would have otherwise planned.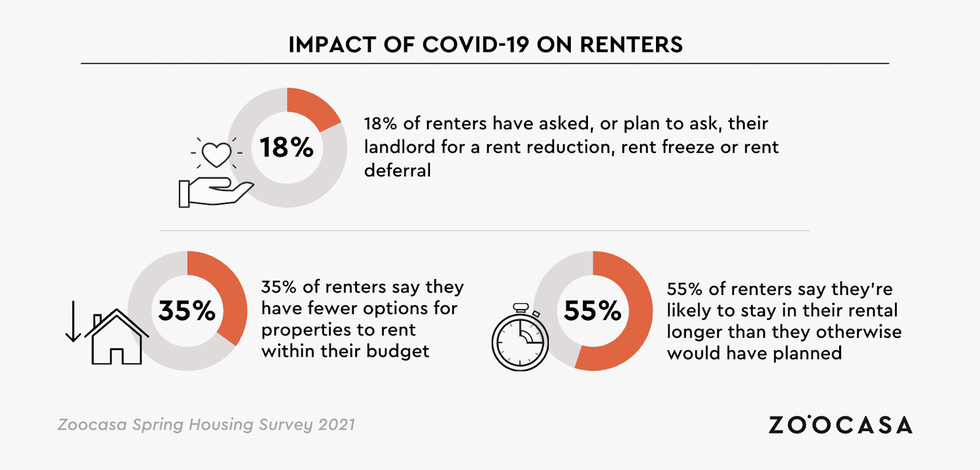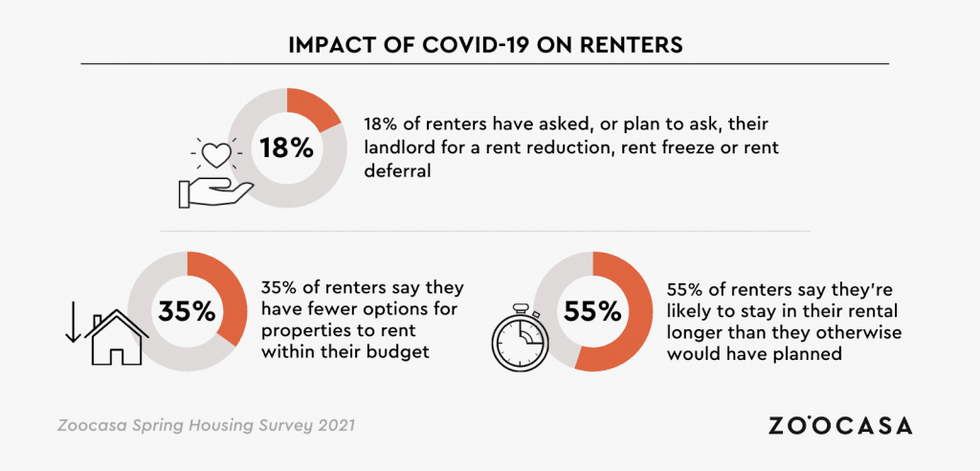 Though, given that the pandemic served as an obstacle for buying a home, with 50% of respondents noting that it had set them back between 1-5 years, a third (32%) of prospective buyers said they would consider purchasing a property with a separate, rentable unit to help them afford a home.
To further improve affordability, nearly 1 in 4 (23%) said they would take financial gifts from family, while 16% said they would rent out the home or a part of it as a short-term rental, and 16% would take on additional jobs.
It's clear that while COVID-19 has brought a sense of uncertainty to the housing market, as it turns out, the pandemic has also helped pave the way to homeownership for some Ontarians.
And, thanks to low borrowing costs, increased savings, and the need for more space, residents continue to be drawn to markets across the province. Though, given that this has lead to increasing prices, it remains unclear if this trend will continue in the post-COVID world.