---
A 57-storey condo development may soon tower over the northeast corner of Queen and Church streets in downtown Toronto.
Brought forward by Tridel and Bazis, the project, aptly dubbed QueenChurch, is set to be a sleek soaring tower clad in glass. Rising at 60 Queen St East, it would sit atop of a podium that incorporates restored heritage facades.
The facades largely run along along Church St and include the fronts of the now-shuttered Shwarma's King restaurant and Oasis Shisha. The building that houses the still-active Simon's PawnBrokers will also be included in the development. Renderings reveal that the shape of the Church St buildings will be maintained but that the facades will be restored with matching brick masonry as well as new bird-friendly windows.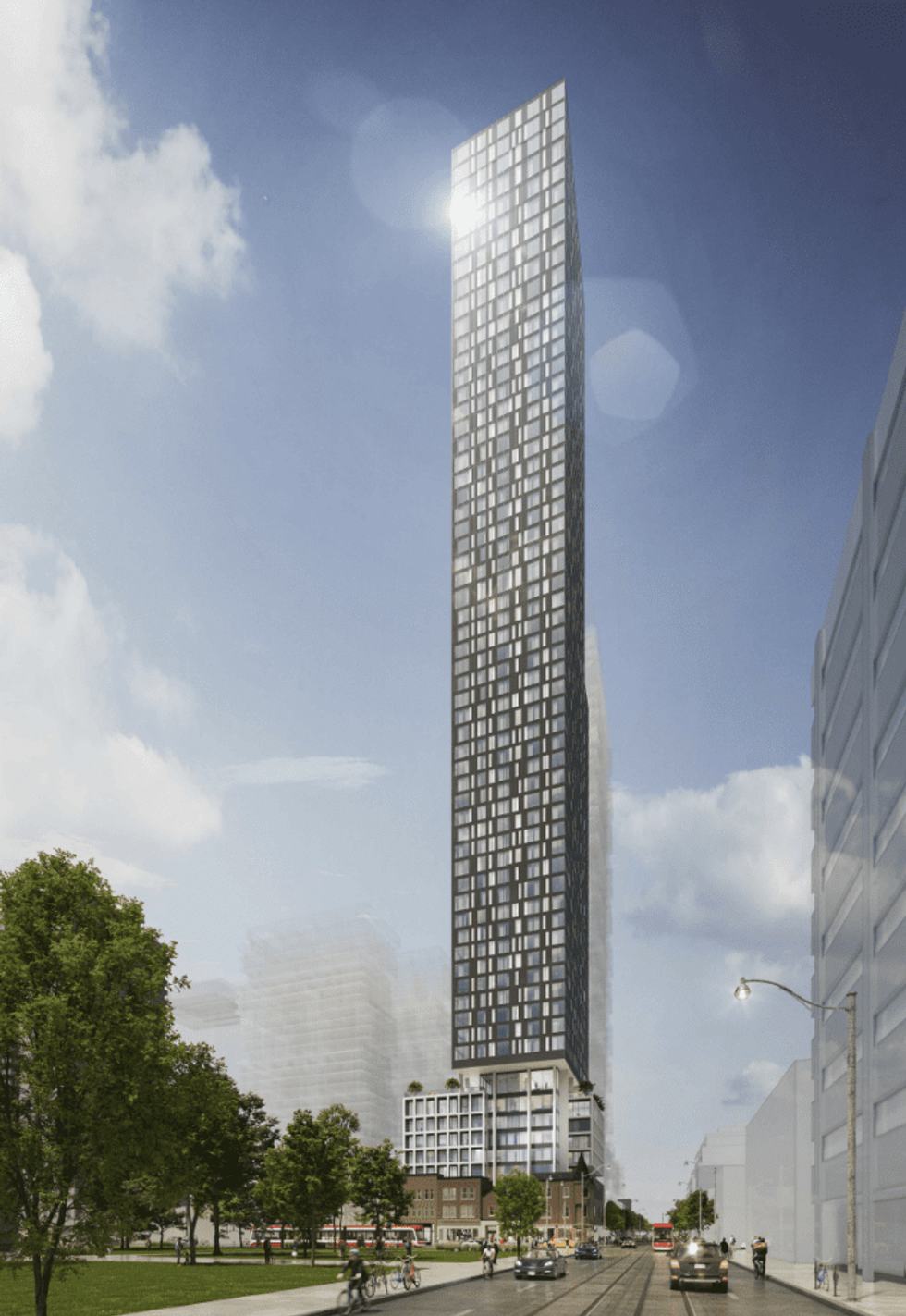 Tridel and Bazis
Some of the lost retail space would be recouped in the new development, with a total of 250 sq. m planned for the ground floor. There'd also be a total of 51 parking spaces provided for residents -- 43 standard spaces and eight for small cars -- as well as 402 short-term and 45 long-term bicycle parking spaces.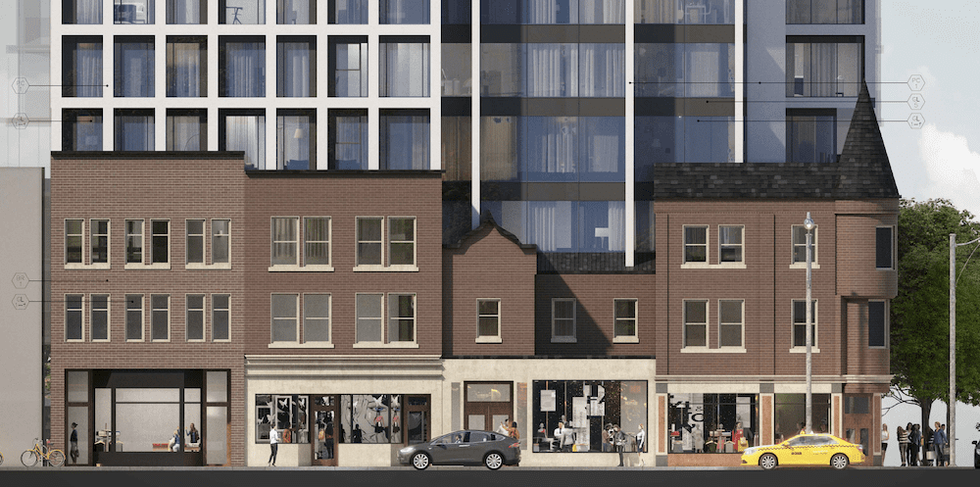 Tridel and Bazis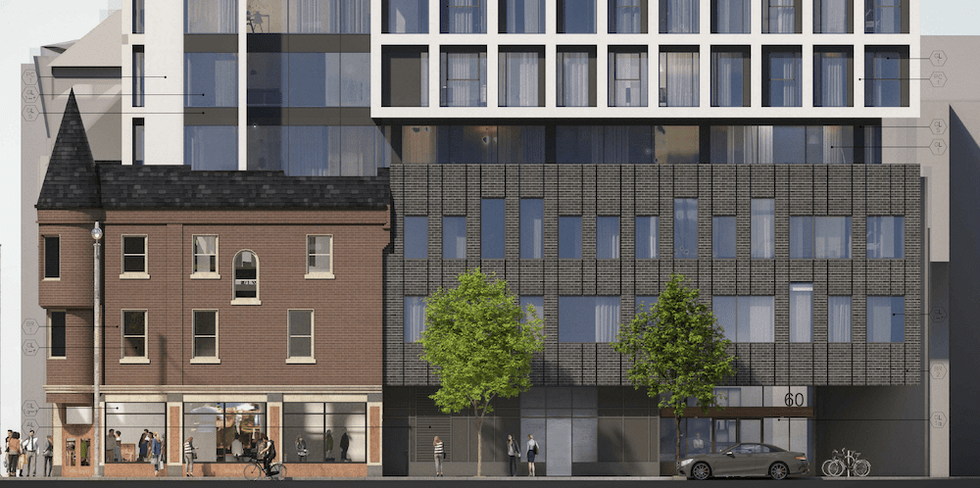 Tridel and Bazis
The tower is set to house a grand total of 445 residential units, ranging from studios to three-bedrooms that will be 408 sq. ft to 809 sq. ft in size. Residents who live here, including those of the four-legged variety, would have access to a slew of amenities with 1,010 sq. m of indoor, 572 sq. m of outdoor, and 25 sq. m of pet amenities planned. According to plans filed with the City, there would be guest suites, a pet relief area, outdoor patios, and BBQ space, among other things.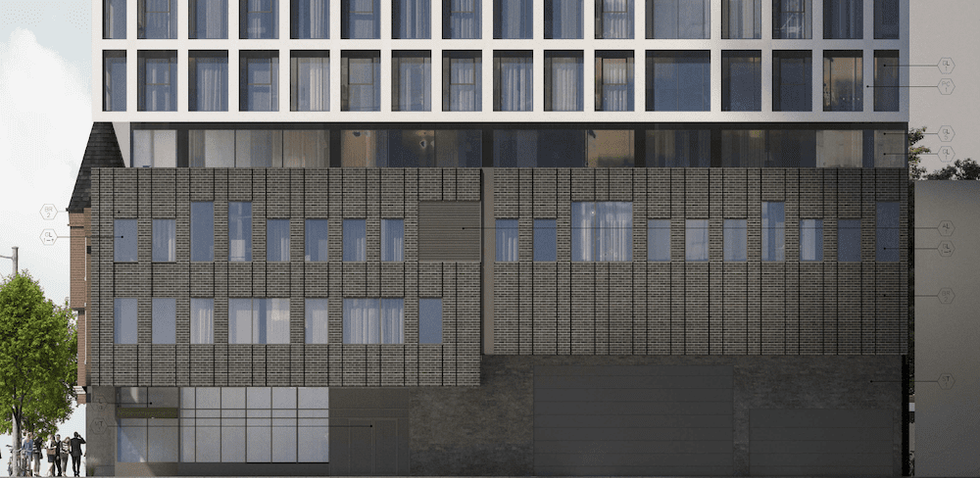 Tridel and Bazis
The building's ground floor would also house a sizable 4,518 sq. ft community facility, but details on the exact use of the space were not provided.
Being right downtown, the future tower would be conveniently located near several public transit options, including the Queen subway station which is just a few-minutes walk away. It would also be a quick walk to major downtown office buildings as well as University of Toronto, George Brown College, and Ryerson University.
Tridel and Bazis
The proposed development is currently under review by City Council, but registration for QueenChurch is now open.
Toronto