Toronto
Urban Living
10 CHEAP Things To Do In Toronto This Weekend (Nov. 15-17)
Christmas is in full swing. The Santa Claus Parade takes over downtown this weekend and the Distillery District's Christmas Market opens.  So there's TONS of events that are either free, cheap and sure to get you in the holiday mood.
Read on to find out more about exciting events happening it the city.
Where: Distillery District  — 373 Front St. E
When: Friday from 2 p.m. to 10 p.m., Saturday from 12 p.m. to 10 p.m. and Sunday from 12 p.m. to 9 p.m.
Price: $8-12
Expect a gorgeous 50-foot Christmas tree, tons of beautiful lights, an outdoor stage, beer gardens, mulled wine and vendors. Bundle up! Don't forget to dress warm because the weather is likely to be cold.
Where: Downtown Toronto
When: Sunday at 12:30 p.m.
Price: Free
The annual Santa Claus Parade takes over downtown Toronto this Sunday. We've put together a guide of everything you need to know about it.
Where: The Great Hall — 1087 Queen St. W
When: Sunday from 10 a.m. to 5 p.m.
Price: Free
Join this wonderful holiday market to shop an array of local, handmade and one of a kind goods from more than 100 vendors.
Where: Handlebar — 159 Augusta Ave.
When: Friday from 1 p.m. to 7 p.m.
Price: Free
Head back through the decade with this fabulous dance party. Each hour is a new decade of music heading front the 70's with a new DJ.
Where: Trinity-St Paul's United Church and Centre for Faith, Justice and the Arts — 427 Bloor St. W
When: Saturday from 11 a.m. to 4:30 p.m.
Price: Free
Come meet some exciting indie publishers and magazines from a variety of presses with genres like poetry, fiction and creative non-fiction.
Where: Glad Day Bookshop — 499 Church St.
When: Saturday from 1 p.m. to 7 p.m.
Price: Free
This annual youth conference comes to world's oldest surviving LGBTQ bookshop, bringing young people and allies together to discuss children's rights.
Where: The Baby G — 1608 Dundas St. W
When: Saturday from 9 p.m. to Sunday at 2 a.m.
Price: $10
If you're a fan of surfing, this is the event for you. Join the GLSB crew for an evening of surf and entertainment with an exciting lineup.
Where: Buddies In Bad Times Theatre — 12 Alexander St.
When: Sunday from 6:30 p.m. to 8:30 p.m.
Price: Free
ACTRA Toronto's LGBTQ+ Committee: outACTRAto is launching the first PSA: QUEER YOUR STORIES. Mee twith cast and other queer Film & TV Industry artists for a screening of a short film. Mix, mingle and network. Snacks provided and cash bar on site.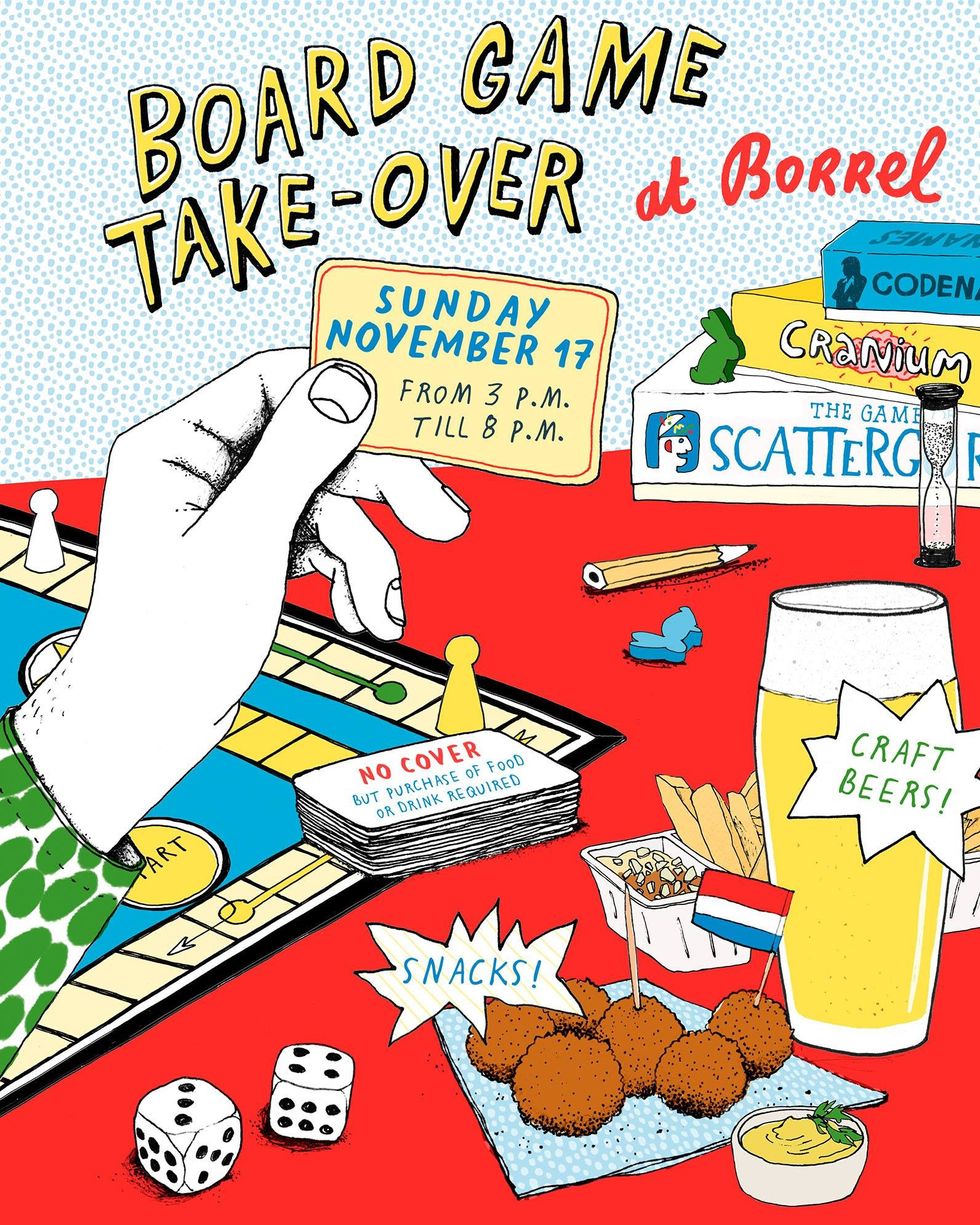 Where: Borrel — 1333 Danforth Ave.
When: Sunday from 3 p.m. to 8 p.m.
Price: Free
Enjoy a Sunday Funday of board games, beer and borrel hapjes (aka bar snacks). You can bring your own games, friends and even vinyl. A game guru with knowledge of more than 500 board games will be onsite to answer your questions.
Where: Allan Gardens Park and Conservatory — 19 Horticultural Ave.
When: Sunday from 12 p.m. to 2 p.m.
Price: Free
Would you like to enjoy a hearty meal with others? Stationed directly across from the entrance of the conservatory, you can enjoy a free meal outside, rain or shine. Make sure to bring to bring your own container, cutlery and mug for food, coffee and tea. Plus, they're always looking for volunteers if you'd like to help out.