---
Many in the real estate industry are likely already familiar with the reality, but approvals of developments in Vancouver are significantly slower than they are in municipalities such as Calgary -- nearly three times slower, in fact, according to a Municipal Benchmarking Study published by the Canadian Home Builder's Association (CHBA) on Wednesday.
The CHBA estimates that approval timelines for development applications, from complete application to planning approval, takes about 15.2 months in Vancouver, an increase from the 13 months the CHBA estimated in their 2020 study.
In Calgary? Approvals take just 5.4 months on average, down from the 12-month wait estimated in 2020. A total of 21 municipalities were included in the CHBA study, and Calgary's estimated time puts it at fifth-best in the country, two months short of Charlottetown's nation-leading 3.4 months, and nearly six times faster than Toronto, whose estimated 32-month timeline was the slowest in the country.
Aside from approval timelines, the report also examined government charges (such as Development Cost Levies and Community Amenity Contributions in Vancouver) as well as planning features, and Calgary ranked better than Vancouver in each of those categories as well. Edmonton had the sixth-fastest approval timelines in the country, but was ranked first overall when taking into account all factors.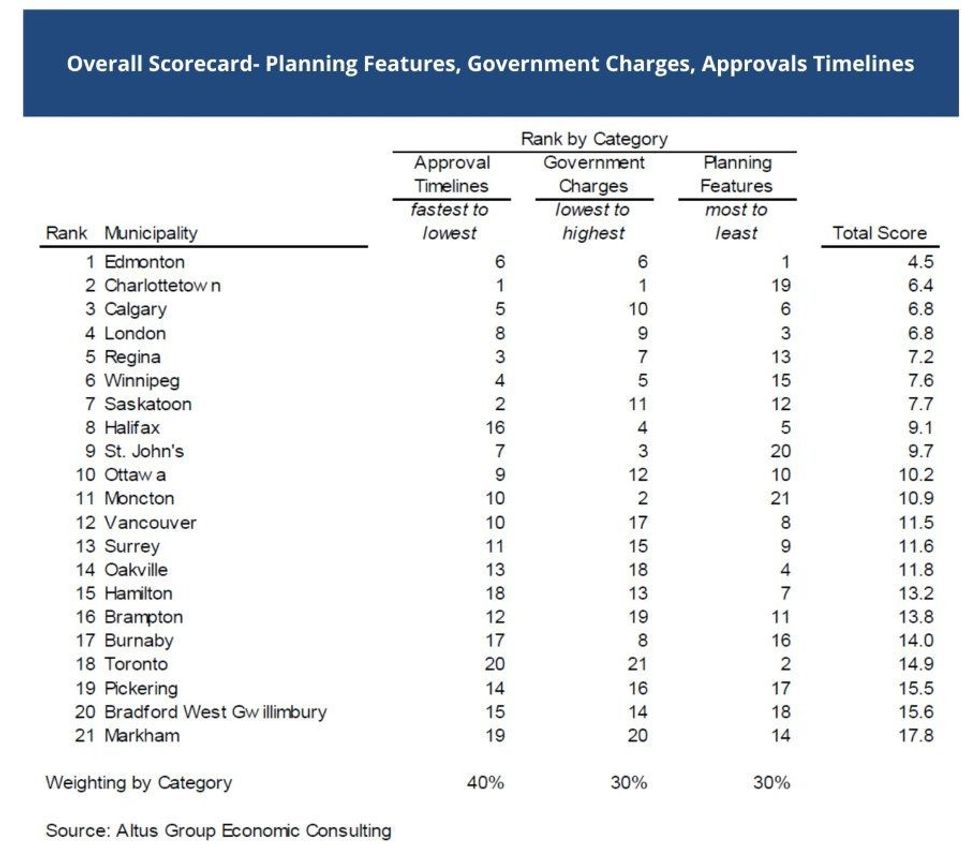 (Canadian Home Builder's Association)
Approval Timelines: Calgary vs. Vancouver
So how does Calgary do it? To begin with, the City of Calgary provides clear timeline commitments for nearly all aspects of developments, from building permits to inspections and subdivision applications to land use amendments, regardless if the project is residential, commercial, or industrial.
The timelines stated are "commitments" and not legislative guarantees, but even estimated timeframes are often valuable to developers, as it provides clarity when it comes to financial proformas. Amorphous or unexpected timelines can result in delays, which raises the costs of delivering the project, and those elevated costs often then get passed on to end-users.
In Vancouver, no such timeline commitments have been made, although the City has shown interest in providing clearer timelines. Under the previous regime led by Kennedy Stewart, the City approved a study in June 2022 to examine the possibility of guaranteed timelines for building permits.
While somewhat less focused on housing than some of his rivals during the October municipal election, Mayor Ken Sim's platform did include a "3-3-3-1" permitting promise, which aimed to approve permits for home renovations in three days, single-detached homes and townhouses in three weeks, mid-rise projects that don't require rezoning in three months, and high-rises in one year.
The City is also considering raising the size of non-market housing buildings that can be approved without a public hearing, from the previous maximum of six storeys to 12 storeys, a motion that was introduced by Councillor Christine Boyle.
READ: 3 Real Estate CEOs on Vancouver Mayor-Elect Ken Sim and His Permitting Promise
In October 2021, in an effort to speed up the delivery of housing, the provincial government amended its Local Government Act to remove the requirement that municipalities hold public hearings for zoning bylaw amendments consistent with an official community plan. According to CityHallWatch, nobody is tracking how many municipalities have taken advantage of the changes, but the City of Delta recently removed their own requirement for public hearings.
On the industrial real estate front, the differences in so-called "red tape" has also been cited as a reason why firms big and small are increasingly moving their focus away from British Columbia and towards Alberta.
In a news release commenting on this week's CHBA report, the City of Calgary noted that it issued 18,000 building permits with a total construction value of over $5.5B in 2022 alone, as the City expects to welcome at least 88,000 new people in the next half-decade.
According to the City of Vancouver's Open Data Portal, the total amount of building permits the City issued in 2022 was 5,914 -- about three times less than Calgary.
All of this is to say that Vancouver -- and British Columbia as a whole -- may be focusing on the right area, but there's doubtless lots more room for improvement.
Vancouver