Vancouver, Surrey, and Burnaby get most of the attention when it comes to large-scale development projects, and Delta is certainly not a municipality that draws a lot of eyeballs, which is why it may be fair to say that the Southlands Tsawwassen project has flown under the radar — as possible as that is for a development that spans 537 acres and has won multiple awards.
The sprawling mixed-use project is being undertaken by Century Group, which has deep ties to Delta, and Tsawwassen in particular. Century Group was founded by George Hodgins in South Delta in 1957 and is now helmed by George's son, Sean Hodgins, who says they were probably one of the first companies in the area to see the opportunity that came with the creation of the George Massey Tunnel.
---
Construction on the Massey Tunnel began the same year Century Group was founded, 1957, and at the time, the Pattullo Bridge — connecting New Westminster to Surrey — was the only place where the Fraser River could be crossed — a must for those entering the United States.
Century Group acquired the Southlands site — located at the southernmost edge of Delta, with the southern property line literally at the United States border — in December 1989.
"It was out of the ashes of a failed development proposal from an earlier group," says Sean Hodgins of the acquisition. "That prior proposal was going to develop essentially the whole site — it was going to be a golf course community on farmland — and there was a huge reaction to that."
It wasn't until 2013 that Century Group brought their proposal to the City of Delta, with plans to feature the farmland and agriculture of the site.
"It wasn't in spite of the agricultural potential of the property," says Hodgins, "but because of its agricultural potential."
A soil analysis was conducted to identify the poor soil and the good soil, and Century Group ultimately donated 430 acres of the agricultural land back to the City. As part of the Southlands project, much of that land has now already been activated with improved irrigation and drainage, among other things.
Southlands Tsawwassen is now billed as "a beach community rooted in farming and food."
"The whole community is based on this idea of connecting people to farming and food, and it really embraces the agriculture," Hodgins says. "We have a market square that really is the nexus point of the community. It's surrounded on at least two of the sides by shops and food-based retail. We're building a brewery and restaurant for Four Winds Brewing that will be open next year. One side of the market square opens right up onto the agricultural land. That concept of agriculture being segregated from the community — we want to really embrace agricultural land and the people working on it."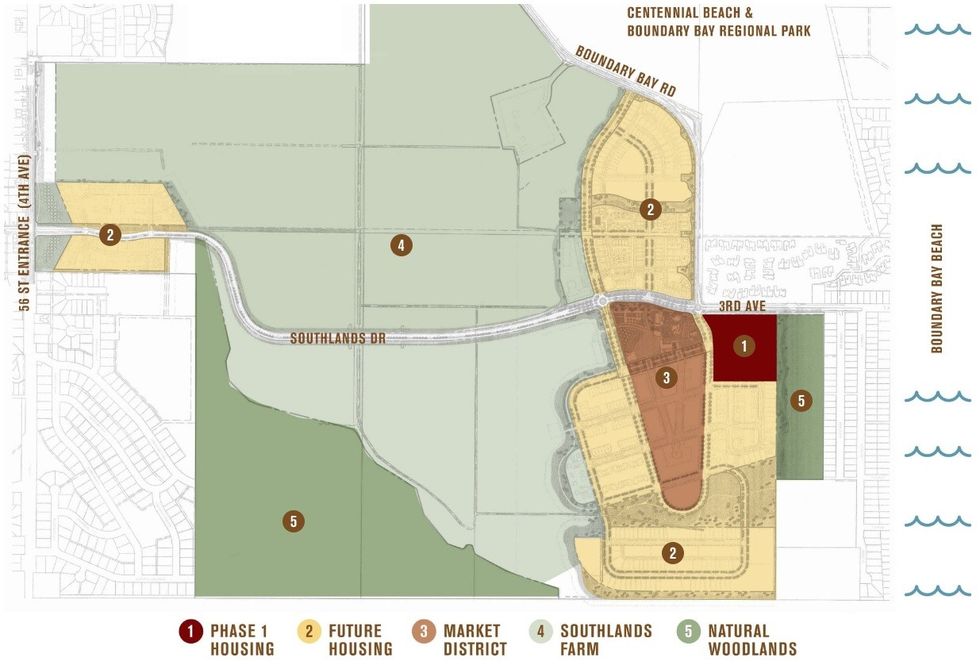 The layout of Southlands Tsawwassen.(Century Group)
Housing will be primarily along the eastern side of the Southlands, in the area immediately surrounding the market district, and — as one might expect — there are no high-rises, or mid-rises. The community will ultimately include around 950 homes, split between numerous collections of apartments, townhouses, and cottages.
Those collections include the Courtyard Cottages, a series of eight beachhouse-like cottages with a single shared courtyard that won the 2023 Georgie Award for the Best Single-Family Home Production; the Heirloom Townhomes, a group of 33 townhouses and duplexes that are similar to what you'd expect in places like Surrey; and the High Street Flats, a three-storey apartment building with 19 units that's a stone's throw away from Centennial Beach.
All three of those collections are sold out, with Southlands currently selling The Granary — a series of stacked townhouses within the market district — and the Ridge Lane Estate Cottages — a collection of 12 estates that are described as a hybrid between a farmhouse and beachouse. (Even the sales centre out of which those homes are sold out of won an award this year.)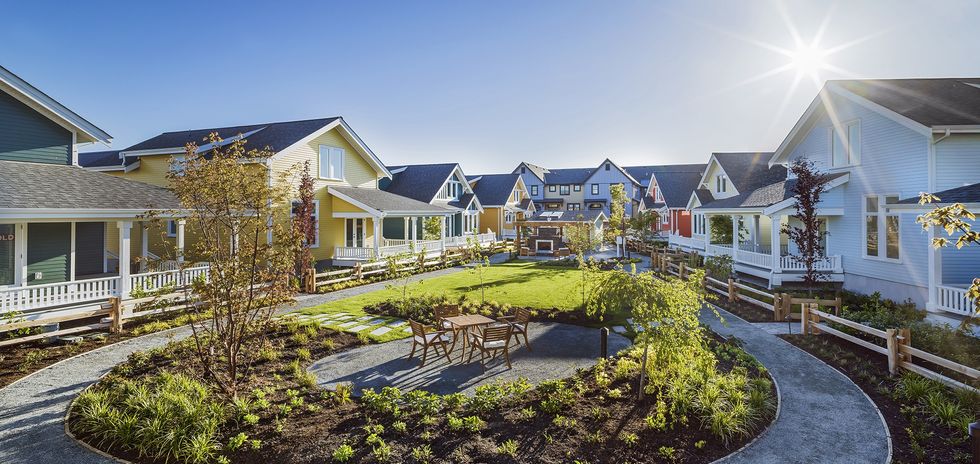 The Courtyard Cottages.(Century Group)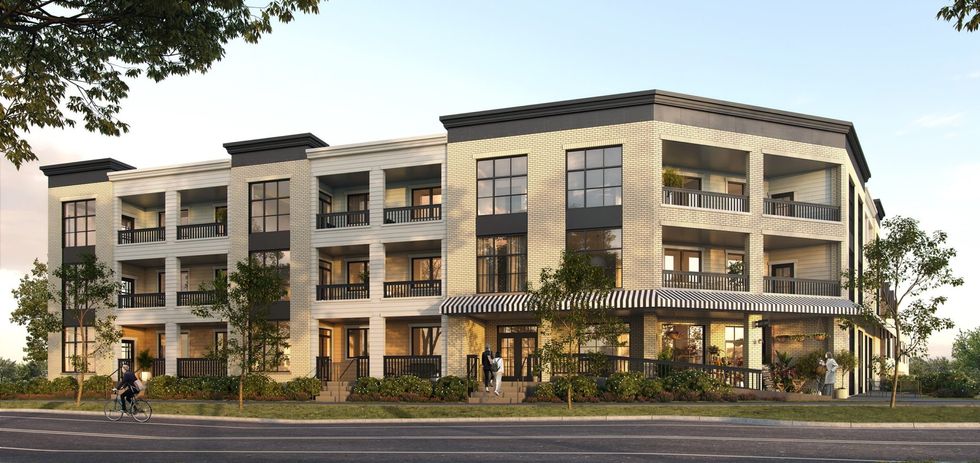 The High Street Flats.(Century Group)
"Our housing ranges from small apartments, mostly one- and two-bedrooms, all the way up to townhomes, and then the largest ones we build are cottages — they're single-family homes, but they're smaller, so we brand them as cottages — that are two- and three-bedroom homes," says Hodgins. "They're smaller lots, and they usually have a one-car parking garage, usually on a back alley. The architecture of the cottages, at least on the street-front, really speaks to being a smaller scale of home, and it's really part of an architectural look and feel that we've really concentrated on to give it a unique identity — a neo-traditional Scandinavian architectural style."
Architecture and design firms involved in the Southlands project include ZGF Architects, MOTIV Architects, Hotson Architecture, Insight Design Group, and ETA Landscape Architecture — among many others.
Hodgins says that prices of the homes range from $750K for some one-bedroom and one-bedroom-plus-den apartments, to around $1.2M for townhouses and $1.8M for cottages.
"I would say we're significantly competitive," Hodgins says. "I wish we could demand more, but I think it's really a huge value compared to parts of Metro Vancouver for what you get."
Asked if there are any unique considerations that go into developing housing on and around farmland and beachland, Hodgins says the most challenging thing they had to do was establish a flood-proofing elevation, raising the elevation of the land from two metres above sea level to four metres.
As of mid-October, Hodgins says approximately a third of the residential and about 10% of the commercial has been completed, and they are expecting everything else to be built in about eight to nine years, after which Southlands will really shine, in a Tsawwassen community that already calls itself the sunniest place in Metro Vancouver.
Future Developments