Salvatore Galifi says his private home-buying company is in the midst of a busy fall.
Amid higher interest rates, the Greater Toronto Area's real estate market died down considerably this summer and sellers who missed out on the buzz of the spring market are more likely to look to companies like his, known more colloquially as 'cash house buyers.'
---
With Galifi's Woodbridge-based company, SLG Home Buyer, and others like it, GTA homeowners can tap into a selling process free of realtor fees and closing costs, and without home staging or home repairs to get the property up to spec. Even more compellingly, the process is fast. Galifi says sellers can close with SLG in as little as a week.
"Some sellers don't like multiple showings. They don't want they don't want to list their property on the market and have 10, 15, 20 people come through," he says.
"Another type of seller that might come to us — they really want some sort of closing date. So it might be the fact that they have to close, for whatever reason, in two weeks. Maybe their mortgage is coming due and they're not able to get a refinance and they're under a little distress financially."
If a property has renovation potential, says Galifi, SLG will make the seller an offer based on how much work the property needs to be flipped, as well as other fees associated with the eventual resale.
"When we flip these properties, the only way for us to get top dollar is if we sell them with a real estate agent, so we're gonna have to pay that real estate agent 3%, 4%, 5% commission," he says. "We also have to factor in our financing costs, which are typically private funds, we calculate our holding costs, which can be three to four months of utilities, property taxes, and any other expenses with the property, and then we come up to a general profit of what we're looking to make on that property."
A quick Google search of 'buy your house for cash' turns up several pages of results, which seems to indicate that demand for these types of services does exist. It also shows that these companies know how to get word of their services out into the world.
But beyond just good SEO, there's a bit of guerrilla marketing at play. In some cases, private home-buyers cast a wide net by posting signs and flyers in public spaces emblazoned with a phone number and just a few words in boldface promising the purchase of properties "fast," "for cash," and "as is."
Other times, the offers are more pointed. Galifi says SLG sends out 'handwritten' letters to individual addresses based on where the company is interested in investing.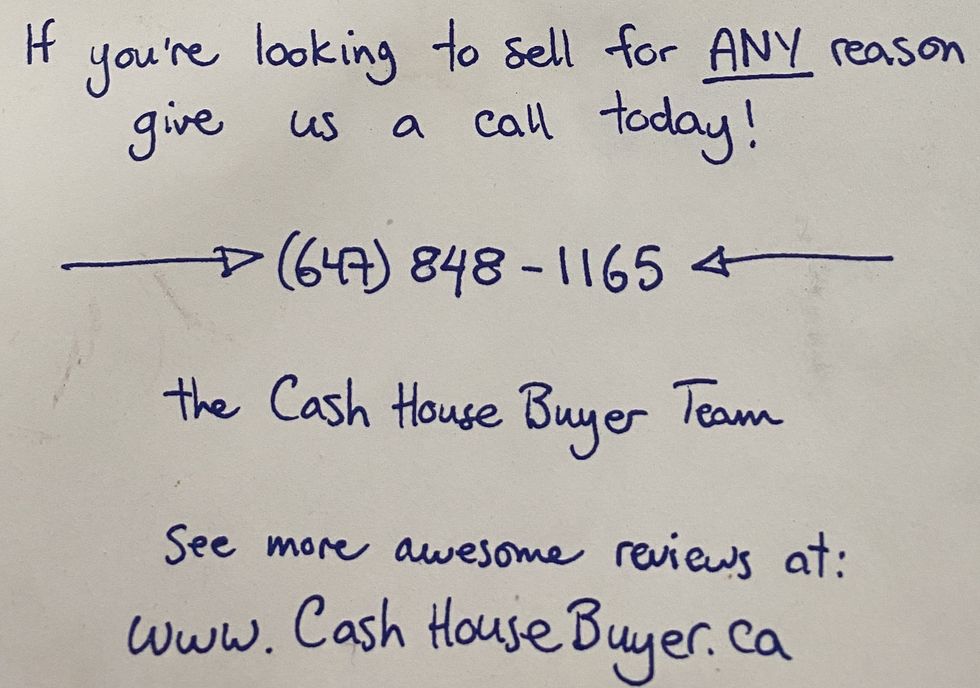 A Scarborough-based operation known as Cash House Buyer told STOREYS last summer that they use the same tactic. It's a method that "gets attention" — not to mention, a high response rate — according to a representative with the company.
"We've tested it with glossy flyers and we found people just ended up throwing those out and not calling us," he said. "It's kind of like getting a better open rate on an email — the more people read it, the better chance you have of finding the type of person you're reaching."
As for how many homeowners end up using their services as a result of such marketing — the representative with Cash House Buyer opted not to reveal any information about their profits or the number of homes they've purchased and flipped since starting the business in 2016.
Though companies like SLG and Cash House Buyer are legitimate operations — both companies say they use lawyers to close deals and encourage sellers to go through the legal checks and balances on their ends — experts caution that there are risks below the surface when working with any private home-buying company.
The main one is that sellers are essentially agreeing to a below-market price on their homes and "leaving money on the table," says Galifi.
And while Galifi says SLG Home Buyer only works with sellers who are, for whatever reason, not necessarily motivated by getting "top dollar" for their homes, GTA-based real estate lawyer Mark Morris warns that there are no regulations or protections in place to ensure that private home-buying dealings are in the best interest of the selling party.
"The Consumer Protection Act — and specifically Section 2 of the Consumer Protection Act — is the protective piece of legislation that generally protects against unfair practice and unconscionable transactions in Ontario," he explains, adding that Agreements of Purchase and Sale are actually exempt from those protections in Ontario.
"And thus, while the sale of services itself is subject to unfair practice and unconscionable transactions, someone who enters into an Agreement of Purchase and Sale that is unconscionable or otherwise unfair is not subject to the consumer protection laws."
Sellers do have the option to take the matter to court and claim unconscionability — particularly if the seller that entered into the contract lacked the capacity to do so — but whether or not it would be worthwhile is another matter entirely.
"You might find that if you read the fine print of some of these contracts, they sometimes have outs," says Morris. "They might say 'we're purchasing this in the name of a corporation' — meaning that it's only the corporation that you can go after, and that corporation could happen to have no assets to begin with."
A spokesperson for the Real Estate Council of Ontario (RECO) — the provincial body that regulates real estate professionals and protects the public interest — additionally notes that the organization has "no jurisdiction" when it comes to 'buy your house for cash' offers.
For those who are thinking of working with a private home-buying company, RECO urges sellers to first obtain documentation to verify the legitimacy of the person or company making the cash offer and to seek independent legal advice prior to signing any sort of agreement.
In other words, selling your house for cash may provide fast access to money, but it can also come at a cost.
Real Estate News