Money
Canadians Working From Home Don't Want to Head Back to the Office
According to a newly published Angus Reid survey, Canadian desk-workers don't miss the office from the work equation.
Among Canadians surveyed who continue to work from home, a considerable group (29%) would like to continue doing so forever. In comparison, the largest group would do a mix of both remote and office work (44%). Only 27% would prefer to return primarily to the office like pre-pandemic times. 
Furthermore, while two in five respondents report that they'd return to their former professional digs without too much of an issue, 25% report that they'd return to the physical office begrudgingly and most likely start looking for another job. 
Meanwhile, one-in-five report they'd even lean toward quitting immediately.
READ: Toronto's Downtown Core Has Highest Proportion of Employees Who Can Work Remotely
As it turns out, it was the younger generation (people ages 18 to 34) and those who identify as men who would likely consider throwing in the towel should showing up at the office become mandatory. Exactly half of the young people surveyed reported this was the case. 
Apparently, working from home didn't involve a drastic nosedive productivity-wise for those surveyed. Of those surveyed, 71% reported their productivity at home to be good or great. Furthermore, three in five (61%) said their mental state was good or great, despite the relentless pandemic. But, importantly, that's not to ignore the two in five who reported that their mental state was "awful."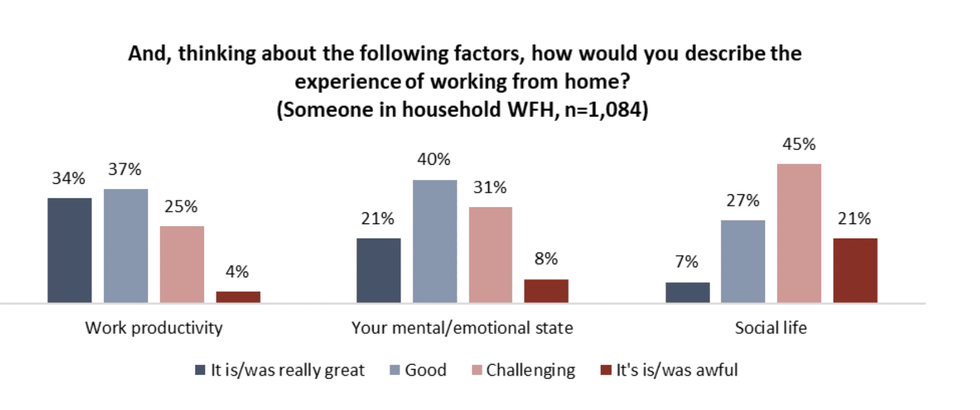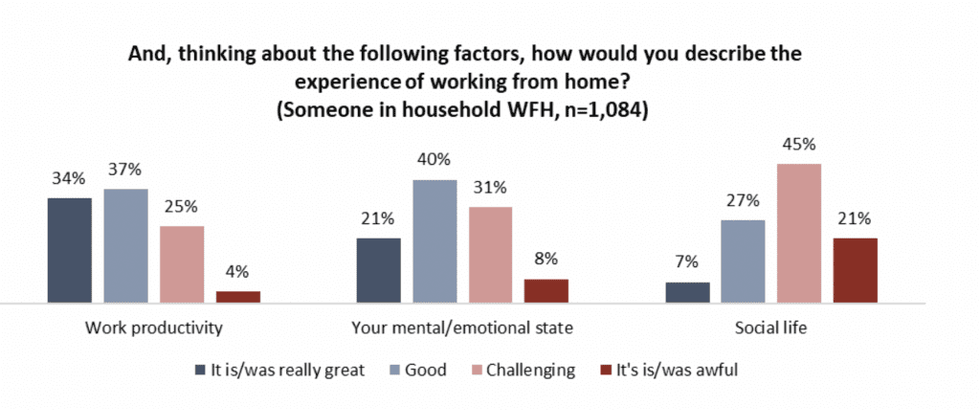 One in five (21%) report that the social aspect of working from home has been terrible, and 45% say it's challenging. Notably — and not something to take lightly — half of those aged 18 to 24 reported that their productivity was "awful" or "challenging." 
Of those surveyed who worked at home at some point since the onset of the pandemic, 73% are still working from home now. That figure dips among workers in lower-income brackets. According to the survey, those in households earning $25,000 or less annually have been called back to the workplace at double the rate of those in households earning $150,000 or more annually. 
According to other research from the Toronto Region Board of Trade's Economic Blueprint Institute (EBI), Toronto's downtown core has the highest percentage of employees who can work remotely.
For now, Toronto's downtown core remains a shell of what it was pre-pandemic. If people in office attire and the increase in rush hour traffic is any indication, however, Toronto's workplaces are slowly (keyword) starting to come back to life. Whether COVID-safe offices will fill with familiar faces, however, remains to be seen.