---
The number of Canadian home sales jumped from February to March as new listings hit a 20-year low, squeezing an already tight market even further.
According to the latest data from the Canadian Real Estate Association (CREA), sales saw a 1.4% increase in March -- a small but consistent gain following a similar jump in February. This marked the first back-to-back monthly gains in more than a year. Still, the number of sales came in 34.4% below March 2022, but, interestingly, this is the smallest year-over-year decline in sales seen since last September.
"As the spring market heats up and it looks as though some buyers are coming off the sidelines, it's important to remember that the intense market conditions of recent years have not gone anywhere, they've just been on pause," said Jill Oudil, Chair of CREA.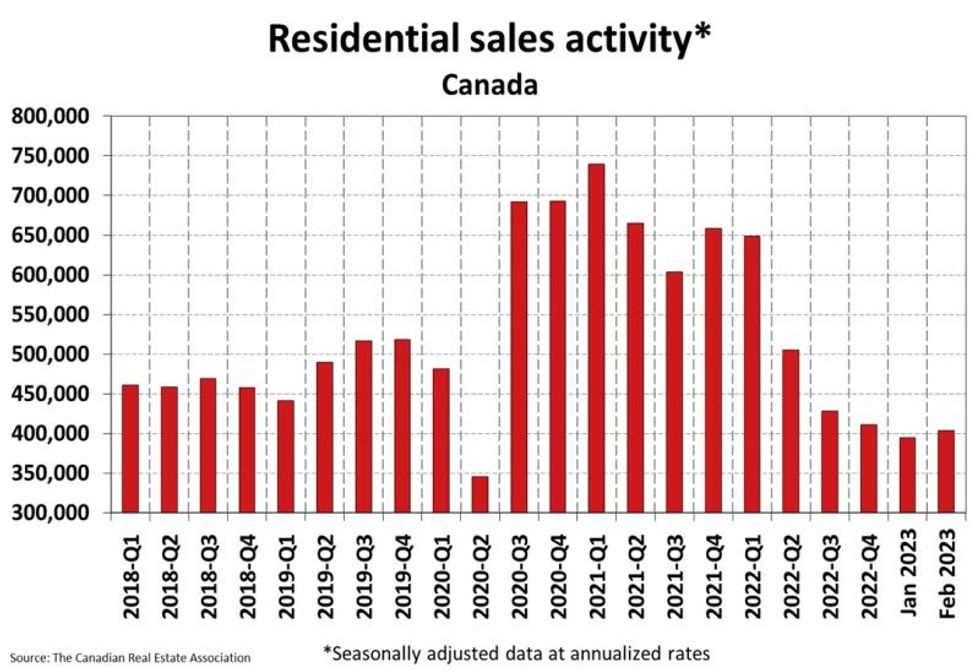 CREA
The number of newly listed homes dropped 5.8% from February to March, hitting a 20-year low and pushing the sales-to-new-listings ratio to 63.5% -- the tightest market in a year. At the end of March, there were 3.9 months of inventory all across Canada, which is down from the 4.1 months seen at the end of February. It's also the lowest level since last October and is a full month below the long-term average.
"With buyers re-entering a market with historically low supply, homes are not only selling but selling faster," Oudil said.
As market conditions tighten, prices appear to be stabilizing, with the MLS Home Price Index increasing just 0.2% month-over-month. Although it's a small one, it's the first growth in the MLS HPI since February 2022.
"The trend of prices stabilizing from February 2023 to March 2023 was very broad-based," CREA said. "With few exceptions, prices are no longer falling across most of the country, although they're not rising meaningfully anywhere, either."
The actual national average home price sat at $686,371 in March, down 13.7% from March 2022 but up almost $75,000 from January 2023. This is in large part thanks to increased sales in the Greater Toronto Area and BC Lower Mainland, two of Canada's most expensive markets.
"The 2023 spring housing market is getting going after a tough 2022, and the green shoots continued to pile up in March," said Shaun Cathcart, CREA's Senior Economist. "Sales are trending up, markets have tightened considerably, the Bank of Canada is on hold, and the MLS® Home Price Index is stabilizing across the country. That said, the supply issue is still with us."
Homes