---
Rising employment prompted Canadians to get back on buses, streetcars, and subways in April, leading to continued recovery of urban public transit ridership.
According to new data from Statistics Canada, 118.8 million trips were taken on urban public transit networks across Canada in April. The figure represents 75.5% of April 2019 ridership levels -- the first time the rate of recovery has surpassed the three-quarter mark since the onset of the pandemic.
READ: Platform Edge Doors Coming To Bloor-Yonge Station
Although ridership fell short of the pre-pandemic benchmark by 38.5 million trips, it has increased by 27 million trips since April 2022. On a monthly basis, ridership levels edged down 2.5% from March, although StatCan noted the decline is smaller than the seasonal 6% drop seen in the two years before the pandemic.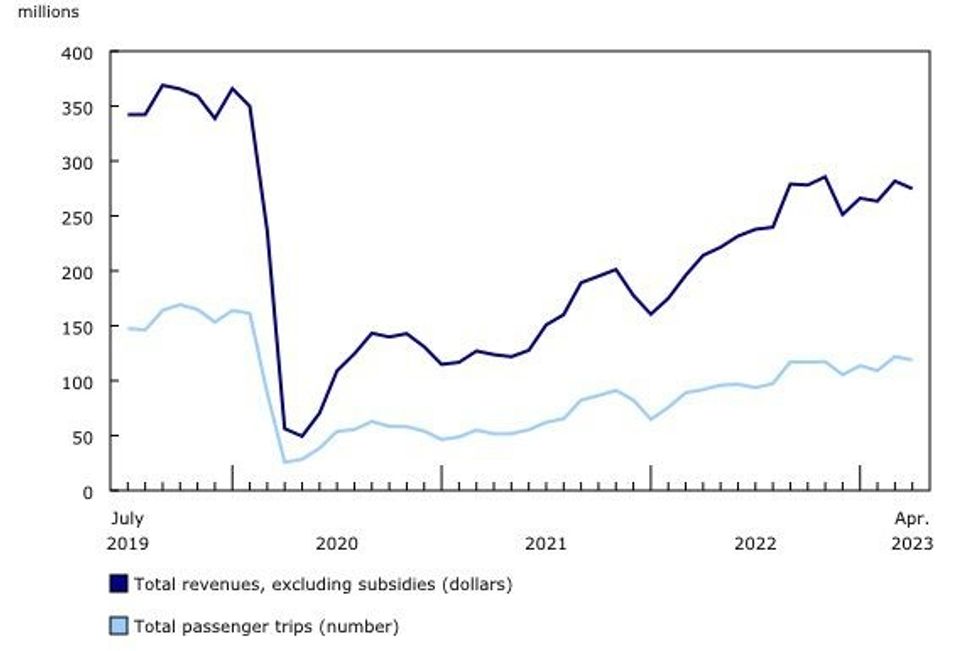 Statistics Canada
The annual increase in ridership can be attributed to continued job growth. According to the latest Labour Force Survey, employment rose by 0.2% month over month in April, while the unemployment rate held steady at 5.0%.
The gains were concentrated in industries that require workers to be on-site, including wholesale and retail trade, transportation and warehousing, construction, and manufacturing.
With the revival of the daily commute, transit agency's operating revenues, excluding subsidies, hit $274.8M in April, an annual increase of $60.7M. However, the figure remains $62.1M below April 2019 levels.
Transportation