---
Canada's housing markets continued to recover in May, with sales and new listings rising on a monthly basis. However, with the Bank of Canada (BoC) seemingly back on its rate hike campaign, economists predict the positive momentum may be short lived.
According to the latest data from the Canadian Real Estate Association , national home sales climbed 5.1% from April to May, continuing the upward trajectory that began in February, while prices jumped 2.1%, the second consecutive monthly increase. It's likely that both will rise further in June, due to the 6.8% increase in new listings seen in May.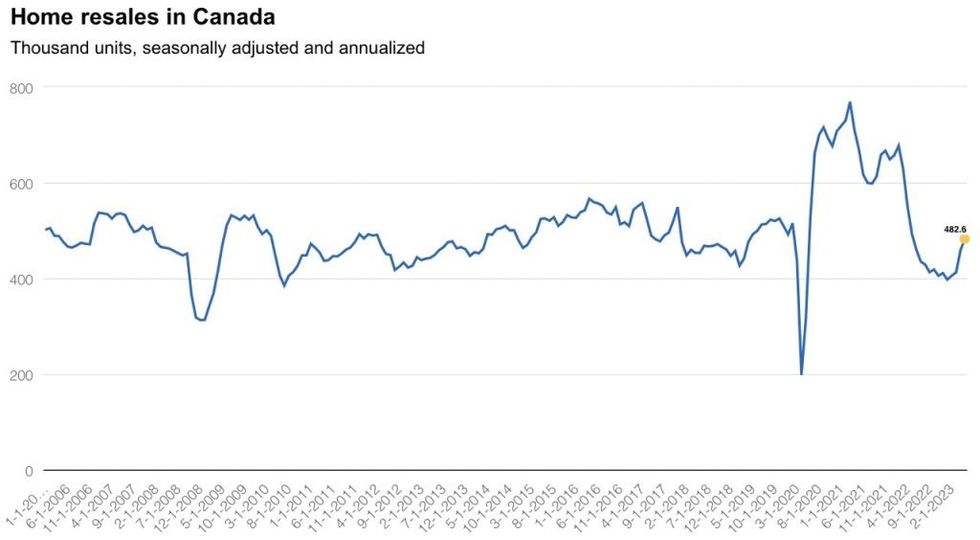 RBC Economics
While the stabilization in housing activity, and subsequent uptick in prices, was expected as the correction that began last spring came to an end , the magnitude and speed at which the market is recovering has taken experts aback.
Robert Hogue, Assistant Chief Economist at RBC, believed that activity would rebound slowly to start, as ongoing affordability issues held prospective purchasers back. However, after the BoC pressed pause on interest rate hikes in March , sidelined buyers returned to the market en masse, thinking the move would be long-lasting.
"We question the sustainability of that strength beyond the next month or so," Hogue wrote in June's monthly housing market update . "The Bank of Canada's (mildly) surprising rate hike in June and the prospects for further monetary policy tightening are likely to temper the pace."
A "more probable scenario" is that sales and prices will both see a more gradual recovery until the BoC starts cutting rates in 2024. The belief was shared by Robert Kavcic, Senior Economist and Director of Economics at BMO, who suspects the market will "settle down and stabilize through the rest of the year."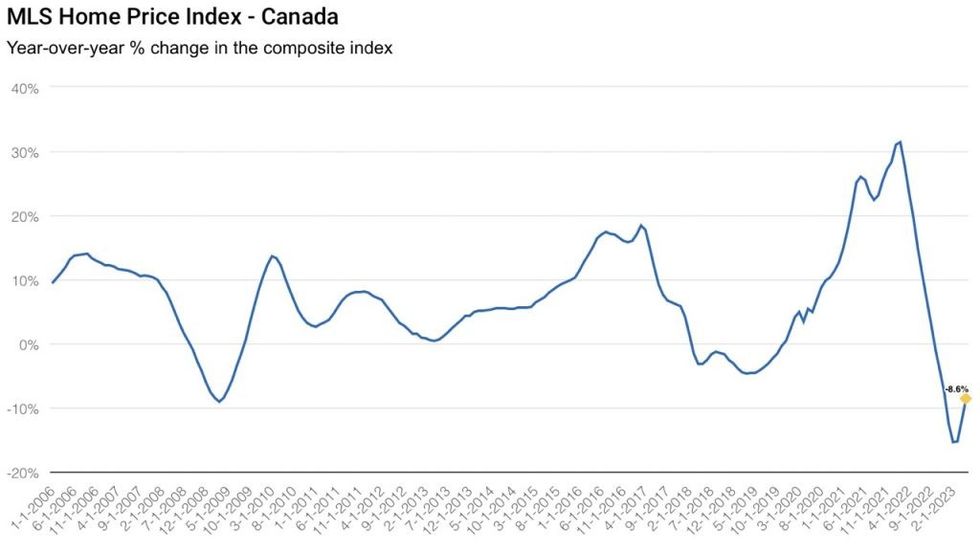 RBC Economics
In a Housing News Flash , Scotiabank Economist Farah Omran pointed out that although the speed of the recovery points to "resiliency and strong household finances," it also creates challenges for the BoC as it attempts to rein inflation back down to its 2% target.
By raising interest rates again in July, the BoC can "help slow down the reheating in the housing market," and dampen housing affordability concerns.
However, despite the increase seen in May, new listings remain historically low. Meanwhile, the seasonally adjusted annual rate of housing starts fell to 202,494 units in May , a 23% decline from April, and the lowest monthly reading in more than two years.
Combined, the two will worsen the affordability crisis, said Randall Bartlett , Senior Director of Canadian Economics at Desjardins, putting upward pressure on home prices and rent alike.
"Without a concurrent meaningful increase in supply, continued strength on the demand side would reintroduce imbalances to the market," Omran wrote. "[This would] show up as meaningful increases in prices instead, further delaying the needed improvement in housing affordability conditions."
Real Estate News