---
The growth in household mortgage debt slowed in May, but "additional financial pressures" are on the horizon as more Canadians turn to personal loans and credit cards to finance their spending.
According to new data from Statistics Canada (StatCan), the total credit liabilities -- including mortgage and non-mortgage loan debt -- of Canadian households rose $4.8B from April to May, surpassing $2.8T, and marking the third consecutive month to see a 0.2% increase.
Real estate secured debt, which is composed of mortgage debt and home equity lines of credit (HELOCs), edged up 0.1%, or $3.2B, to just under $2.3T in May.
Household mortgage debt edged up 0.2%, or $3.6B, month over month in May, reaching $2.1T. Although the figure was up 2% on an annualized basis, StatCan noted it marked the slowest pace of growth since December 2011.
With interest rate hikes still temporarily paused, Canada's real estate markets experienced a flurry of activity throughout the spring. Home sales rose 5.1% on a monthly basis in May, while the average sale price increased 1.8% to $729K -- a more than $116K increase from January.
With debt mounting, more households relied on personal loans rather than credit cards to finance their spending.
On a monthly basis, non-mortgage loan debt rose 0.4%, or $2.7B, in May. On an annualized basis, it was up 4.6%, marking a second consecutive month in which the pace of growth accelerated.
However, unlike previous months, the growth in non-mortgage loan debt was not due to credit card debt with chartered banks -- which rose 1.1% in May -- but was instead attributable to personal loan plans, which increased 0.7%, and other personal loans, which rose 0.8%. Conversely, though, outstanding balances on HELOCs dropped 0.2% in May, a second consecutive month of decline.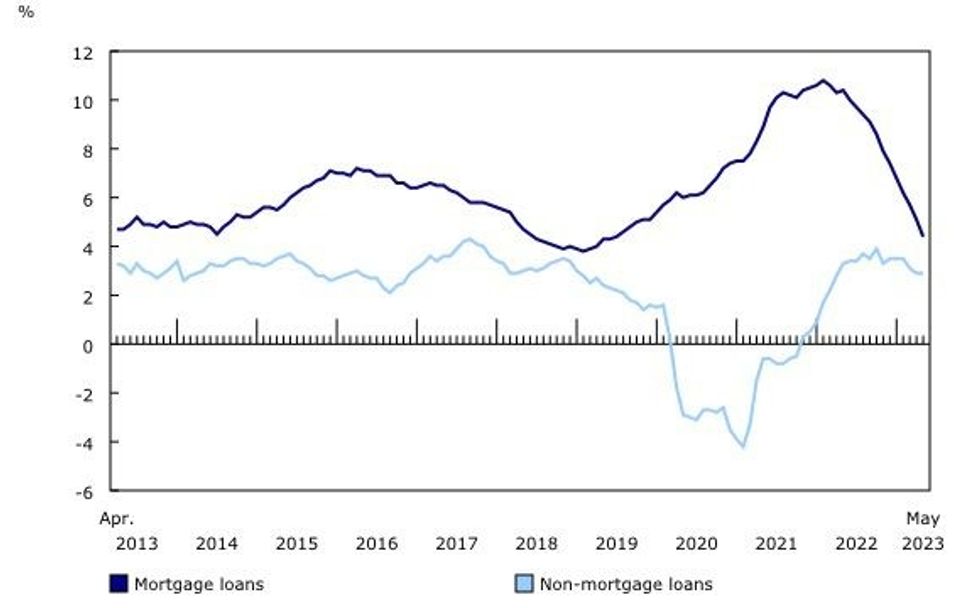 Year-over-year growth in household mortgage and non-mortgage loans, Statistics Canada
Following the Bank of Canada's back-to-back interest rate increases this summer, indebted Canadians may face increased financial pressure in the coming months.
"With the policy interest rate reaching 5.0% in July 2023, up 50 basis points from May, some households may face additional financial pressures as they continue to access credit to fund their spending, especially for more vulnerable groups," StatCan warned.
According to recent data from the agency, annual growth in non-mortgage debt in the first quarter of 2023 was strongest for the least wealthy Canadians and for those between the ages of 35 and 44.
The least wealthy households (the bottom 40%) saw their non-mortgage debt grow by 4.6% annually in Q1, while their mortgage debt increased by 23.8%. Meanwhile, the richest 20% reduced their mortgage debt by 0.9% over the same time period.
Personal Finance