In the early days of the pandemic, historically low interest rates, tight supply, and high levels of demand sent home prices soaring across Canada.
But, after reaching a record-high in early 2022, prices began to tumble as the Bank of Canada started raising interest rates. When the BoC paused this spring, they rose once more.
---
The price rollercoaster of the last three years spurred Zoocasa to examine how much property prices have changed since the summer of 2020. In a new report, the real estate agency analyzed average home prices in 19 cities and regions from August 2020, 2021, and 2022, and compared them to prices for the same month in 2023.
While some locales have seen a slight declines over the last year or two, home prices across the country are higher in 2023 than they were during the first summer of the pandemic. As the report notes, buyers who purchased property in 2020 have seen the greatest appreciation.
As of August 2023, the national average home price was $750,100 — a negligible $2,900 increase from a year ago, but a $179,100 jump from the summer of 2020.
On a local level, the most significant growth has been seen in the Greater Toronto Area. In August 2020, the average home price in the GTA was $860,700; in August 2023, it was $1,113,900, a $280,700 increase. Over the last two years, prices have risen by $118,600.
The region with the greatest increase over the last year, though, is Halifax-Dartmouth. Since August 2022, prices have jumped $46,200 to $530,900. In 2020, the average home price was $344,500.
Like Toronto, Vancouver, Barrie and District, and Victoria have also seen prices rise by over $200,000 since 2020.
In Vancouver, the average home price in August 2023 was $1,208,400, a $261,800 increase since August 2020. In Barrie and District, prices have risen from $571,700 to $818,000 over the last three years.
Despite a $218,500 jump from August 2020 to August 2023, Victoria has seen the largest decline over the last year, with prices falling $18,400 since August 2022.
Winnipeg, Barrie and District, Regina, and Edmonton have also experienced price drops over the last year, ranging from just $300 in the former to $14,800 in the latter, while Regina has seen prices dip $1,100 since 2021.
Like Victoria, the aforementioned cities have still seen significant price growth since 2020 — the smallest of which was Edmonton, at $25,400 — despite the recent declines.
However, with buyers increasingly cautious in the face of high interest rates, dwindling affordability, and a looming recession, further depreciation may be on the horizon. In some cities, including Toronto and Vancouver, price declines have begun once more.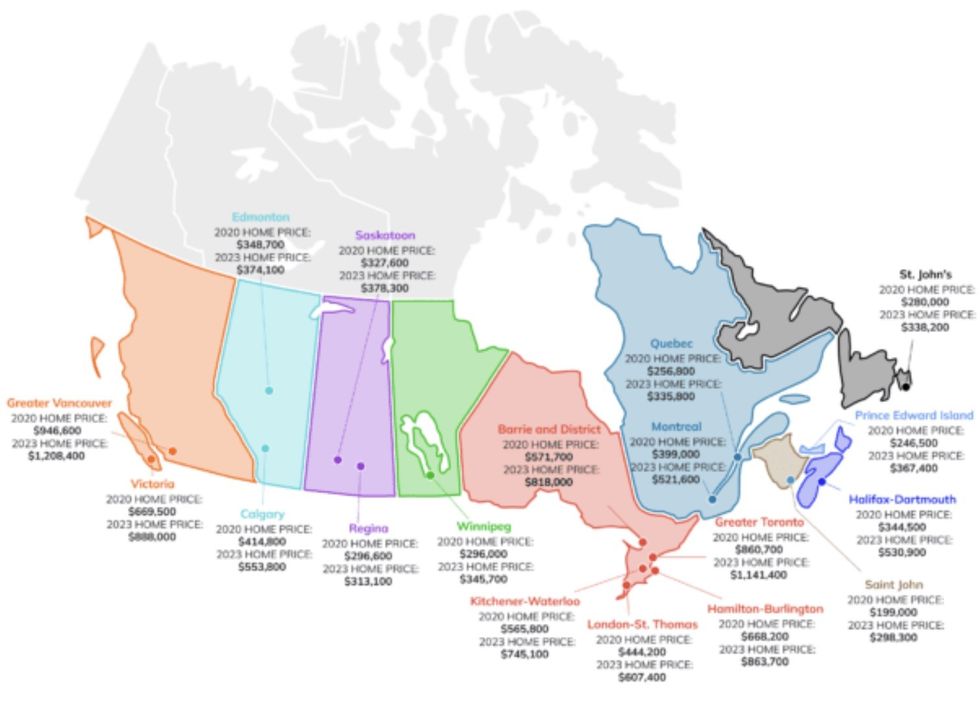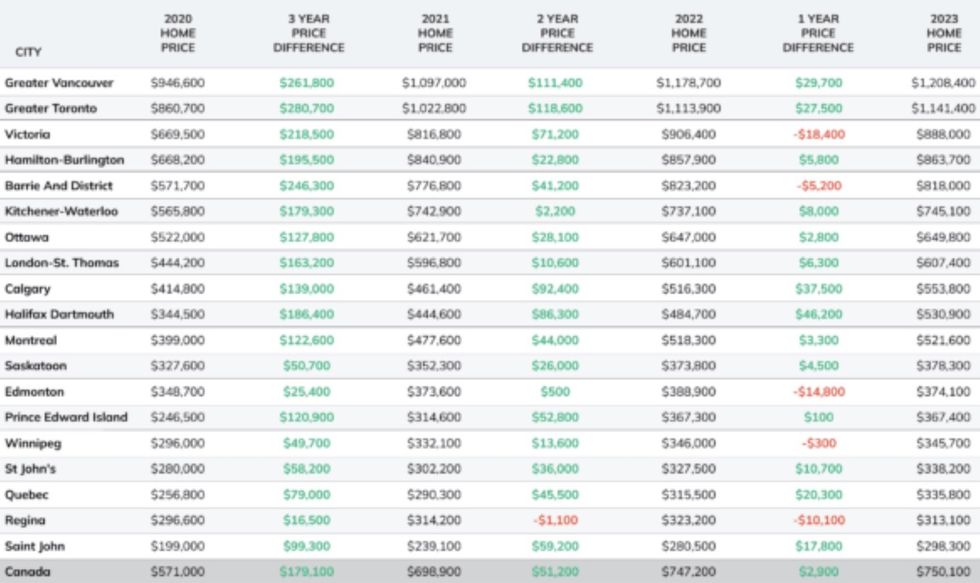 Zoocasa
Other (Canada)