Real Estate News
Calgary Ranked the World's Third Most Livable City: EIU
Not only are home prices a little easier on the bank account in Calgary, the city has also been recognized as one of the world's most livable urban centres.
Calgary has tied with Zurich, Switzerland for third place in the Economist Intelligence Unit's (EIU) annual ranking of the world's most liveable cities. The EIU ranked 172 cities this year. 

Calgary — known for its increasingly cosmopolitan vibe and its proximity to the stunning Rocky Mountains — has been in the top 10 before, but the third place spot is the highest ranking the city has reached. It beat out the much pricier Vancouver (fifth place) and Toronto (eight place). 

Each city was given a rating out of 100 for over 30 qualitative and quantitative factors across five categories: stability, healthcare, culture and environment, education, and infrastructure. Calgary scored 96.3; with a 95 for stability, 100 for healthcare, 90 for culture and environment, 100 for education, and 100 for infrastructure.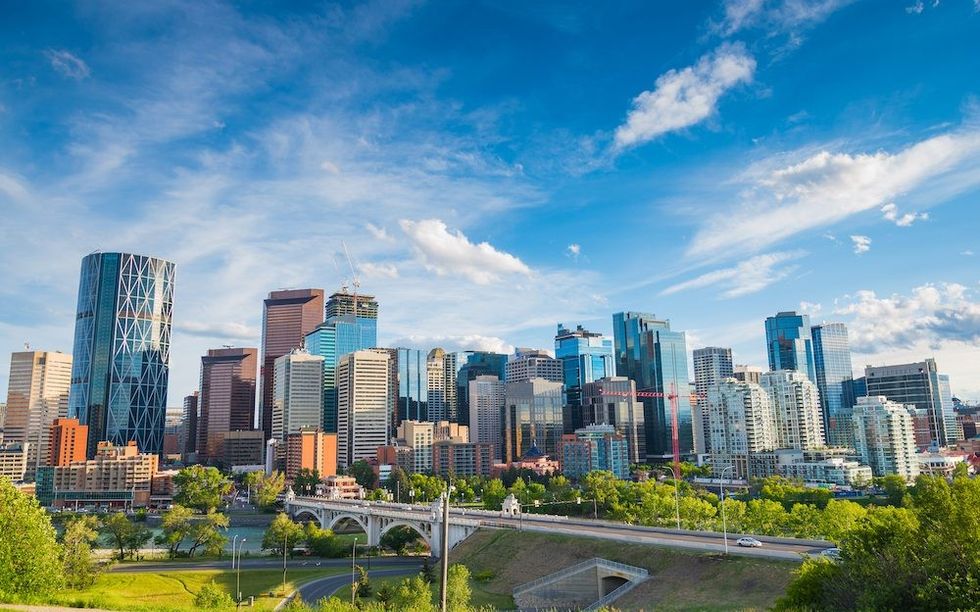 "Calgary has risen to third, our highest ever ranking, in the Economist Intelligence Unit's (EIU) annual list of the world's most livable cities!," said Calgary Mayor Jyoti Gondek in a statement. "More Calgarians are telling the story of their city, and people are taking notice. Our climb in the rankings for Most Livable City reflects the welcoming nature of our city, its affordability and the opportunity offered to entrepreneurs. We are exuding optimism and inviting people to join us in shaping our future."
Vienna, Austria took the top spot on the list, and Copenhagen, Denmark came in second. Notably, the survey doesn't take into account the cost of living (clearly, if Zurich is also third place). With that said, home prices in Calgary are relatively attainable compared to Toronto and Vancouver. This affordability factor, coupled with a robust economy is breathing new life into the once underdog city.
Furthermore, in addition to ramping up its food and beverage scene in recent years, Calgary has been working on reimagining its downtown.
According to the EIU, however, Calgary jumped from its 18th position in 2021 to third place in 2022 thanks to the removal of covid restrictions. "The top ten cities are also among those with few covid restrictions," reads the report. "Shops, restaurants and museums have reopened, as have schools, and pandemic-led hospitalization has declined, leading to less stress on healthcare resources and services, and even the requirement to wear masks is no longer in force in most situations. As a result, cities that were towards the top of our rankings before the pandemic have rebounded on the back of their stability, good infrastructure and services, as well as enjoyable leisure activities."
Here are the top 10 most livable cities in the world:
1. Vienna, Austria — Rank 1, Index – 99.1
2. Copenhagen, Denmark — Rank 2, Index – 98.0
3. Zurich Switzerland — Rank 3, Index – 96.3
4. Calgary Canada — Rank 3, Index – 96.3
5. Vancouver Canada — Rank 4, Index – 96.1
6. Geneva Switzerland — Rank 6, Index – 95.9
7. Frankfurt Germany — Rank 7, Index – 95.7
8. Toronto Canada — Rank 8, Index – 95.4
9. Amsterdam Netherlands — Rank 9, Index – 95.3
10. Osaka Japan– Rank 10, Index – 95.1
Meanwhile, on the opposite end of the scale, Damascus, Syria, was named the least liveable city in the world and Kyiv was removed due to the Russian invasion.