---
Unlike other major Canadian markets, Calgary is having a moment on the luxury real estate front. 

According to Sotheby's International Realty Canada's Top-Tier Real Estate: Fall 2022 State of Luxury Report, Canada's high-end real estate market continues to transition from an era of pandemic over-exuberance. This is especially true in regions that saw the most acceleration over the past two years. 
We've entered a period of calm when it comes to luxury sales activity across most of the country, even as consumer confidence on long-term market fundamentals remained robust, says Sotheby's. 

While interest rate hikes have less of an impact on the country's ultra-luxury real estate market, the report highlights how sellers and buyers continue to process the impact of interest rate hikes, rising inflation, volatile financial markets, and geo-political headwinds. As a result, "many remain watchful from the sidelines," says Sotheby's.

According to the report, inventory "evaporated" from Canada's luxury housing market in the third quarter of 2022, resulting in an unfulfilled demand for top-tier housing and housing mobility. This especially rang true in the notoriously pricey Greater Toronto Area (GTA). According to Sotheby's, the GTA's luxury real estate "dissipated" in the third quarter, capping potential transactions and contributing to a decline in residential sales over $4M by 42% year-over-year in July and August and a 63% annual decline in September. Between July 1 and August 31, three properties sold over $10M on MLS, compared to six units sold above this ultra-luxury price point in the summer of 2022.

Meanwhile, in the equally as pricey Vancouver market, sales activity in the luxury market also cooled in the third quarter of the year as prospective sellers and buyers paused in anticipation of further market adjustments and as available luxury real estate became scarce. Luxury sales over $4M continued to recede from historic highs, with 51% year-over-year decline in July and August, with two properties selling over $10M on MLS compared to one sold in the summer months of last year. September's sales over $4M fell 58% from the previous year's levels and sales over $1M declined 70% year-over-year.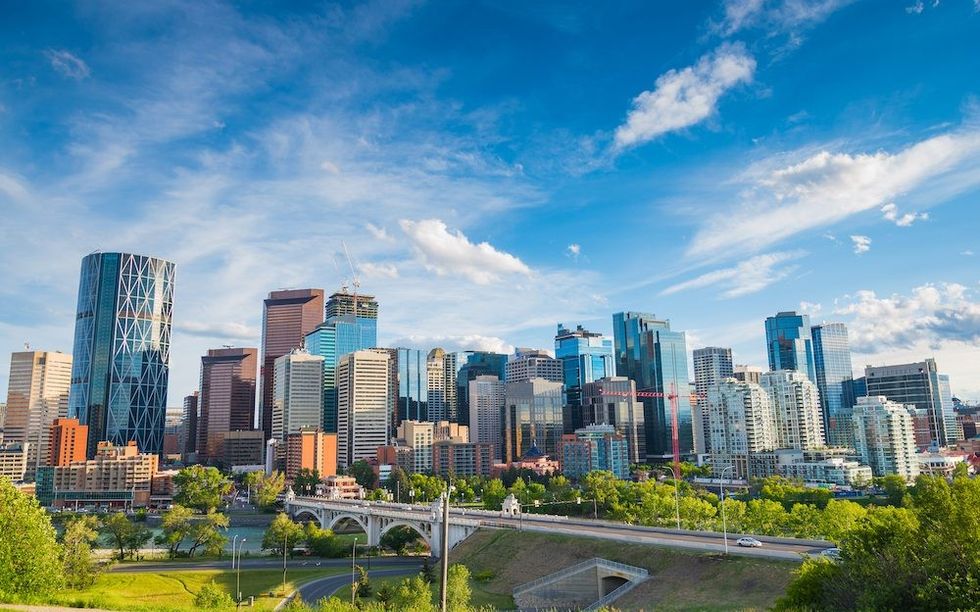 City skyline of Calgary, Alberta, Canada
In Calgary, however, the luxury market remained "buoyant with consumer optimism and economic confidence," according to Sotheby's. Calgary's conventional and luxury housing market performance was more resilient than other major metropolitan areas through the summer and early fall despite confronting the challenges of rising inflation and interest rates. Here, the $1M-plus residential sales diminished a mild 12% in July and August compared to the summer months in 2021, then held ground with a negligible 5% year-over-year dip in September.

"Economic growth and diversification, a revitalized oil and gas sector, strengthening consumer confidence, and in-migration from other Canadian markets bolstered Calgary's luxury market in the third quarter of 2022, positioning the city as an outlier amongst the country's largest metropolitan markets," reads the report. 
One Calgary property sold over $4M over the summer, on par with the number of sales above this price point in the summer of 2021. "The city's favourable cost of living and opportunities for greater purchasing power within its housing market have continued to attract interprovincial migration from Ontario and British Columbia, as professionals and families seek the benefits of relocating to a city that has been deemed the most liveable in Canada by the Economist Intelligence Unit in 2022," reads the report. 
Preliminary fall sales activity also reflects an active market in Calgary, according to the report. In the month of September, sales over $1M remained largely comparable with September 2021 levels, with sales tightening a negligible 5%, according to Sotheby's. It's not just the luxury market that's having a healthy run in Calgary. As the report highlights, the City of Calgary saw 1,901 property sales in September, according to the Calgary Real Estate Board (CREB). Notably, this is much stronger than levels achieved pre-pandemic and above long-term trends for September. Coupled with housing inventory declining 20.8% from last year's levels, strong demand led to price gains across all housing types, with single family home, semi-detached, row and condominium prices up 12.9%, 10.4%, 15.1%, and 10.7% year-over-year respectively.
It will be interesting to watch what happens next in Calgary's luxury market, especially as the city's reputation as an increasingly coveted place to call home continues to grow.
Real Estate News