Up against supply issues like many other major metropolitan cities, the resale market in Calgary continues to over perform, largely as the result of condominiums.
According to statistics for the month of September published by the Calgary Real Estate Board (CREB) on Tuesday, Calgary registered a grand total of 2,441 home sales this past month — a record for September and a 28.9% increase compared to September 2022.
---
Of the 2,441 home sales, condos accounted for 706 sales and — again — saw the highest year-over-year increase of any property type, at 57%, while the other three property types saw only modest improvements between 19% and 26%.
In terms of new listings, condos accounted for 925 of the 1,517 new listings added in September. The total represents an increase of 22% compared to September 2022, while the number of new condo listings again saw the highest year-over-year increase of any property type, at 53%.
How much the condo market is carrying the resale market becomes even clearer when looking at year-to-date statistics, where all property types are currently anywhere between 14% and 23% lower than the year-to-date totals this time last year, while condos are up 25%.
Condos are also the only residential property type to see a year-over-year improvement when it comes to the year-to-date total number of net listings, at 12%, while the remaining three property types have all seen decreases between 22% and 28%.
On the pricing front, the benchmark price for condos reached $312,800 in September, up from $309,100 in August and a 15% year-over-year increase.
"Year-to-date apartment condominium sales reached 6,286 sales, a 25% gain over last year and a record high for the city," CREB said. "Higher lending rates and tight rental market conditions have kept demand for apartment-style products strong. While inventory levels did see a modest gain compared to last month, thanks to a lower sales-to-new-listings ratio, conditions remain exceptionally tight with 1.5 months of supply."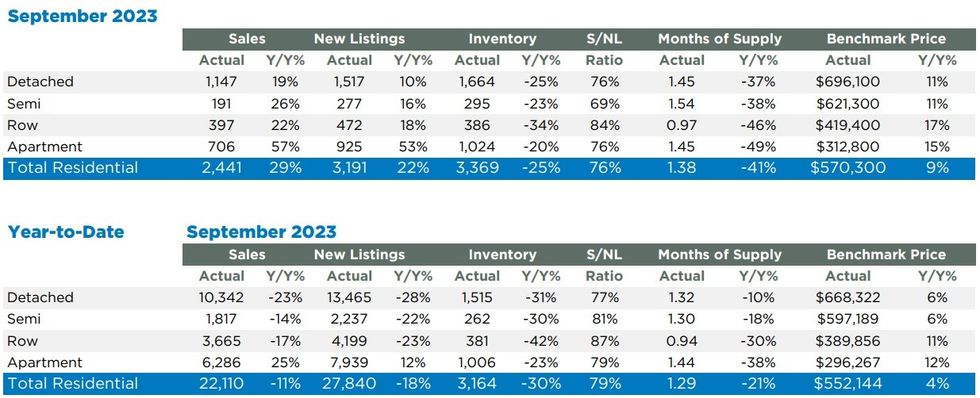 Monthly and year-to-date statistics for September 2023.(Calgary Real Estate Board)
In the market for single-detached homes, inventory levels remained at record lows, CREB says, while the sales-to-new-listings ratio remained high.
"The decline in inventory levels has been driven by homes priced below $700,000, as supply levels show some improvement for homes priced above this level. While detached sales improved over levels reported last year, much of the gains were driven by the higher-priced properties with some supply options."
For semi-detached homes, CREB notes that this past month was the first time the sales-to-new-listings ratio dropped below 70% since last September. The amount of inventory, however, has not been this low since September 2005.
For rowhouses, the sales-to-new-listings ratio fell from 94% in August to 84% in September, providing a bit of breathing room when it comes to months of supply, which is now at 0.97 after being at 0.82 in August. However, with the amount of supply still below one month, "the persistently tight conditions continue to place upward pressure on prices," CREB says.
Real Estate News