Largely on the back of a condominium market that continues to surge, the City of Calgary recorded a record level of home sales this August, according to new statistics published by the Calgary Real Estate Board (CREB) on Friday.
Seasonal trends typically result in real estate market activity dipping during the summer, with August often one of the weakest months of the year. But that has not been the case in Calgary, which recorded 2,729 home sales in August after recording 2,649 in July.
---
Furthermore, that total also shows a 27.9% increase year-over-year, despite the Bank of Canada policy interest rate now being 5.00% compared to 2.50% this time last year.
Once again, this is in large part due to Calgary's condo market.
Although single-detached homes were still the property type that accounted for the highest quantity of sales, the condo market is punching above its weight.
In August, condos (893) accounted for 28.5% of all new listings (3,131), but accounted for 32.1% of home sales. Meanwhile, single-detached homes (1,515) accounted for 48.4% of all new listings (3,131), but only accounted for 43.9% of all sales.
Year over year, condos are also the property type that has seen the greatest improvement — by a wide margin. The 876 condos sold this August was a 67% improvement over last year. Meanwhile, rowhouses have seen an improvement of 22%, semi-detached homes have seen an improvement of 16%, and single-detached homes have seen an improvement of just 13%.
The contrast is even starker looking at year-to-date numbers for this year, where condos are the only property type that has seen an improvement, of 22%. Meanwhile, rowhouses are down 20% this year, semi-detached homes are down 18%, and single-detached homes are down 26%.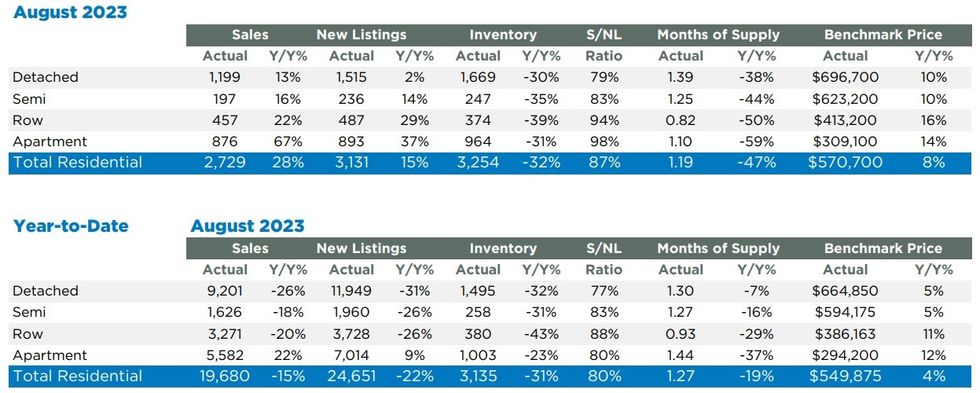 Monthly and year-to-date market statistics for August 2023.(Calgary Real Estate Board)
A similar story is playing out with condos on the listing side of things, with condos seeing the greatest year-over-year improvement (37%) of all property types. Again, they're the only property type that has seen a year-to-date improvement (9%).
Most impressive, perhaps, is that all of this happened in June, and then again in July. As they say: one is chance, two is luck, but three is a streak.
"Tight rental markets and relative affordability have driven many purchasers to the apartment condominium sector," said the CREB. "The tight market conditions have been placing upward pressure on home prices, and as of August, the unadjusted benchmark price reached $309,100, a monthly gain of over 1% and a year-over-year gain of over 13%."
Zooming in, most of the condo listings and sales are still in the City Centre submarket, then followed by the southern, southeastern, and western submarkets of the city.
The City Centre submarket does not have the highest benchmark price, however. Its benchmark price of $326,700 was the second-highest after the southeastern submarket of Calgary, where the benchmark price was $329,100.
While the condo market is the big takeaway, year-to-date home sales as a whole are actually down 15%, at 19,680 so far this year.
"While new listings did improve compared to levels seen this time last year, the sales-to-new-listings ratio remained elevated at 87%, preventing any significant shift from the low inventory situation," the CREB said. "Inventory levels in August dropped to 3,254 units, not only a record low for the month but well below the 6,000 units that are typically available."
At large, the City of Calgary accounted for 79% of all homes sales in the Calgary region in August. Followed by the City of Calgary was Airdie (6%), the Foothills Region (4%), and the Rocky View Region (4%).
From Your Site Articles
Related Articles Around the Web
Homes