While many large real estate markets in Canada have seen tempered activity this summer, Calgary just wrapped up a record July, according to statistics published by the Calgary Real Estate Board (CREB) this week.
In July, the City of Calgary recorded a grand total of 2,649 home sales, which is a decrease compared to the 3,144 sold in June, but a strong showing when factoring in seasonable trends. Last month showed an 18% increase compared to July 2022 and had the strongest July sales total on record.
---
By residential property type, single-detached homes still led the way, with 1,197 units sold, followed by condominiums at 772, rowhouses at 467, and semi-attached homes at 211.
The number of new listings added also decreased from 3,939 in June to 3,247 in July, but total inventory nonetheless increased, up from 3,461 in June to 3,488 in July.
"Continued migration to the province, along with our relative affordability, has supported the stronger demand for housing despite higher lending rates," said CREB Chief Economist Ann-Marie Lurie. "At the same time, we continue to struggle with supply in the resale, new home, and rental markets resulting in further upward pressure on home prices."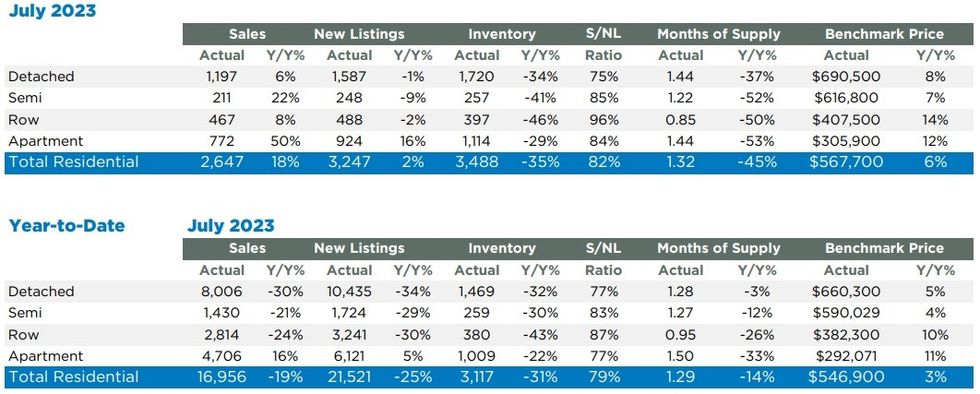 Monthly and year-to-date market statistics for July 2023. (Calgary Real Estate Board)
Accordingly, the composite residential benchmark price in the City of Calgary is now up to $546,900 year-to-date, which represents a year-over-year increase of 3% and the seventh consecutive monthly gain, according to CREB.
Single-detached homes are still leading the way at $660,300, followed by semi-detached homes at $590,029, rowhouses at $382,300, and condominiums at $292,071.
Condos Are Soaring
No matter what why you slice it, condominiums are now the clear top product in the City of Calgary.
Year over year, condos are the residential property type that has seen the largest sales increase (50%), the second-largest increase in benchmark price (12%), and is the only property type that has recorded an increase (16%) in new listings.
The same holds true when looking at long-term year-to-date data, where condos are the only property type to record an increase in the number of unit sales and the only property type to record an increase in new listings — let alone both.
As such, and despite seeing the largest benchmark price increase year-to-date of all the property types, condos now account for roughly a quarter of all homes that have sold this year — a number that seems likely to increase given its current trajectory.
And it's not just the re-sale market. Pre-sale condos are also as hot as ever.
According to real estate analytics firm Zonda Urban , 1,076 condos were pre-sold in Q2, which represents an astronomical 230% increase over Q2 2022.
"Calgary's return as Canada's most active housing market is largely fueled by individuals from other provinces, including BC," says Jackson Cornelius, Advisory Director at Zonda Urban. "Several factors are at play. The city experienced record migration from other provinces resulting in an imbalance of supply and demand — especially in the rental market — and downtown Calgary remains more affordable than other major centers."
READ: Two Western Canadian Cities Are Now The Top-Searched For Real Estate
Presale condos can be found in Calgary for nearly half the prices seen in markets like Vancouver, and the same goes for re-sale condos. In July, the benchmark price for re-sale condos was $305,900 in Calgary, but $771,600 in Vancouver.
Daryl Simpson, a Partner at Vancouver-based real estate marketing and sales firm Magnum Projects , says that realtors calling on behalf of clients in Metro Vancouver and Calgary are aware of the price gap and that investors know they can rely on a strong return on investment.
Magnum is about to launch presales on Arris , a 41-storey condo tower buy Vancouver-based Bosa Development on 530 3rd Street SE in Downtown Calgary, and Simpson says starting prices will be around $560 per sq. ft, which is half the price found in places like Surrey, and even more so than in Vancouver.
Real Estate News