The City of Calgary set a new record for total residential sales in June, according to new statistics published by the Calgary Real Estate Board (CREB) last week, and a lot of that record can be attributed to a "surge" in condos.
---
Calgary recorded a a total of 3,146 residential sales this past month, which consisted of 1,525 single-detached homes, 240 semi-detached homes, 524 rowhouses, and 857 condominiums.
Compared to June 2022, those numbers represent, respectively, an increase of 3%, an increase of 8%, a decrease of 6%, and an increase of 48%.
At this point last year, the City of Calgary had recorded a total year-to-date amount of 3,539 sales of condos. This year, the year-to-date amount is at 3,936. Not only is this is a 11.22% increase, it is the only residential property type that has increased so far this year, with all other categories decreasing between 25% and 35%.
When looking at the total sales volume -- the total amount of dollars -- the story is the same. While the total dollars decreased for the other three residential classes, the total sales volume for condominiums increased by 18.22%.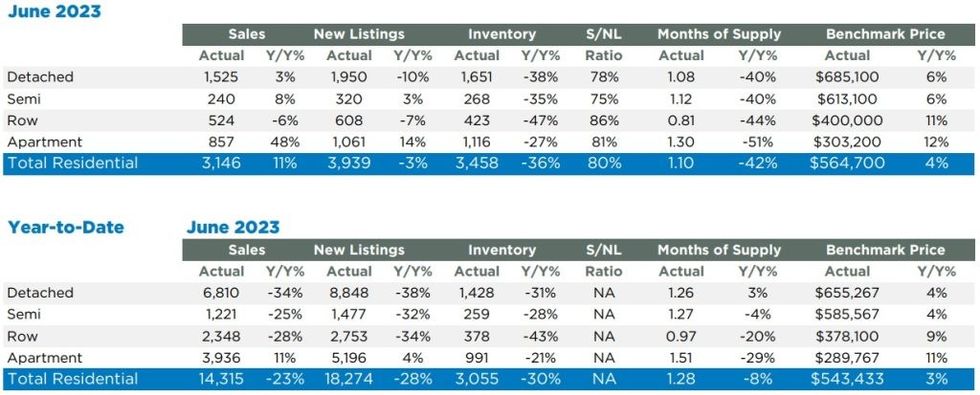 June 2023 residential market statistics. (Calgary Real Estate Board)
Condo Prices
The benchmark price has increased across all categories in Calgary, but condos again saw the largest increase. The benchmark price increased by 6% to $685,100 for single-detached homes, increased by 6% to $613,100 for semi-detached homes, increased by 11% to $400,000 for rowhouses, and increased by 12% to $303,200 for condos.
Across the city's eight sub-regions, the northern region and eastern region of the City of Calgary saw the largest increases in the benchmark price, at 17.82% and 16.77%. Conversely, the city centre region saw the smallest increase, 9.44%, but accounted for 383 of the 857 sales in June -- more than triple all of the other sub-regions.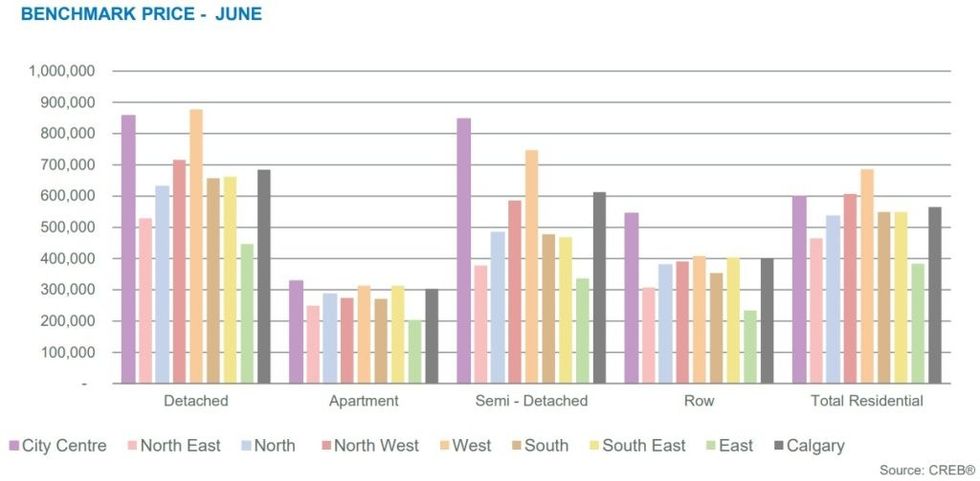 Benchmark prices in June 2023, by property type and region. (Calgary Real Estate Board)
Supply
In June, condos also saw the largest increase in new listings across Calgary, seeing an increase of 13.96%, compared to a decrease of 9.68% for single-detached homes, an increase of 2.89% for semi-detached homes, and a decrease of 7.03% for rowhouses.
The amount of total inventory, however, is significantly lower across the board now than it was a year ago -- condos included. The amount of active listings is now 38.12% lower for single-detached homes, 26.92% lower for condominiums, 35.42% lower for semi-detached homes, and 46.93% for rowhouses.
By region, the supply of condominiums remains concentrated in the city centre region of Calgary, with 641 of the 1,116 listings currently on the market and no other sub-region holding more than 104.
"Although we have seen some recent improvements in new listings, particularly for apartment condominiums, it is not enough to cause any substantial change from the low inventory situation in our city," said CREB Chief Economist Ann-Marie Lurie. "While new home starts are on the rise, it will take time to observe their impact on supply."
READ: Amidst A Historic Housing Crisis, Canada's Ability To Build Quickly Is Both Question And Answer
The CREB also notes that the 1,116 condominium units currently on the market is also the lowest June total since 2013, adding that "persistently strong demand for affordable product has prevented inventories from improving."
According to Zonda Urban, Calgary is also becoming popular for out-of-province investors, with four of the seven projects that launched in Q1 2023 selling specifically to Ontario investors.
With supply not looking good and demand seemingly on an upward trajectory, the condo market in Calgary could soon look a lot like those of Vancouver and Toronto.
Calgary