Real Estate News
What to Consider When Buying a Condo in the Time of COVID
The condo market has been on fire in Toronto for years.
[adrotate banner="61″]
While the COVID-19 pandemic put an obvious damper on real estate activity, those in the industry are pointing to numbers that show activity has come roaring back after initial lockdowns eased.
For buyers who were on the sidelines through the initial stages of the pandemic, but are now looking to purchase, they may be wondering if now is the right time to buy.
"Right now is the best time to purchase a condo… There has never been this much inventory for the past five years, says Nima Khadem, broker with Royal LePage Signature, who partly specializes in the pre-construction sector. Buyers "have more options to choose from and less competition," he adds.
COVID and Condos
The lockdown built pent-up demand, when real estate came to a near standstill and listings ground to a trickle.
Then things opened up and sales picked up.
Prices have stabilized, says Khadem, and are up about 0.6% for condos in Toronto year to date. Compared to the detached market, where there is less supply and huge demand, and prices are up about 12% with an average of about $1.1 million in the GTA, according to July figures, condos are the only option for many people to get into the market.
At the same time, with the economic slow-down, the central bank has dropped its benchmark interest rate to 0.25%, making mortgages more attractive for buyers.
Both the health scare and working from home have made people more aware of the importance of having a home one feels safe and comfortable in.
READ: Coming Soon: North York's Only Boutique Address
"We have all recently experienced a huge shift in terms of the time we spend at home versus the office.  Now more than ever, we as a society value our homes and personal spaces more. A comfortable home has shifted from a nice-to-have, to a need-to-have for many," says Jonathan Goldman, President of Stafford, which launched 181 East, a boutique condo development in Toronto's North York area.
Of course, the pandemic has thrown the market sideways, with prices rising and rents falling, says Laurin Jeffrey, a real-estate agent with Century 21 Regal Realty Inc., who cautions that the immediate situation is unusual.
Now, buyers may be concerned about the economic impacts of the pandemic, especially if they're investing in what they hope to be a rental property. From plunging immigration softening demand — especially for rental units — to a glut of former Airbnb units now on the market as long-term rentals, circumstances have certainly changed.
But these conditions will not last forever, those in the industry say, so a condo investment at this time, whether for a residence or for income, should be seen through the lens of a longer-term outlook.
"Over many years, real estate has been the most stable part of the Canadian economy and it continues to be," says Goldman.
Long-Term Thinking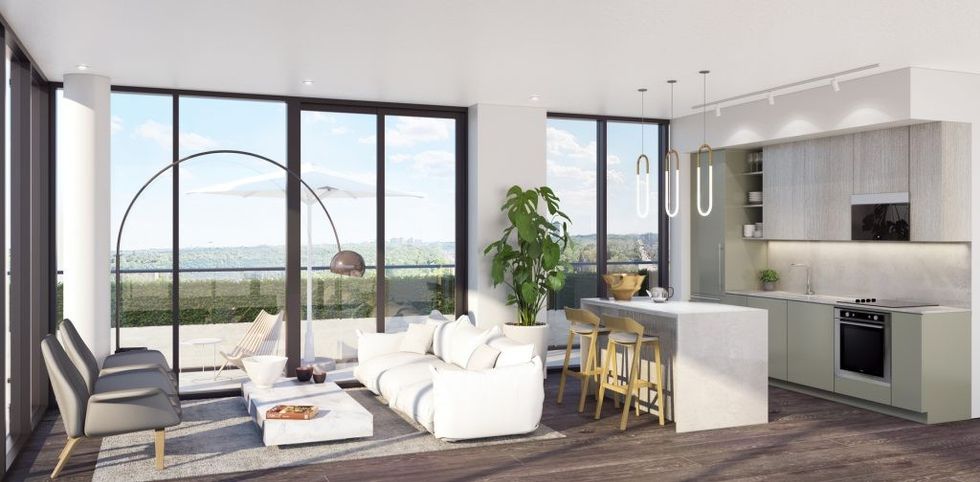 This is not the era of quick flips and Airbnb windfalls. Those who want to purchase need to be in it for the long haul, industry watchers say, and to be aware that, like any investment, prices can go down as well as up.
"What I usually tell my clients is to look for something more unique," says Jeffrey, "as it will usually get a higher rent and it is an easier sale in the future." He adds, "There are hundreds of simple one-bedroom condos for rent downtown (1,236 one-beds and two-beds leased out just since August 1). You are going to want something a little different."
The 181 East development is an example of a unique development, says Goldman. "We have 55 unique individual (plans). … We take serious consideration of the actual livability of the space, how people are going to grow in their home. … We put endless energies into designing the amenities spaces … and make sure that they are forward thinking. It's an energy efficient building. The designs are fresh, high-end and modern."
Some things to look out for when buying a condo include: "Which areas have a greater upside growth potential, and is the market underserved for tenants looking for high-quality accommodation," says Ben Myers, President of real-estate advisory firm Bullpen Research & Consulting Inc. "Buyers may have to look past the short-term implications of COVID-19 … as (when they buy pre-construction) they're looking at units that they will not occupy for three to five years, and where the market and the neighbourhoods will be at that time," he adds.
During COVID, migration to the Greater Toronto Area (GTA) by immigrants, foreign students and for business has plummeted. But this will not continue forever, as Canada needs immigrants and has accepted, on average, about 250,000 a year for the past decade in order to keep the economy growing. Tens of thousands end up in the GTA.
The migrant population makes up a significant portion of renters as well as condo buyers. While that number has dropped during the pandemic, the fact is that permanent residents, workers, students and essential visitors continue to enter Canada to this day. Eventually, real estate professionals expect the demand will again outstrip the supply of homes in the GTA, as it did before the pandemic hit.
Pre-COVID, total housing demand reached 50,000 units in the GTA, but we have been building less than 40,000, says Khadem, using numbers from real estate consulting firm Urbanation.
Pre-Construction Purchases and a Buyers' Market
"Anyone looking to buy a pre-construction condominium right now has some leverage. With the exception of a few projects over the last five months, the market has slowed, and developers will have to offer some additional incentives or launch with less aggressive pricing," says Myers.
There are more units on the market, or inventory, says Khadem. "Pre-COVID, up to March, we had about one month of inventory of condos on the market;" in other words, it would take about one month to sell all the units on the market.
"Now, we have about three months of inventory," or three times the pre-COVID amount, which gives buyers the kind of edge they have not had for the last five years in Toronto's hot market, he adds.
These figures are taken from the MLS (multiple listing service) real-estate listings and the Toronto Regional Real Estate Board (TRREB).
Inventory is calculated by taking active listings and dividing them by the sales that month, Khadem explains.
He says the pent-up demand meant that when condos started launching again in June after being halted due to the pandemic, especially attractive units priced in the $400,000 to $700,000 range were gone in a week.
North York
North York is an appealing area to consider, says Jeffrey.
Prices are attractive, compared to the core of the city.
"In August, the median price for a one-bed condo in North York, along Yonge Street, was $571,500 and two-beds had a median sale price of $695,000," Jeffrey says, citing statistics from MLS. Compare to that, for example, "The west side of downtown had … a median price of $630,750 – more than 10% higher than north of the 401." Two-bedrooms saw a median price of $875,000 – almost 26% higher, he adds.
The numbers also show more supply, especially in the western part of the core, than in North York, Jeffrey says. So for buyers who want to live further from the crowded core, the choices in North York are a bit more limited, making those that are available more in demand.
READ: Why This North York Neighbourhood is One of the City's Hottest Spots to Live
Khadem offers figures on the inventory in North York, compared with downtown. In the downtown area, he says, citing figures from the MLS and TRREB, at the end of July there were more than 1,200 condos to choose from, with 400 condo sales.
Compare this to the Yonge and Sheppard area of North York, where, at the end of July, there were 260 condos to choose from, with 118 sales.
But, overall, there is more inventory than before the effects of the pandemic hit, which makes it more of a buyer's market, he says.
For instance, Khadem says, there was more than three times the inventory at the Yonge and Sheppard area at the end of July, compared with the end of March.
The area is growing "incredibly fast," says Goldman. And 181 East is the first new modern high-end boutique-type building in the Yonge-Sheppard vicinity, he adds, with lengthy regulatory approvals meaning there will not be similar opportunities in the area in the near future.
Quality, Location, and Outlook
When investing in real estate, the key is to look for a quality property, with long-term potential in a growing or established neighbourhood.
The Yonge and Sheppard area of North York is an attractive, growing neighbourhood, and 181 East, the new pre-construction development there, is a unique opportunity to build value by buying into the area.
The project by Stafford is steps from Yonge and Sheppard, near both public transit and highway routes. It is the only boutique condominium option in North York, in an upscale neighbourhood, surrounded by both nature and urban amenities. The sleek nine-storey midrise building features 185 units, ranging from bachelors to three-bedroom suites. Its bright, airy design is complete with top-of-the-line amenities, offering an opportunity for buyers interested in a longer-term investment.
Want to learn more? Visit 181 East to register or email info@181east.ca