Renting
Through Rentals, Buyers Are Taking New Neighbourhoods for a Spin
Being able to try before you buy has become a new standard when it comes to shopping, with companies selling everything from mattresses to glasses to makeup, letting customers test out products before having to shell out the big bucks for a long-term commitment. So what if that same thinking applied to real estate?
According to Kimberly Sears, director of Menkes Rental Suites Management, it already has. An increasing number of Toronto buyers are using rentals as a way to see whether a neighbourhood is a good fit before purchasing there, she says.
"This is a new trend we started to notice about six months ago or so," Sears said. "A lot of families are renting a one-plus-den because they're not ready to commit to a two-bedroom condo purchase, and they're trying to figure out if they like a neighbourhood before they invest somewhere."
Renting can get a bad rap, especially when so much of the messaging around homeownership is that if you can buy, you should do so as soon as possible. But putting off buying in favour of leasing a place for a year not only lets those renters continue to save up for a larger down payment, but it gives them time to really consider whether a particular neighbourhood is where they want to invest their money. And in a city like Toronto, where neighbourhoods are evolving rapidly, it just makes sense.
READ: From Space to Amenities: The Future of Condos is Family Focused
"Neighborhoods evolve all the time, and it's nice to see that people are going into this decision — to buy their largest asset in their life — very open minded that they're going to test this out first," Sears said.
So where exactly in the city is this happening? Well, Sears says she has seen a jump in the number of families wanting to rent before buying in Menkes' Midtown buildings, particularly ones near Eglinton — an area that's seen a significant amount of new development in recent years, especially with the upcoming addition of the LRT.
"There's about three different schools there, and I'm finding the [highest] amount of young families going there," Sears said.
Other Toronto neighbourhoods — like East Bayfront (waterfront) or the Jarvis and Dundas area — that have become increasingly desirable are drawing quite a bit of attention from renters looking to explore a new potential home before laying down roots (or a large down payment).
A More Competitive Rental Market
Toronto's rental market is very much on the upswing after taking a steep nosedive at the beginning of the pandemic, with prices and rental rates now nearing pre-pandemic levels. Demand has come back strong, with everyone, from students to households that took off for suburbia during lockdowns, now wanting to return to the city.
"A new tenant of ours bought a house in Hamilton at the beginning of the pandemic," Sears said. "She was expecting a baby and so they thought it was going to be great. Two years later, she's back at the office, she's switched industries for work, they have a baby, and they realize they hate this. They don't like lawn care and all the other work and maintenance that comes with home ownership and they want to return to worry-free condo rental life."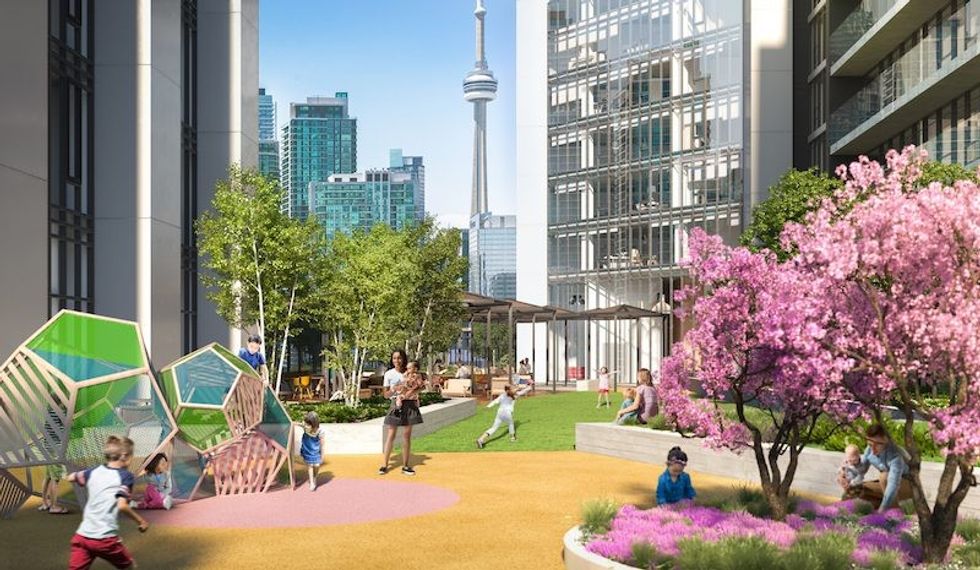 As for anyone looking to jump into the rental market at the moment when demand is high, Sears says the best thing you can do is be prepared with all of your paperwork before even going to view rentals. That means having a letter of employment, paystubs, credit reports, a landlord reference, and, if needed, a co-signer ready to go. Not being able to present these items quickly can mean losing out on a unit.
"There are multiple good applicants now and I've even had good applicants where I've had to say no to them three times on their first choice because they weren't prepared with the required paperwork." Sears said. "If you're willing to miss out on a few properties, then absolutely take your time. But if you like it and don't want to lose out- get ready to act on it."
Ultimately, each buyer will need to choose what path to homeownership is right for them, Sears says, but if looking for rentals before finding somewhere to buy sounds like a better fit, then so be it.
"Ideally, we just want people to have a good experience with real estate," Sears said. "There's so much taboo about it and there shouldn't be — it's not as scary. You've just got to be smart about going into it."
---
This article was produced in partnership with STOREYS Custom Studio.