---
The Greater Toronto Area (GTA) is moving in the direction of Manhattan when it comes to living arrangements. Both sky-high prices for single-family homes and the increasing attractiveness of today's amenity-packed condo buildings mean more families are calling condominiums home. 
But that doesn't mean they're sacrificing the Canadian dream to do so.  
Today's condominiums and mixed-use communities aren't what they used to be even a decade ago -- this truth is reflected in everything from the size of condo units, to a whole new slew of versatile and family-friendly amenities.
"I think the biggest misconception is that when you have kids, you move to the suburbs, and that condos are somehow better suited to either young professionals or an older demographic," says Jared Menkes, Executive Vice President High-Rise Residential at Menkes Developments. "The truth is that people in world-class cities such as New York and Hong Kong have been raising families in condos for many years."
Menkes Developments is leading the way in this new movement, producing top-quality buildings that families actually want to call home.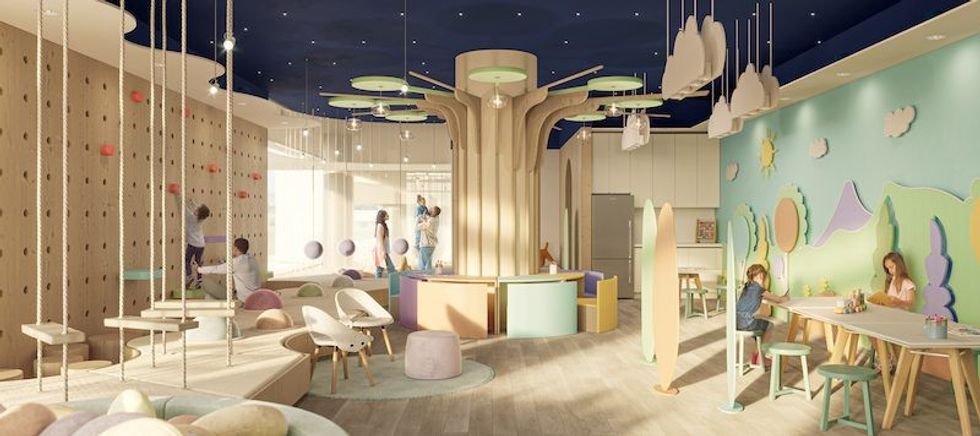 Kids Party Room at Festival Condos
"We are catering to the growing trend of families moving into condos by taking everything you would need and want out of a single-family home and incorporating it into the design of our buildings," says Menkes. "This includes everything from extra storage for bikes and sporting goods, to outdoor play areas and dining areas with BBQs; as well as co-work spaces to accommodate working from home and study."
Many of the amenities in Menkes buildings focus on accommodating families with children of all ages as well as those with pets. Menkes was celebrated as the first Toronto developer to introduce indoor and outdoor play areas in condos back in 2018, in its Harbour Plaza Residences. 
"Now, we are taking that concept to the next level with amenities like hobby rooms, music rooms, children's party rooms, and movie theatres," says Menkes. "At some of our larger developments such as Sugar Wharf and the upcoming Festival development in Vaughan, we are almost creating a resort-like atmosphere where you have everything to need to keep your family busy."
Most recently, Menkes made headlines when it announced it would create Toronto's first vertically integrated school at its anticipated Sugar Wharf mixed-use development. Setting the stage for the future of urban education, the Ontario government is investing $44M to build the new Lower Yonge Precinct Elementary School through a collaboration with the Toronto District School Board (TDSB) and Menkes. The podium school is unique to Ontario and will provide 455 student spaces for families in the lower Yonge and waterfront neighbourhoods. 
Other versatile family-friendly amenities at Sugar Wharf include a state-of-the-art fitness centre with a basketball court, both adult and kids' party rooms, three separate theatre rooms, an indoor lap pool, an indoor hammock lounge, a hobby room, and an arts studio (just to name a few).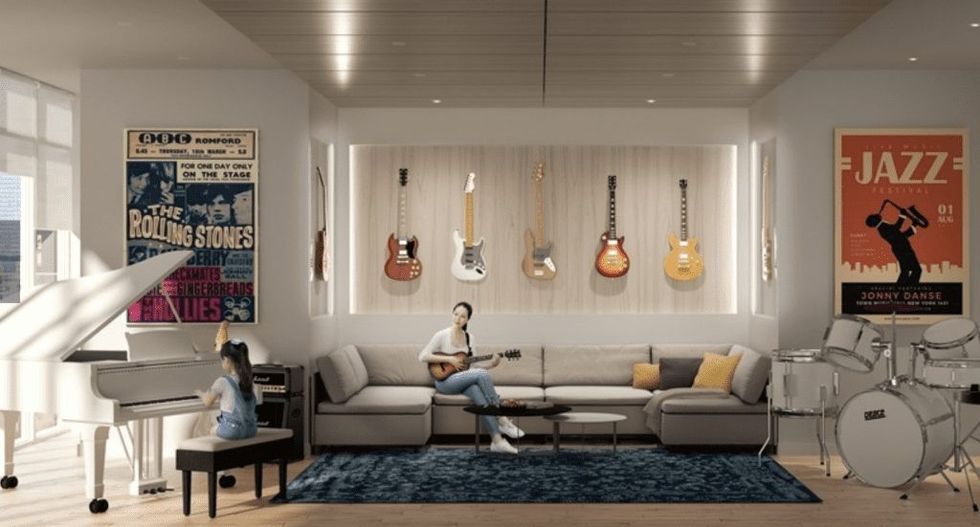 Music Room at Sugar Wharf
While Menkes may be among the GTA's first developers to redefine condo living to cater to the modern family, they certainly won't be the last. 
"As long as the City continues to face a housing shortage, we will have to accommodate more vertical housing, so we will likely see more and more developers cater to this growing trend," says Menkes. "I think the announcement of the new elementary school at Sugar Wharf will drive even more families (perhaps some of whom were on the fence) to consider a condo as not only a viable option for a place to raise a family, but in many cases the preferred option."
The shift isn't without its challenges for developers. As Menkes highlights, as more families move into condo buildings in urban centres, we will see the need for more schools included in developments in order to accommodate the growth.  
"The biggest challenge with accommodating a school is adapting the space to meet the School Board's standards," says Menkes. "Developers will also need an approach that makes the school workable in an urban environment – including, creating outdoor spaces within the complex, providing for safe access to playground facilities, or a public park for school use, and of course providing adequate space for drop-off and pick-up, moving large numbers of students quickly and efficiently."
Furthermore, condo living may actually offer social and developmental benefits that a house may not. 
"For families with only one child, some of these shared spaces are providing them the opportunity to play and interact with other kids versus being home playing alone, which from a development standpoint is even better than a house," says Menkes. 
With the shift in condo design, Menkes forecasts a shift in public perception when it comes to raising kids in condos. 
"As developers build more condos with amenities better suited to young families, as Menkes has done over the last 10 years," Menkes says, "I think people will start to see that it doesn't matter whether you have 600 square feet or 6,000 square feet, as long as you are providing your family with amenities that cater to all their needs, like spaces to play, entertain, work, and be outdoors."
---
This article was produced in partnership with STOREYS Custom Studio.
Condos