After officially launching its operations in late June, the Rental Protection Fund announced on Tuesday morning that 22 non-profit housing organizations have been pre-approved and that 25 properties across British Columbia are currently being considered for acquisition.
Of the 25 properties being considered, 15 are located in the Lower Mainland, with an average year built of 1980 and a total unit count of 1,075. An additional seven properties located on Vancouver Island are being considered, with an average year built of 1965 and a total unit count of 221, as well as two properties with an average year built of 1969 and a total of 41 units in northern BC, and one property built in 1974 with 26 units in the Interior.
---
According to the Rental Protection Fund, 68% of the total 1,363 rental units that would be acquired are studio or one-bedroom units, while the remaining 32% consist of two-bedroom and three-bedroom units.
The Rental Protection Fund has not revealed the properties being considered, but all 25 properties are currently owned by the private sector, aligning with the fund's mission of shifting affordable rental housing stock towards the non-profit sector.
Over 70 non-profit housing organizations across BC applied to be pre-approved, with 22 of them having now been given the green light. Those 22, in alphabetical order, are:
Affordable Housing Societies
Aunt Leah's Foundation
Ballenas Housing Society
Brightside Community Homes Foundation
Catalyst Community Developments Society
Canadian Mental Health Association - Vernon & District
Columbus Homes
Community Land Trust
Community Builders
Connective Support Society Kamloops
Connective Support Society
Entre Nous Femmes Housing Society
Greater Victoria Housing Society
Hiy̓ám̓ ta Sḵwx̱ wú7mesh Housing Society
John Howard Society of Okanagan & Kootenay
Lu'ma Native Housing Society
More Than A Roof Housing Society
New Commons Housing Trust
New Vista Society
Penticton and District Society for Community Living
Tikva Housing Society
Union Gospel Mission
These 22 non-profits — a few of which are seeking to acquire two properties that are part of the same complex — have a collective portfolio of around 287 buildings and 14,000 units across BC, Rental Protection Fund CEO Katie Maslechko tells STOREYS.
The mix of non-profits is diverse in terms of the regions where they operate and who they serve, as well as their size.

"That's one thing we are very pleased about — the broad mix of the first cohort," says Maslechko. "How geographically dispersed they are. There's variety in scale as well, which is also great to see because the scale of a given organization and their current portfolio does tend to reflect on the scale of the buildings they're interested in acquiring. So, the more diversity we have in terms of scale of organizations, the more diversity we will see in terms of the types of housing and units."
Funding Rental Protection
Of the 1,363 rental units that would be acquired, 11% have rents below $600, 36% have rents between $600 and $1,000, 38% have rents between $1,000 and $1,500, and 15% have rents above $1,500.

The hope behind the Rental Protection Fund is to preserve those levels of affordability by granting money to non-profits to acquire the buildings, safeguarding the buildings from redevelopment or disinvestment and their tenants from rent escalation or bad-faith evictions.
If a one-bedroom unit currently renting at $1,022 a month belongs to a building that gets redeveloped, for example, the new unit that takes its place would very likely command rents of $2,287 — or more, depending on the area. Shifting ownership of such a unit from the private sector to a non-profit would preserve the unit and its affordability.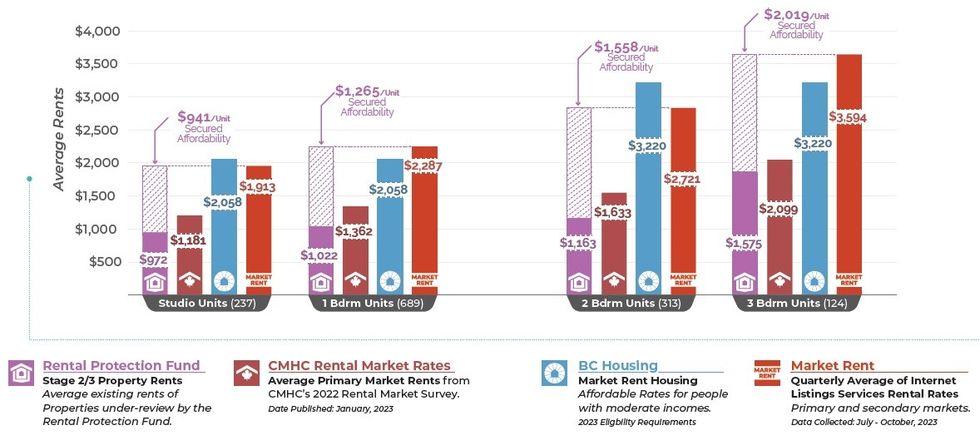 The affordability of the proposed acquisitions.(Rental Protection Fund)
Citing data from Statistics Canada, the Rental Protection Fund notes that British Columbia has lost nearly 100,000 units renting below $1,500 a month between 2016 and 2021 and the trend has only accelerated since then. In the past two years, many developers have also cited increased difficulties with all kinds of housing development, but particularly so with rental housing, with several pausing projects and some even moving on from their previously planned rental projects entirely.
Although lots of attention is focused on bad-faith evictions (rightfully so), the Rental Protection Fund has seen some instances of benevolent landlords.
"All of the properties coming through tend to be from private owners who are looking to either sell their building to reposition their dollars elsewhere or, in some cases, they've owned and operated it for quite some time and things are challenging, but they want to see the tenants, their future, and their housing security remain," Maslechko said. "We've had many, many very earnest vendors/landlords coming forward with properties where they want to see their tenants protected."
The concept behind the Rental Protection Fund is relatively new in Canada, but is one that has been suggested by housing advocates, including the Canadian Centre for Housing Rights in an official recommendation to the Government of Canada.
Some have argued against the concept by saying it's a waste of taxpayer dollars to spend money on aging buildings that likely require more repair and maintenance. Responding to this, Maslechko said in a previous interview with STOREYS that new housing supply is important, but preserving existing stock, particularly affordable rental stock, is also important and that both are needed.
The Province announced the creation of the $500M Rental Protection Fund in January and the 25 acquisitions being considered would amount to $295M (59%) of the funding, while meeting 68% of the Fund's goal of 2,000 homes. The distribution of the remaining portion of the fund will be announced at a later date. The fund says it will be publishing reports every six months and Maslechko says they are receiving about five applications per week, on average.
The applications are being reviewed by the Rental Protection Fund's Investment Advisory Committee which consists of eight to 10 members — two of whom are appointed by the Province. Maslechko says the committee has been established and will be announced in the coming weeks.
The applications will then be up for approval in waves, with hopefully one or two waves being approved before the end of the year, with closing dates on the individual transactions then determined on a case-by-case basis.

Renting