Under ex-CEO Shayne Ramsay, BC Housing distributed funding to non-profit Atira Women's Resource Society that "outpaced it peers," and was given "without a competitive process" or "appropriate internal approval" in several instances, according to a forensic audit by the Office of the Comptroller General (OCG).
---
The report was requested by then-Minister responsible for Housing David Eby in July 2022 following an external review conducted by Ernst & Young, and was received by the Ministry of Housing on March 24, but not released until it was tabled in the legislature Monday morning.
The audit focused on ex-CEO Shayne Ramsay and allegations of his conflict of interest as it relates to Atira Women's Resource Society, whose CEO was Ramsay's spouse, Janice Abbott.
"Overall, it is evident that Ramsay repeatedly violated the terms of the Declarations [of conflict of interest] through his direct involvement in matters related to Atira," the audit found. "As a result, this raises concerns that Atira received preferential treatment from BC Housing and was afforded greater access to public funds than similar providers."
Ramsay "repeatedly involved himself in matters related to Atira" and there were at least 24 instances where Ramsay directly communicated with other BC Housing employees about Atira, the audit found, including advocating for properties to be leased to Community Impact Real Estate Society, a non-profit that contracts with Atira's for-profit arm, Atira Property Management Inc.
Furthermore, the audit also found instances where Ramsay "appears to direct other BC Housing employees to assist him in concealing his involvement in Atira-related matters."
"Don't attribute answer to me because of Atira link," Ramsay wrote in one email exchange. In another instance, in a text message sent to Executive Committee members, Ramsay proposed an idea related to Atira and requested that "...if asked [sic] that is your idea."
The scope of the audit was the period of time between January 1, 2015 and July 24, 2022. Ramsay abruptly announced that he was retiring on August 2 of last year, saying that he wanted to spend more time with his children and grandchildren. By late September, however, the Squamish Nation announced Ramsay as the Executive Vice President of Real Estate and Development of their Nch'ḵay̓ Development Corporation.
Preferential Treatment for Atira
The audit assessed funding levels, decision-making, and record-keeping as it related to BC Housing and its financial relationship with Atira, and found that funding by BC Housing to Atira "began increasing significantly in FY [Fiscal Year] 2019.
"Between FY 2019 and FY 2022, the spread between Atira and the next highest Provider continued to grow, culminating in FY 2022 when Atira received approximately $35M more than the next highest Provider," the report said.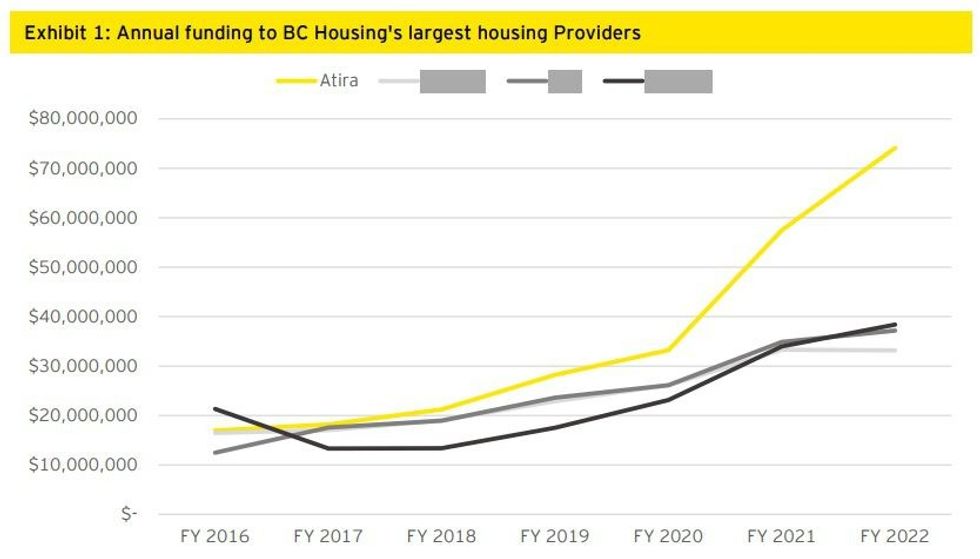 Funding distributed to Atira versus other housing providers, under ex-CEO Shayne Ramsay. (Ernst & Young)
Ernst & Young noted that prior to FY 2019, BC Housing conducted financial reviews of Atira that found that Aitra was either operating at a deficit or modest surplus, but that Atira began generating surpluses over $1M after FY 2019.
BC Housing typically provides funding to housing providers in one of four ways, according to the report: operating subsidies for managing the properties, capital funding to purchase new properties and renovate existing ones, funding towards "extraordinary expenses for unforeseen costs," and funding in response to the COVID-19 pandemic.
For Atira, BC Housing provided nearly $3.3M more in funding for administration charges than the provider that received the next-highest amount in FY 2021 and FY 2022. Additionally, the audit found that "BC Housing continued to provide Atira with funding for additional employees despite Atira's history of being unable to utilize these funds provided by BC Housing in a timely manner due to the difficulties in hiring."
Regarding capital funding and extraordinary expenses, the audit did not find any "significant concerns."
Regarding COVID-19-related funding, however, BC Housing requires that disbursements over $250K be approved by the Executive Committee, but the audit found that at least $3M was advanced to Atira without that approval, through at least eight payments over $250K between June and October 2020.
Ramsay's Housing Investment Corporation and Obstruction
Through the course of its investigation, the auditing team also became aware of concerns that provincial government had regarding BC Housing's relationship with an entity called Housing Investment Corporation (HIC), which was founded in 2018 by Ramsay through BC Housing, along with the CEOs of Manitoba Housing and the Housing Services Corporation of Ontario.
Ernst & Young said that it was told by a representative of the provincial government that it believed approval was needed before the creation of HIC, but that there was no record of approval, and that Ramsay, in his capacity as CEO of BC Housing, "executed a service agreement between BC Housing and HIC, which named Ramsay as CEO of HIC in his personal capacity" and that "HIC, in its proposed form, could have allowed organizations such as Atira to obtain both operating funding from BC Housing as well as debt from HIC," both of which would have been led by Ramsay.
Ernst & Young says that the Province instructed BC Housing to terminate its relationship with HIC in 2022, but that HIC had already provided at least $70M in financing for properties in BC and Alberta, and that "responsibility for these outstanding loans has not been ascertained." The audit concludes that their understanding is that Ramsay remains the CEO of HIC.
The report of the audit's findings also noted that the investigation was "effectively obstructed" by Ramsay and former CFO Abbas Barodawalla's practice of deleting text messages.
"This conduct is inconsistent with the expectations of the CEO and CFO of a publicly-funded organization," the report said. Furthermore, with respect to Ramsay, his actions represent a direct contravention of the instructions provided by the OCG."
READ: Burnaby 5-Tower Kingsway-Edmonds Plan With BC Housing Moved to Public Hearing
The report concludes with a list of 20 recommendations, and the Province said on Monday that work is already underway to ensure that all of the recommendations are full implemented by Spring 2024.
"We have a new leadership team in place at BC Housing, who are leading the work to implement these recommendations and those from last year's review," said Minister of Housing Ravi Kahlon. "We're united in our efforts to strengthen BC Housing's processes and capacity as we continue to deliver the homes people need."
In late April, BC Housing named Interim CEO Vincent Tong as its permanent CEO, saying that under his leadership, BC Housing had modernized its leadership structure, increased oversight of development projects, and strengthened oversight of housing providers, while creating new whistleblower protections.
Real Estate News